Diptic Deftly Turns Photos Into Stories
MacNewsWorld

Diptic, an app from Peak Systems, is available for 99 US cents at the App Store.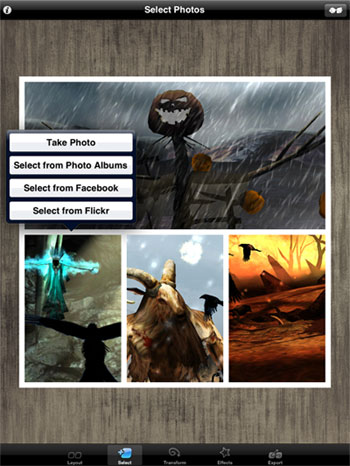 Diptic
I have a folder on my iPhone labeled "Photo Stuff." I store all the photo-editing and manipulating apps that I use in that folder -- and I just added a new app: Diptic.
Surprisingly well-designed and easy to use, Diptic, at its heart, is basically a collage app -- it lets you snag multiple photos and place them in preset frameworks to create a single image. There are 52 standard frame layouts that include from one to five spots to drop in photos. The interior frames are slidable, so while you will typically pick a frame layout you like, you can modify it if you find that one of your photos, for example, just needs a bit more space to fit in someone's ear.
No, Not a Scrapbooker!
Look, I'm not a scrapbooker. In fact, I break out in a rash any time I see colored paper, scissors and glue in the same location. Diptic, on the other hand, avoids the trappings of scrapbooking by giving everyone a clear focus and supremely easy entry into the app.
Pick a frame. Tap an opening, select a photo. Drag a finger to move it or zoom in and out. Repeat.
It's ridiculously easy. Even a grown man can do it.
As for the photos, you can select them from photo albums on your iPhone or iPad, from Facebook or Flickr, as well as simply take a photo right in the moment.
Lots of Manipulation
The photos can be mirrored or rotated, and you can make basic adjustments to the brightness, contrast, or color of each image. You can edit the color of your framework, add rounded borders, or make them thicker or thinner.
You can send Diptics directly to Instagram and any app that accepts JPGs, such as Camera+, Filterstorm, Dropbox, Evernote, or GoodReader. You can also share Diptics with the usual suspects, like Facebook, Flickr, Twitter, Tumblr or Posterous.
There is one in-app purchase to consider -- exterior dimensions. For an additional 99 cents you can add the ability to change the outer framework to whatever size or standard photo ratio you want. (The inner frames slide around freely right from the start.)
Perfect for the Storytelling of Events
If you're like me, you like to snap photos of events. If you go on a hike, you'll likely shoot several interesting photos. If you go to a birthday party, same thing -- several photos. If things get wild at the bar, you may or may not break out the camera. You see what I'm getting at here: If you go somewhere and do something, you'll likely take more than one photo. The trouble with sharing all these photos, of course, is that you tend to share them one at a time, even when they are uploaded to public Websites for your friends and family.
For the storyteller locked inside you, though, you know these photos -- when viewed separately -- don't really tell the story or evoke the feeling of being there in the moment.
With Diptic, you can drop in several photos and move them around to select the most important -- or complementary -- elements. One shot could have a wide-angle of the entire group, and then other smaller shots could have interesting closeups of friends or family, or just funny expressions.
I haven't tried it for landscape shots yet, but I have some interest in creating a photo of an area -- a favorite hiking spot or a favorite cityscape, maybe paired with some interesting closeups of particular buildings. I also like the idea of taking a photo out of my front door in each of the four seasons -- spring, summer, fall, winter -- and creating a Diptic photo out of it.
I just reviewed "Crow," which is an interesting game where the feel is just as important, or maybe more so, than the gameplay itself. For that review, I originally struggled to choose which photo would evoke the right experience from the game. On a hunch, I started throwing in screenshots from the game into Diptic. In just 90 seconds, I had created an image that evoked more of the game feeling than I imagined possible.
Now, as I'm out and about snapping photos with my iPhone, if I'm in a storytelling moment, I'll snap a few extra shots that I might have not bothered with in the past ... supporting photos that I could slide into a Diptic frame to add a little something extra to what I share. Maybe I'll do a shot of the sky, weather, or a bug. Who knows. Whatever is there, in the moment, that could be captured. I'll take the photo, and you should too. Your inner storyteller will appreciate it later.

---