Instapaper: A Nice Way to Save Web Pages for a Rainy Day

Instapaper, an app from Mobelux, is available for US$2.99 at Google Play. Instapaper is finally available on the Android platform. If you're unfamiliar with the iPhone-originating app, it's an offline reader with a difference.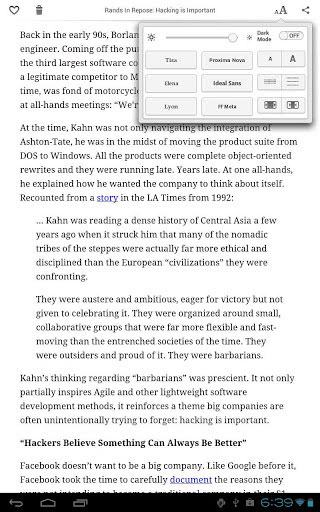 I've always had a problem with offline readers. Offline readers, like the good-looking Pulse, function by pulling in XML feeds online.
They are essentially Feed Readers that eat standardized XML files consisting of metadata, like author, and a summarized text -- usually the first paragraph or so -- and then an external link to the full text.
The link to the full text is the problem, because it requires you to be online. This absurdity manifests itself because publishers of the copy need you to click through to the full text on their website, so that they can serve you an ad.
If they places all of their copy within XML file summaries -- the chunk delivered offline -- then you have no reason to click through to the site and view an ad.
While you're offline, all you're reading is a series of abstracts. The links don't work.
Offline readers therefore fail to deliver -- unless all you want to read is abstracts.
The offline reader has no difficulty grabbing the XML feed while online and delivering it to you while offline; the problem is that unless the publisher is extremely generous, the bulk of the text is missing from that feed.
Enter Instapaper
Instapaper partly corrects this peculiarity because it lets you cursorily read Web pages online in the normal way, and when one wafts by that you want to read at length, you share it to Instapaper, which saves it for you, enabling you to read it later -- while offline.
It's a partial solution, because you have to manually browse your usual-suspect websites while online. You then perform a "share" to Instapaper, and read the bumpf later. Like this, Instapaper gets you the lies and propaganda, and does it well -- but it requires three finger presses to get each piece stored.
A classic feed reader requires a little configuration initially, but no running action on your behalf (when it works properly).
The classic feed reader provides you with the gist of what's going on in the summary while you're reading it offline, but little full text, except in the case of extremely generous newspaper proprietors -- and I can't see that lasting.
The Solution
With 64 GB SD cards coming in at a little over US$50 at Fry's today, should we not be demanding in our offline readers the ability to scour our usual-suspect websites, index the metadata and summary, and grab the full text along with an ad or two to keep the press barons happy?
Google's own Currents app, available free in the Google Play store, comes close to this concept, albeit with limited content, and along with Instapaper -- and Pulse, also free in the Google Play store -- is worth taking a look at if you're a keen reader who spends time without a network signal, like on a subway or in the air.
The $2.99 for Instapaper is a bargain, because it gets you both the tablet and the phone version.
Page Formatting
I was impressed by the formatting of the pulled pages, and some care has obviously gone into the parsing, because the text is elegantly presented with a unified Instapaper look.
Images are included, but brash Web page artifacts like navigation bars are stripped out -- as are ads, incidentally -- and the result is restful and a pleasure to peruse.
Night Use
Dark Mode and an in-app variable brightness level are well-thought-out features.
I liked the syncing of text position between different Android devices, although I was unable to get it to exactly find my place in the text. That may just have been my impatience and test conditions.
In Conclusion
Overall, using Instapaper was a pleasant experience, and if I found myself skimming websites with a desire to read a few full texts later -- while out of range of the Internet, say -- I'd likely use it.
It beats the frustration of reading lots of short abstracts.

---