The Wildest Thing About Amazon's iPad App Is That Apple Lets It Exist
MacNewsWorld

Amazon Instant Video, an app from Amazon, is available for free at the App Store. It requires a $79-per-year subscription to Amazon Prime.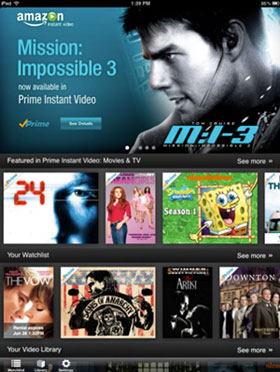 Amazon Instant Video
A plain-Jane video-playing app just hit the iOS App Store: Amazon's Instant Video iPad app. While it doesn't do much more than let you browse and play videos, it could be the most important app to come to Apple this summer.
Hyperbole? Maybe, but hang on. Amazon Instant Video extends your iPad to an ecosystem that competes with Apple, and at the same time may signal a shift in Apple strategy.
Rewind, Please
The story really starts last year. After Netflix lost me as a customer for being so out-of-touch with people when they jacked up their prices and put out a lame so-called apology letter, I picked up the video slack by reinstating my Amazon Prime membership. Amazon Prime started out as a free two-day shipping deal for Amazon customers, then morphed into a service that adds streaming movies and TV shows, as well as the ability to borrow some e-books, all for US$79 per year. If you buy physical objects from Amazon.com, it's a pretty good deal. The video is mostly frosting.
Still, what does the video feature offer? There are two basic levels -- stuff you get "free" as part of your Prime membership, and stuff you can buy or rent from Amazon.com. For the most part, I just watch the free Prime videos from Amazon -- "Shark Week," "24," "Man vs Wild," and "Tucker and Dale vs. Evil." That sort of thing. Generally, you'll get access to older TV shows along with plenty of B movies and the occasional older A-list movie. Want a new release? You'll have to buy or rent it at essentially market prices.
Sometimes Amazon can be a bit less expensive, but not always. The price difference for Apple customers is more about where and how you want to watch the video than the cost. If you want it on your iPhone, you're going with iTunes. And before last week, if you wanted it on your iPad, you were still going with iTunes (or Netflix).
But now with Amazon Instant Video, you can choose Amazon on your iPad, too. If you have an Amazon Kindle Fire, then you'll be watching the video via Amazon on the Fire -- or on your HDTV via the Xbox 360 app, which I happen to use myself. Since I also have an Apple TV, if I want to rent or buy a movie, I tend to go with Apple's offering and use any of my iOS devices, Macs, or Apple TV to watch.
Of course, for Apple customers, the best part of Amazon Prime is the no-extra-charge Prime videos. In Apple's world, there is no subscription offering, just pay-as-you-go for everything. Amazon Prime makes it possible for me to go back in time and start watching the Jack Bauer TV series "24" from season one through season eight. Buying each season via iTunes is simply not an option for my budget, even though the iTunes experience is generally better than streaming from Amazon over my home's WiFi connection.
Play It All, Please
So the big news is that you can use your iPad to play Amazon videos, despite the fact that Apple often rejects apps from competitors for offering similar services. The path from development to my iPad is unclear, but now that I have the app, I'm a happy camper -- despite the fact that I have a Kindle Fire. Why? My iPad holds onto and connects to my home WiFi better and more consistently than my Kindle Fire. The touch experience on my iPad is better and more responsive. On the downside, my iPad is heavier, so holding it in bed isn't as easy the Kindle Fire.
It's really about choice, and if you didn't have a Kindle Fire, it's a totally new option.
What You Get
Like I noted above, there's nothing inherently special about the Amazon Instant Video iPad app. You can flick and browse through movies and TV shows, you can view your Watchlist, you can add to your Watchlist, and you can play videos. It's dirt simple, and it works pretty well. I've seen a little more buffering than I might have expected, but it's hard to say with just a few days of use if that's more or less due to the iPad app or my own home WiFi network. The fact that I don't have to prompt my iPad to find my WiFi signal nearly as often as the Fire, though, makes up for it.
Unfortunately, the app does have some limitations. The biggest issue is that it doesn't have a search feature. The second issue is that you can't buy or rent content directly from the app itself -- if you did, Amazon would have to pay Apple 30 percent, and that's not going to happen. The third issue is that AirPlay to an Apple TV connected to your living room HDTV isn't enabled.
In the case of the first two limitations, all this means is that you're going to have to browse movies and TV shows and/or subscribe to new TV seasons via your Mac or PC instead of via your iPad. As for your Watchlist, you can add to the list from your iPad, but if you have to search for it to find it, you'll have to use your computer (or your Kindle Fire or Xbox 360, etc).
Whispersync Works
One great feature of Amazon Prime is the ability for most videos to remember where you were in the video when you stop and leave it -- then communicate that information to a different device when you pick it up again. So start watching on your Mac, then finish on your Kindle Fire, that sort of thing. Now your iPad can get into the action. In fact, weeks ago I started watching "Mission: Impossible 3" on my Xbox 360 but didn't finish. Weeks ago, I'm saying. When I tapped the movie on my iPad, I had the option to resume playing where I left off. Nice. Very nice.
Beyond this new ability to enjoy Amazon Prime videos from your Apple device, the app doesn't offer much. And yet, the app is also a potential signal of future promise: Perhaps this opening means that Apple will begin playing even more with other competitors -- and when the next generation of Apple TV hits, maybe it means Apple throw open its doors to let many content delivery services stream on through.

---