BofA Mobile Deposits: Better Late and Great Than Never
MacNewsWorld

Bank of America - Mobile Banking, an app from Bank of America, is available for free at the App Store.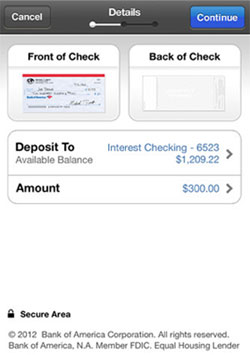 The Bank of America mobile app's interface for depositing checks.
Bank of America's iPhone app is about as old as the iOS App Store itself. If I recall correctly, it was one of the very first pieces of Apple-sanctioned third-party software offered up for what was at the time called "iPhone OS."
And back then, that BofA app did just about all you'd expect a mobile app to do -- check your balance, transfer funds, keep a good lid on security so that someone couldn't access your life savings just by stealing your phone, etc.
But in terms of smartphone history, that all happened back in the early Renaissance. Other, more enlightened banking apps eventually arrived, and they did things better.
For instance, a couple of years ago, Chase brought in a way to deposit checks via its own mobile app. Take a photo of the check, and it's deposited. No more schlepping to a branch or a properly equipped ATM. That feature eliminated an errand, something that everyone needs to do from time to time but is often easy to forget. Forgetting to deposit a check can have consequences, and not just for your own finances -- not cashing a check immediately can sometimes make life complicated for the payer.
I thought the Chase app was pretty nifty, but I wasn't about to change banks over it. I figured that BofA certainly has the resources to come up with a similar feature within a couple of months, right?
Fast Forward 2 Years
Yes, BofA is way late to check-cashing party. But it's here. You can now use Bank of America's iOS app to execute an official ch-ching.
There's no trick to doing it. In the Accounts menu is a new option for Deposits. You'll get prompts to use the iPhone's camera to take in-focus, well-lit, full images of the front and back of the check.
Next you'll need to tell the app into which account you want the check to go. Then there's a space for typing in the amount. When this bundle of information is all set, confirm the deposit and it'll be sent away to BofA Central Command, presumably for a painstaking verification process. Or, so I hope. It seems a system like this could be easily defrauded if someone isn't on the ball.
To that point, funds coming in through the app are not immediately available. You can't withdrawal anything from a check you just used the BofA app to deposit a minute ago.
When can you get your money? It seems to take a day or so. As I write this on Monday afternoon, a check I deposited Sunday had not yet cleared. So if that check is what's standing between you and immediate financial meltdown, best to take it to an actual bank. For other situations, though, through-the-app deposits are easy, convenient and -- as far as I can tell by depositing a handful of checks -- reliable.
More New Features
There are plenty of other useful features in BofA's iOS app that have been there for a while. The ATM finder is nice when you need cash but don't want to pay $3 for a service fee. The Transfers function lets you pay down your BofA credit cards, and the bill pay feature does exactly that.
There's another new feature in this version called "BankAmeriDeals," found under the Deals item in the bottom menu of the app. It presents you with a series of offers from various retailers -- AutoZone, Sports Authority, Redbox, etc. Most offer a cash-back reward of 10 to 20 percent for a limited time. Select an offer and it's saved to your account. If the deal's still active when you shop at that business, and you pay with an eligible BofA credit or debit card, you automatically get the cash-back reward.
Another new feature for the mobile app is push notifications. It lets you set up all sorts of alerts and alarms for various types of account activities -- everything from debit card charges to ATM withdrawals to money transfers. That's been available before for online banking customers via email, but this way you get it through in-app push alerts.
Bottom Line
BofA has successfully brought a new measure of functionality to its mobile app. It might not be enough for anyone to change banks over, but its present customers will likely appreciate the new and up-to-date convenience features, not to mention the cash-back offers. Now if BofA can get my phone to spit cash at me, I'll never have to visit a branch again.