Tasker: Micro-Managing Automated Routines Can Be Crazy Fun

Tasker, an app from Crafty Apps, is available for US$6.49 at Google Play.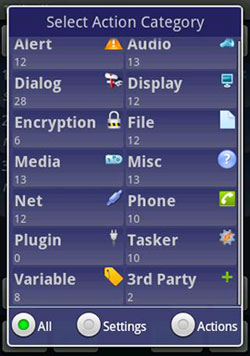 SD card. Why? Well, it just happened to be the first set of programming commands that I found when launching the app.
What was amazing -- you'll understand this if you've ever tried your hand at programming anything -- is that the routine worked straight off. The calculator did indeed launch when I slipped an SD card into the tablet's slot.
Underlying Concepts
Tasker performs Tasks that are based on Contexts in Profiles. It's not as overwhelming as it sounds.
Essentially, Tasks are sets of Actions. For example, an Action could be an alert created through an LED flash, or the action of launching or killing an app.
Contexts can be thought of as the criteria for a task or action -- for example, the time and date, the geographic location fed by location services, or simply the application that is currently running.
Profiles are a wrapper for the routines. Clickable and timer-based widgets can instigate tasks. Clickable widgets can be simple toggles. Timer-based widgets run when a when a countdown timer ends.
Creative Ideas
The possibilities for creating order on your Android device are endless. There are vast State-related options for example.
How about dimming the screen when you dock the device? States include missed call, orientation and unread text.
Crafty supplies plenty of ideas. One of my favorites is its suggestion to set a routine for turning on flight-safe mode during night hours to save batteries, but turning flight-safe off every 15 minutes to check for SMS text messages.
Common-Sense Approaches
I suggest you think of the actions you manually perform on your device multiple times a day and create tasks for them.
I find I am always fiddling with the brightness on my tablet, for example.
While experimenting, I created a task that increased the display brightness level when I connected to a certain WiFi network.
Intriguing possibilities, in my case, include micro-managing brightness levels depending on Location Services down to 30 meters -- a brighter display sitting outside a regular lunchspot; dimmer at home, perhaps.
Advanced Operations
Tasker App Factory is a no-charge extension that lets you create your own Tasker-based apps.
I did create an apk. It didn't work at first, though, which was likely entirely my fault for not reading enough of the blurb before starting. I did eventually create an exportable apk app that simply opened the stock browser when launched. I called it "Stock Browser Opener," and I have confidence that I will be an app-vending millionaire one day.
Programmable Variables
Variables -- that is, unknown values -- are also programmable. For example, "%BATT" contains the current battery level. So, when the task runs, the variable's value is used.
In this case, the battery level could be displayed. Variables include signal strength, so conceivably you could create a task to switch radios to WiFi when the mobile service degrades, or other such tricks. You can also create %Home and %Work location-based variables.
The device's movement can be used to create a task by recording a gesture and then linking it to the task as an event.
Conclusion: Tasker is a great app and a lot of fun. The app creator plug-in lets you make apps for selling in Google Play. The app could pay for itself.

---