Critics: Apple's Maps App Misses the Landmark
MacNewsWorld
The latest version of Apple's mobile operating system, iOS 6, is barely out of the starting gate, but complaints have begun to pile up about its maps app.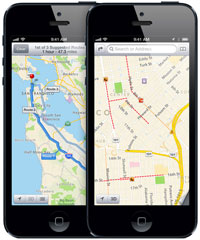 (click image to enlarge)
This is the first version of the operating system for the iPhone, iPad and iPod that doesn't use data from Google for its maps app. Instead, it uses an Apple app that's plugged into a variety of data sources, which are delivering, at best, checkered results.
For example, the app identified Airfield Park in South Dublin, Ireland, as an airfield. It's actually a 35-acre farm.
Shakespeare's home town, Stratford-upon-Avon also appears to be missing from the app.
The Senkaku, or Diaoyu, islands, whose ownership is hotly disputed by China and Japan, are displayed twice in the map app.
The Falkland Islands appear in the app without roads and towns.
Local Search Wrecked
"Local search is destroyed," Josh Carr, founder of Rocky Mountain Mac Repair, told MacNewsWorld. "It's no longer what it used to be."
"If you search for coffee, you won't find a single Starbucks," he said.
Another irksome aspect of the app for Carr is the absence of trip directions in the app. "You have to do turn-by-turn," he explained. "There's no way to see a list of directions like in iOS 5. I find that frustrating."
While Apple prides itself on the quality of the user experience of its products, that doesn't seem to be the case with the map app, Carr maintained. "They never tried to improve the user experience with this," he said. "Their whole goal is to remove Google from the equation."
"It's Apple trying to distance themselves from their competitor," he added. "Quite honestly, it's bad news for everybody because their database of records is severely lacking."
Apple did not respond to our request to comment on this story.
Garbage In, Garbage Out
While acknowledging that the data behind the new map app isn't as strong as its predecessor's, Opus Research analyst Greg Sterling asserts that the user interface is better.
"The UI on Apple Maps is nicer than Google's," he told MacNewsWorld. "They've done a nice job visually and with the overall user experience."
"It's the underlying data that's really the issue," he continued. "It seems like the quality of that is weaker than what Apple had with Google."
"Ultimately, the quality of the data has to be improved," he added. "That may require Apple to go in and find alternative sources."
On the other hand, because Apple is under such intense scrutiny by the media, any missteps it makes can be magnified out of proportion. "There may be some very egregious high profile omissions or screwups that are getting a lot of attention so they exaggerate the problem," Sterling reasoned.
Apple Maps Alternative
iPhone users who miss Google Maps have alternatives. They can access maps through the Google+ app for iOS, as well as accessing Google Maps through Apple's browser, Safari.
Neither of those alternatives, though, are likely to be widely embraced by iOS users. "I'd guess that 90 percent of the people would never use Google Maps through Safari," Carr opined. "Ninety percent of the people who are going to be using a map application on the iPhone are going to use Apple's stock application. They just don't know any better."
However, it is believed widely that Google will introduce its own map app for iOS 6.0, as it introduced a YouTube app when Apple dropped its support of the video sharing service. Google did not respond to our request for comment on its future plans for an iOS map app.
"We are going to see a Google Maps app," Sterling contended. "I don't have confirmation of that from the company but looking to the YouTube example as an analogy and the importance of the iPhone as a platform, I think we're going to see that."
In the meantime, Apple will deal with the problems of its own map app, he continued. "This is a black eye for it," he said, "but I don't think it's going to stop anyone inclined to buying an iPhone from buying one."