Passbook Is a Better Idea Than a Product
MacNewsWorld

Passbook isn't so much an app by itself as a container for other apps' data, such as tickets, gift cards and coupons. The idea is brilliant: Take all of those loyalty and gift cards that clutter up your wallet and put them on your phone.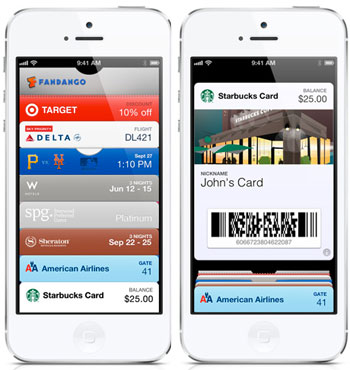 Passbook on iPhone 5
Sprinkle in a little bit of location-based razzle-dazzle that brings up the card you need when you get to the store, and you've got yourself a pretty neat e-wallet.
Right now, though, it's a better idea than product. There just aren't enough participating retailers and other venues to make it the wallet replacement it hopes to be.
So far, the list of apps that sync with Passbook is limited: Airbnb, American Airlines, Eventbrite, Fandango, Live Nation, Lufthansa, MLB.com At Bat, MLB.com At the Ballpark, Sephora to Go, Starbucks, Target, Ticketmaster, United Airlines and Walgreens.
I was able to use Passbook at a nearby Starbucks to buy some coffee and pastries. Having already entered four different gift cards and consolidated their balances, I was able to scan the 2-D barcode right at the register.
Coffee Boost
It took a little while for my balance to update in Passbook, and I noticed as I was putting my phone back in my pocket that the location-based feature was being activated -- too little, too late.
As an aside, the ability to combine balances on multiple cards is a very nice feature of the Starbucks app, because who doesn't have six or seven, most with balances under a dollar?
So far, I'm able to load cards or coupons for three retailers I routinely visit into Passbook. Missing, however, is my -- or any -- grocery store. That's where the loyalty card sweet spot will be for Passbook.
Between the grocery stores I normally visit and other retailers with loyalty cards, my wallet and I will be very happy to be carrying fewer physical cards and more virtual ones.
More Needed
What will be really nice is when you go into a store or theater or airport and don't have to wonder, "Can I use Passbook here?" You'll just be able to use it. Get past the novelty of the thing and carry it to the point of ubiquity, and Passbook will have done what it set out to do.
Apple Touts Passbook as one place to keep boarding passes, movie tickets, retail coupons, loyalty cards, and more. When that's what it actually becomes, Passbook will be awesome.
Until then, it's a nice thing to have, and it's got a great deal of potential, but it requires critical mass and a little bit more refinement.