Xbox SmartGlass: Not Quite the One, But Worth a Date or Two
MacNewsWorld
Xbox SmartGlass, an app by Microsoft for iPhone and iPad, is available free in the Apple App Store.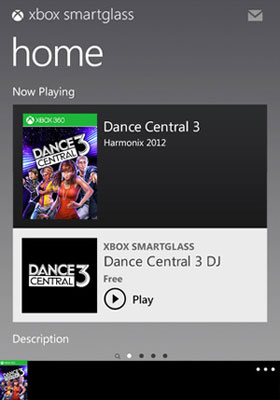 The Xbox SmartGlass iOS app home screen
I've been watching Microsoft's Xbox 360 transformation from online gaming console to living room media center for years, so when Microsoft's Xbox SmartGlass app showed up earlier this month, I had to give it a whirl.
My personal Xbox 360 use is fairly limited to playing a few games here and there as well as assisting small children as they attempt to play games. Many of the new Xbox 360 apps and features demand that you buy into the Microsoft Xbox ecosystem, which I don't really do, but I am a subscriber to Amazon.com's sweet Prime deal, which gives me fast shipping and an on-demand movie and TV streaming and rental system similar to what Netflix offers.
The Xbox 360 has an app for Amazon Prime customers, which makes using the formerly gaming-only console as an HDTV set-top box pretty easy. My Apple TV, on the other hand, is more dedicated to media consumption, and while it has apps like Netflix, it does not support Amazon's Prime service. Since Amazon is turning into a powerful competitor to Apple in the tablet and media worlds, I'm not sure if Prime will ever make it to my Apple TV. Pity.
Enter Xbox 360 SmartGlass
To control an Xbox 360, the easiest and most common tool is the controller. Since the controller was born out of controlling little game dudes, robots, and vehicles, it's not exactly an ideal input device for browsing and media consumption -- and yet, Microsoft has done an admirable job of retrofitting the controls to navigate the new SmartGlass-ified Xbox 360 and Xbox Live interface. The downside is, it's still a clumsy remote, good mostly for pointing and clicking, so to speak.
Entering text with it -- without any sort of add-on device -- is painful. So why not use something else that's ubiquitous like an iPhone or iPad? Works for me. Logging into the app was easy, but since it's been ages since I logged into my Xbox 360 on purpose, I had to reset my password online so I knew what to input into the app.
After I logged in, it connected to my Xbox 360 right away, giving me a pop-up notice telling me I was connected. The controls are a combination of swiping, tapping, and pinching, and it's mostly responsive and intuitive. Depending on where you are in the app, the corners of your screen will show the familiar green, blue, yellow, and red buttons from the Xbox 360 controllers. They function the same way virtually, of course, as they do on the controller.
What is odd for me is that the button I push to stop or go back -- I don't know which is which, I just do it with a habit that's lodged into my basal ganglia. Looking at my iPhone screen at flat colored areas, my habit isn't triggered so I wasn't sure what to tap to get the desired effect. Of course, I don't have to look at a traditional Xbox controller to use it; I can do it by feel and habit.
In addition, unlike a traditional controller, the app won't launch the Xbox 360 when it's turned off. Consequently, as a remote control, the Xbox SmartGlass app is only mediocre at best.
Another Xbox app that you can use with your Xbox SmartGlass app is Microsoft's IE browser. So yes, you can use the touchscreen to move a virtual mouse, as well as a virtual keyboard, to surf the Web. Anyone at all used to the crisp screens found on MacBooks and iPads, etc might be disappointed at the resolution of websites viewed through their Xbox 360 and HDTV, which might only be 720p.
Still, the app works. I could navigate with minimal fuss, even zoom in on text to make it more readable. Thankfully, zooming was fast and resulted in sharper text. Unfortunately, I experienced both spot on mouse pointer control as well as confusing lag -- workable always, just not delightful.
Extra Features and Content
Where the Xbox SmartGlass app shows promise, however, is in the ability to provide extra content that's related to the Xbox 360 experience. For instance, if you stream music from Microsoft, the app provides details about the artist. Since I'm not a subscriber to this service -- and as an Apple-tech enthusiast, probably won't be any time soon -- I could only mess around with 30-second clips. The extra information I saw was basic bios, nothing groundbreaking.
And yet, the promise is there. Microsoft could easily create much more interactive or social content surrounding most any action on the Xbox 360 and push it out to the app in your hand. I'm sure there's some interesting advertising and sales related models already well into development for this sort of purpose. If Microsoft's partners got involved, they too could create richer app experiences for their users.
All-in-all, if I'm going to be searching for content -- opposed to browsing or navigating to it -- using the Xbox SmartGlass app is a good choice, if only for the ability to use a virtual keyboard. As for the rest of it, it doesn't exactly fill a glaring need, but it does extend the Xbox experience just a bit farther.
Most importantly, it lays the groundwork for updates and features that might actually turn into something awesome. So if you think the Xbox 360 is the best thing Microsoft ever created, put the Xbox SmartGlass app on your radar.

---