Pixelmator Delivers Powerful Image Editing at a Bargain Price
MacNewsWorld
Pixelmator is a photo-editing app available for US$14.99 at the Mac App Store.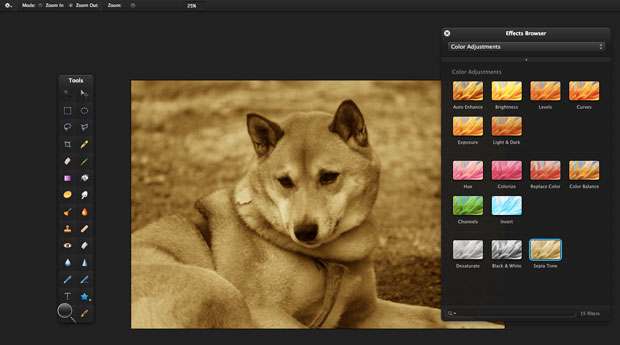 Pixelmator effects browser
Many amateur shutterbugs can't afford professional-caliber image editing programs like Photoshop and Aperture, so they're always on the prowl for economical alternatives to those Adobe and Apple offerings.
Pixelmator is such an alternative. For a fraction of the price of the big-name image editors, the software is loaded with features that will open the spigot for many a shooter's creative juices.
As with all feature-laden image editors, Pixelmator requires some sweat equity to learn. That learning curve will be shorter if you've used a muscular image editor before, longer if you're new to this software category.
However, the Pixelmator team has created some excellent tutorials at its website for performing tasks with the app's tools. In addition, the program has a thorough help file to aid you in doing what you want when you want to do it.
Rich Tool Palette
At the heart of the software is its tool palette. It's free floating so you can move it around the screen. What's more, it can be customized, so you can remove tools you don't use very much and add tools that you do.
On the palette you'll find tools for selecting areas and objects in your image. There are freehand selection tools -- lasso and polygonal lasso -- and geometrical ones -- rectangular and elliptical/circular marquees.
After you use a selection tool, you can perform tasks on that selection without altering the rest of the photo -- tasks such as changing the color characteristics of the selection, copying it or apply special effects to it.
A tool for cropping photos can also be found on the palette. Unlike a typical cropping tool, Pixelmator's includes some helpful guides for editing a photo. For example, the crop area contains guides so your edit can conform to the rule of thirds, a principle used to make the composition of a photo more interesting.
In addition, a number of crop constraints can be chosen for an edit. They allow you to crop a photo so its proportions conform to a purpose -- computer display, for instance, or HD screen -- or a shape -- square.
Demon Eyes
Features like cropping, resizing and rotating a photo are typically distinct steps in an image editor. Pixelmator has a very useful feature it calls "transform" that combines the steps in a single function, greatly speeding up the process.
The Pixelmator palette also has tools for burning, dodging and smudging areas on a photo. Burning lets you darken areas of an image; dodging lets you lighten areas; and smudging lets you soften the edges of objects in an image by blending the pixels at those edges with those nearby.
In addition, Pixelmator has a feature called "sponge." It permits you to manually saturate or de-saturate areas in a photo. It's a useful tool and not a common one among image-editing software.
Another tool on the default palette allows you to get rid of red eyes in photos. Red eye is common artifact in digital pics taken with a flash. Pixelmator lets you remove "demon orbs" from all subjects in a shot automatically or manually.
Now You See It, Now You Don't
Red eyes aren't the only objects that can be removed with tools on the palette. For example, pixels from one area of a photo can be cloned to another. That's a good way to get rid of unsightly power lines in an image.
There are two types of erasers in the software. A conventional eraser allows you to scrub pixels from anywhere in an image. There's also a "smart" eraser that can be used to scrub specific colors from an image.
In addition, there's a "healing" tool. It combines erasing and cloning pixels. When you paint an area with the tool, the software blends the area with its surrounding pixels. The tool is useful for removing unwanted objects from a photo, as well as blemishes from a face.
Also on the default Pixelator palette are tools for precise blurring and sharpening of elements in an image. Broad blurring and sharpening effects can be performed by applying a filter to a photo.
Outstanding Feature Set
Effects are easier to find and use in the latest version of Pixelmator. Its authors have added an effects browser. It gives you quick access to all the many filters in the program.
You can peruse all the filters in a single view or peek at them by category. Effect categories include blur, distortion, sharpen, color adjustments, tile, stylize, halftone, generator and other. You can add filters that you often use to a favorites category, too.
Layer management is another professional feature in Pixelmator. Layering lets you add objects and effects to a photo without altering its original version. Once mastered, layering can be a powerful tool for editing and improving images.
As with any app these days, Pixelmator includes built-in sharing features. Edited images can be posted directly from the program to Twitter, Facebook and Flickr, as well a sent to friends via email or message.
For photogs who like to make prints of their photos, the program has a soft proofing feature. It will give you an idea of what a picture will look like when it's printed on photographic paper.
Pixelmator has a feature set that rivals similar programs costing many times its price tag. It's a terrific buy for imagesmiths looking for an economical image editor that doesn't skimp on power.

---