iWatch-y Patent Greases the Gears of Concept Designers
MacNewsWorld
After revolutionizing the world of portable music with its iPod and creating the need for apps for just about everything with its iPhone, Apple could be looking to make time with an iWatch. While the device won't likely change the way people interact with the Earth's rotation, it could put numerous functions on the wearer's wrist.
Or it might just be some old vaporware.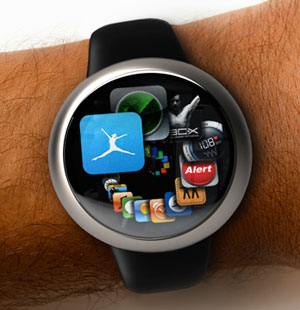 News circulated Thursday that Apple had filed a patent for a watch device that could feature a flexible touchscreen display -- but Apple filed the patent application with the U.S. Patent and Trademark Office on Aug. 17, 2011. The gadget would do much more than tell time.
"While the patent was filed in 2011, it was just published this week and gives some credence to rumors about a so called iWatch," said Charles King, principal analyst at Pund-IT.
Based on Patent US 20130044215, it could offer continuous display and be able to connect with other portable devices, such as an iPhone, via Bluetooth and WiFi. It could serve as a controller/interface for phone calls and text messages, and allow the wearer to adjust the order of a music playlist and the volume of playback.
Apple did not respond to our request for further details.
Watch or Controller
The watch could "talk" to other electronic devices, including iOS devices, the patent application suggests -- but is that really unique?
Earlier this month, Wahoo Fitness, maker of cycling computers and exercise equipment, introduced its Wahoo RFLKT (pronounced "reflector") iPhone-powered bike computer, which could mount to a bicycle handlebar and take control of a music playlist, and start and stop an app-based cycling computer among other functions, while the handset could be tucked away.
Apple's patent application suggests similar options, providing a wrist-mounted interface.
"From the looks of it, it seems more like a companion device that's meant to interact with other products like an iPhone or iPad, offering an alternative for controlling a song playlist or quickly replying to emails and messages," King told TechNewsWorld. "On it face, the device doesn't seem especially revolutionary."
"The concept has been around since Dick Tracy wowed comics page audiences with his wrist radio, and previous variants like calculator watches have been little more than geeky gizmos," he added. "Whether or not Apple has something more radical up its sleeve -- so to speak -- remains to be seen."
Wrist iPhone?
While no actual iWatch has been seen -- and it is even unknown if a prototype exists -- that hasn't prevented visual mockups from showing up in the blogosphere.
Most are similar, in that they take existing Apple iOS devices and transform the concept in a watch -- albeit some with bendable displays -- similar to the OLED technology that companies such as LG have been working to develop.
However, Nickolay Lamm, a content marketing specialist, is alone in creating a design that is more watch and less iPhone/iPod. He envisioned an interface that that was true to the iOS functionality without radically redesigning the watch -- in other words, possibly doing what an Apple designer might think to do.
"I decided to go with a normal-looking watch, because circular -- albeit very expensive -- watches are what Jony Ive wears," Lamm told MacNewsWorld. "Furthermore, he is friends with Marc Newson, who designed Ikepod watches. So although there are rumors that the iWatch will be a band and will have curved glass, I feel that Jony Ive will go the more traditional route."
Moreover, while the curved glass and large screen concepts of the iWatch may look inspiring, that cool factor may not last, Lamm noted. "Classic circular design, on the other hand, is timeless."