Thruster Problem Pushes SpaceX Capsule Off Schedule
By Richard Adhikari
Mar 1, 2013 2:05 PM PT
Private spaceflight company SpaceX's Friday launch of a Dragon capsule ran into problems shortly after it separated from its Falcon 9 rocket, and the resulting delays could move a planned docking with the International Space Station from Saturday to Sunday.
"Issue with Dragon thruster pods," SpaceX CEO Elon Musk tweeted shortly after the morning launch. "System inhibiting three of four from initializing. About to command inhibit override."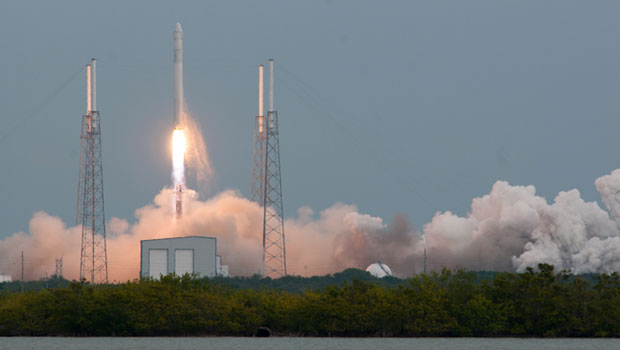 Liftoff of Falcon 9 and Dragon to the International Space Station
One thruster pod was running earlier in the flight, and SpaceX was able to deploy the Dragon's solar arrays,
SpaceX
spokesperson Christina Ra told TechNewsWorld.
The company was later able to get two thruster pods working -- the minimum needed to attempt a docking with the ISS.
At a teleconference on Friday afternoon involving Musk, SpaceX President Gwynne Shotwell and NASA, officials said the thruster problems might lead to the Dragon capsule docking with the station on Sunday instead of Saturday.
The thruster issue is not a major concern. "This is the fourth Dragon mission," Musk said. "This is the first time we've seen this. I think it's an anomaly."
Musk "feels good" about the two working thrusters, and said it'll soon be known if the other two are good. He believes the thrusters will operate normally.
The Dragon is carrying cargo for a resupply mission to the ISS.
What Went Wrong
The trouble started about nine minutes after the Falcon 9's launch from Cape Canaveral. The spacecraft "experienced an issue with a propellant valve" after Dragon achieved orbit, Ra said.
The Dragon's four pods each contains several thrusters that are used to guide the capsule's flight in orbit.
The Dragon's Mission
It is carrying about 1,200 pounds of supplies, including critical materials to support 160 investigations planned for the station's crew. Fifty of these investigations are new.
Once the capsule arrives, it will remain there for three weeks before returning to Earth with about 2,300 pounds of cargo. This will include crew supplies, scientific materials -- including results from human research -- biotechnology and education experiment samples, and space station hardware.
The Glitch's Impact
The Dragon's earlier flights required it to take a couple of days for its approach to the space station, but the current flight was scheduled to take less time because of what is termed "favorable orbital geometry;" the location of the Earth in its orbit at the time of takeoff would make for a shorter flight.
SpaceX CRS-2 is the second of at least 12 missions to the ISS that SpaceX will fly for NASA under a commercial resupply services contract. Another company, Orbital Sciences, has a CRS contract for eight missions.
The goal of the missions is to restore America's capability to bring cargo to and from the ISS. While cargo can be delivered to the station on Russian, Japanese and European vessels, only SpaceX can also bring cargo back.