A Few Quirks Keep Mellel Lite From Being a Heavyweight
MacNewsWorld

Mellel Lite is US$9.99 for a limited time at the Mac App Store. Regular price is $19.99.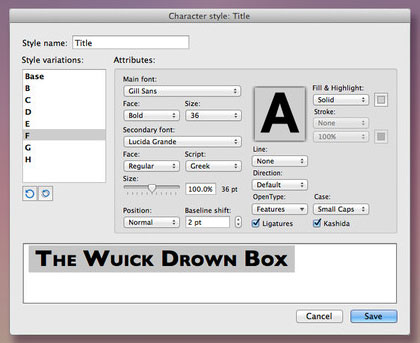 Word processors can be a matter of taste.
Some writers feel that the more the word processor departs from the original word processor -- the typewriter -- the more it interferes with the actual act of writing.
For those writers, there are bare bones word processors like Byword and iA Writer.
Then there are word processors like Apple's Pages. It's for writers with a purpose -- letters to write, newsletters to produce, resumes that need a spark, and so on.
Meanwhile, there are the word processing dreadnoughts, like Microsoft Word. Writers are a second -- maybe even a third or fourth -- thought for those programs, which aren't about processing words but processing documents. "Document Processor," though, probably wouldn't sell too well in the market.
Lite But Not Lightweight
Mellel Lite falls somewhere between Pages and Word. Don't let the title fool you; it may be Lite compared to its big brother, but it's no lightweight word processor.
Mellel -- Hebrew for text or words -- was introduced as an economic alternative to high-end products like Microsoft Word. It packed comparable power -- as its 300-page-plus online manual suggests -- in a $40 package.
It was also aimed at an academic audience; footnote and endnote handling in Word bugged academics in the past.
That tradition is carried on in Mellel Lite, which is currently selling for $9.99, but will jump soon to $19.
Lite has many of the features of its big brother -- including some non-intuitive quirks.
Templates
For scribblers with fear of the blank page, Lite includes a number of templates for common writing projects. For example, there are templates with yellow or blue pages -- which are less imposing than blank white pages, I guess.
There are also templates for a variety of letters (personal, business, etc.), resumes, a newsletter, certificates, envelopes and even a movie script. You can also create your own templates.
Lite, like high-end word processors, focuses on document production. When you create a new document, for example, the entire first page appears on the screen. You have to resize it to make it a size on which you can compose.
On the other hand, once you finish your document, Lite's ability to display up to four pages at a time can come in handy.
Ligatures and Baselines
Lite takes its typography seriously. For instance, ligatures and baseline shifting can be altered from the character palette.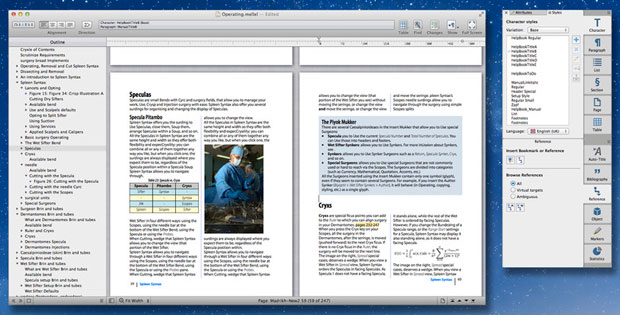 Palettes for modifying the characteristics of elements like lists, sections, pages, tables and objects are located in a single window accessible from the Window item on the system toolbar.
You can display the palette for an element by clicking its tab on the side of the window.
Unlike many word processors, Lite doesn't give you an active word count on its bottom bar. You can get an active word count by opening Statistics in the palette window and leaving it open. Along with the live word counts, you'll also see live counts for characters, lines and paragraphs.
You Talk, It Types
One of the neat features of Lite is the outline column that can be displayed on the left side of the document. However, it's also one of the most frustrating.
Creating a new heading for the outline is done from Auto-Title in the palette window. Figuring that out, though, isn't very easy.
While it's nice to create an outline on the fly, the process in Lite is more time consuming than it should be -- so much so that it interferes with writing rather than helping it.
Another nice feature of Lite is its support of Apple's speech-to-text dictation from inside the program. For the best performance of that software, you'll want to use a USB microphone.
Even then, the performance won't be as good as a program like Dragon Dictate. That's because Apple's dictation does all its heavy lifting in the cloud. That reduces processing demands on your Mac, but it builds latency into the task of turning speech into text.
Feature Distraction
True to its big brother's roots, Lite has robust support of footnotes and endnotes.
Footnote placement can be at the bottom of a page, below the text that a note refers to, or at the end of the document. They can be numbered continuously or reset on every page, section or within a page range.
The alignment and weight of the line that separates the footnotes from text can also be determined, as well as the amount of space on the page you want occupied by footnotes.
If you want to add features to Lite, you can do so from within the program. You can upgrade to the full version of the program for $19.99 or add features such as the ability to create a table of contents ($6.99) for your documents, or create cross-references in them to pages, tables, images and more.
Mellel Lite is a powerful document processor, and as such, its many features can distract a writer from doing his or her most important task: writing. But if you need precise control over the look of your finished writing project -- no matter how distracted you were when you wrote it -- Lite will give you the control that you need and more.

---