What Makes Apple's iWatch Tick?
MacNewsWorld
The long-held belief that Apple is working on an iWatch gained more steam Monday, thanks to new rumors focusing on a launch later this year, along with what the watch might actually do for users.
Apple may have filed scores of patent applications that include the word "wrist," but the number and detailed nature of the leaks about its plans raise the question of whether the company has loosened its famously tight grip on security.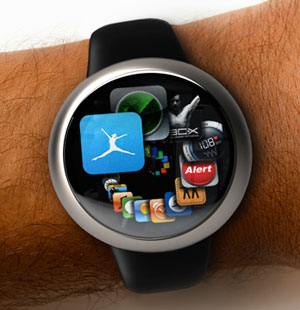 Content marketer Nickolay Lamm created this iWatch concept for
MyVoucherCodes.co.uk
. The concept borrows from Apple's spiral navigation patent.
"Steve Jobs was very aggressive with leaks," Rob Enderle, principal analyst at the
Enderle Group
, told MacNewsWorld. "Now, the tendency for Apple's employees and partners to talk with the media has increased dramatically. Apple's behaving much like it was before Steve Jobs returned."
Apple did not respond to our request to comment for this story.
Watching the Rumor Mill
Apple head designer Jony Ive is reportedly leading a team of 100 product designers working on the iWatch.
The latest speculation on the iWatch's features: It may let users make phone calls, identify callers and check map coordinates. It may also have a pedometer and sensors for monitoring user's heart rates and other health-related data.
"There's a fitness craze, and I think this is a market where Apple can just go in and grab a whole piece off the bat with health or other apps," Andrew Eisner, a director at Retrevo, suggested.
When the new iPod nano came out in September, some speculated that Apple had made it more rectangular than previous versions to pave the way for an iWatch, Eisner told MacNewsWorld.
The technology is available. "There's Bluetooth 4, which Apple is a major proponent of," he said. "It provides very low power and works very well for devices like these that don't need to be in constant communication with the computer."
Battery Issues?
Apple might have to modify its iOS operating system to limit the amount of information a mobile device running iOS can send to an iWatch. Apple could rewrite iOS to serve as the iWatch's operating system instead of porting the iPod nano's OS to the watch.
"You're talking about a device that's far smaller than the iPhone is, and you're going to have to connect them, which means some new interoperability work, some new types of drivers, and the technology to keep the two devices linked," Enderle said.
"This is [Apple's] first real effort to remote the screen and interface to another device, and it's not trivial because the screen has to adjust to the new device size without corrupting the primary screen on the iPhone," he noted. "It does require them to rethink the visual system and to rethink what it has to go through to move it to another device."
Battery life is another problem the design team is trying to resolve, according to published reports.
"A device that shrinks in form factor from four inches to wristwatch size may require chips that are more compact, lasting longer on battery power and yet as powerful [as those on the larger device]," Vinita Jakhanwal, a research director at IHS Electronics and Media, told MacNewsWorld. More power would be needed for a separate display and if the watch were to transfer content to other devices, he added.