Instant Heart Rate: A Cool Way to Track Your Ticker
MacNewsWorld

Instant Heart Rate is available for US$1.99 at the iTunes App Store.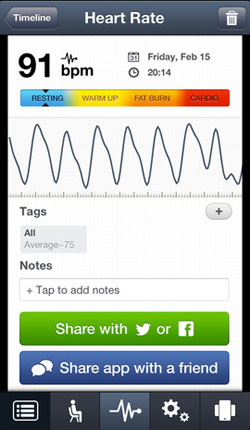 Every now and then I'm surprised and delighted by the utter ingenuity I stumble upon in the iTunes App Store. I really like it when someone utilizes common technology for a unintended purpose -- in this case, using the camera on your iPhone to track the beat of your heart.
Crazy, I know, but Instant Heart Rate - Heart Rate Monitor, a $1.99 app by Azumio does it in just a few seconds.
How It Works
All you have to do is hold your fingertip on your camera lens for about 15 seconds. In a few seconds, the app's screen will show your heart rate, as well as a moving line graph of your pulse. Then it will beep your heart rate for the last 10 seconds.
Is it accurate? In my testing, surprisingly so. I don't have a stethoscope since I stopped playing doctor, but when I used my fingers to take my ownpulse on my wrist or neck, I was usually within a few beats per minute.
How does it "see" your heartbeat? It turns out that your finger changes color slightly as its capillaries expand and contract with each heartbeat. Under bright light, Azumio uses an algorithm to detect the changes via the camera lens on your iPhone. If you have an iPhone with an LED flash, the app will turn on the flash and use it to illuminate your finger. In fact, the LED flash is so bright that it lights up my entire fingertip, which glows like Rudolph's nose.
It uses a similar technique as those found in pulse oximeters that fit over your finger in a hospital -- but Azumio is quick to point out that its app is designed for recreational and fitness use only.
Putting It to Use
Since I don't have an ongoing need to check my own pulse, I'm not exactly the best consumer for this app. If you need to keep track of your heart rate over the course of days or weeks, Instant Heart Rate - Heart Rate Monitor can help you do that.
Each time you take your pulse, you can tag it with a description to help lend insight to what your heart is up to. Some of the tags are: Just Woke Up, Before Bed, Exercising, Tired, Resting>
You can also add your own tags. My go-to tag is what I call Standard Agitation, which is pretty much an ongoing condition. In addition, if you take your pulse and want to document it, you can add notes to the recorded rate. You can also graph your rates to see how they trend over time.
Because everything these days must be connected to Twitter and Facebook, you can even share your heart rate to Twitter and Facebook ... though I personally have a hard time imagining ever wanting to do that. Consequently, that's a feature I didn't bother to test.
There is a interesting Trends feature that shows a dynamic heart rate map of the world, where the heart rates of users show up and disappear as little hearts with the pulse rate inside. It's sort of cool, but I'm not sure there's any real value in it -- for instance, a heart rate of a 124 seems high for anyone in Minnesota, until you remember they might be exercising.
There are two minor side effects attached to using the camera. First, you'll leave some fingerprint smudges on the glass over the lens. Second, if you use the LED a lot, you'll notice your battery drain, so consider that before you go to a retirement party and show off the app.
Instant Heart Rate - Heart Rate Monitor is more of an admirable curiosity than a must-have. If you're like me, you'll reward the developer just for creating it. If you're not like me, you can search for the free version that lets you take your pulse five times or so and includes ads.

---