Snagit's a Slick Screen Grabber
MacNewsWorld

Snagit is available for US$49.95.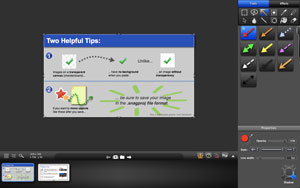 (click to enlarge)
For many Mac users, screen grabbing tools provided by OS X are adequate for their needs.
If you need to snatch a full screen, shift + command + 3 will suffice. If you want to carve out a section of your display, there's shift + command + 4.
However, some Mac jockeys need to go beyond those simple grabbing techniques. For those users, there's Snagit 2.
Snagit 2 lets you capture video as well as static images from your Mac display.
Peeking Program
After installing Snagit, it will tuck itself off the right side of your display. The only sign of its presence is a tiny tab peeking out from your screen's edge.
When you hover your cursor over the Snagit tab, a small palette slides into view. It contains buttons for capturing images, videos and screenshots, as well as tools for manipulating and sharing what you capture.
Instead of giving you two options for a screen grab, a full screen and partial copy, Snagit gives you a pair of red lines that can be moved around your display to define an area to capture.
Personally, for quick grabs, I still think the system tools are easier to use than Snagit's screen capture method.
Arsenal of Tools
Snagit's big advantage over Apple's built-in capture function is the software's arsenal of tools and effects.
You can select portions of a capture for manipulation as you would in a paint program.
Want to jazz up a capture with comic book voice bubbles, or call-outs? Snagit gives you quite an assortment of them.
What's more, they can all be customized in a number of ways. Text in them can be a variety of fonts, drop shadows can be added to them and shapes can be changed with a click.
If you like marking up images with arrows, you'll love Snagit. It's got arrows galore for illustrating points on a screen grab. They, too, can be customized. Line widths can be thick or thin, for example, and their opacity can be altered.
An assortment of line shapes are also in Snagit's toolkit. Lines can be used to connect objects pasted or "stamped" on a screen grab, or to create organizational charts from scratch.
Stamping Madness
"Stamps" are also included in Snagit's toolset. Stamps can be used to embellish a capture. For example, in the accent stamps folder there are stars, check marks and the international "forbidden" sign -- a circle with a line through it.
In the business stamp folder, there are money symbols, percent signs, ampersands and brackets. While in the interface folder, there are stamps for objects in iOS, OS X and Windows.
Marking up a image can be done from within Snagit, too. It has both a pen tool for fine line work and a marker tool for art that needs broader strokes.
If you find you've captured too much in a screen grab, Snagit has a useful "cut out" tool. With it, you can choose an area to cut from a capture, and it will be removed and a curvy line used to show something has been sliced from the image. Cuts can be made horizontally or vertically.
Other tools included with Snagit include an eraser for correcting mistakes and a fill tool for coloring in areas of a capture.
Special Effects
Snagit doesn't stop with paint and draw tools. It also has a number of effects that can add visual interest to a capture.
For example, you can make the edges of a grab appear wavy, torn or serrated.
You can also manipulate the borders of an image -- give it a green edge, for instance -- then add a nice drop shadow at a color, opacity, offset and blur of your choice.
More visual pop can be added to your creation by altering its perspective via controlling its rotation and tilt by degrees.
You can add a reflection to the image, too, giving it a glossy product-style look.
A new feature added with this version of Snagit is color filters. They allow you to take a screen grab or image imported into the software and add a grayscale, sepia or inverted color image.
Share, Share, Share
Sharing is an operational necessity these days, and Snagit includes a healthy array of sharing features. With this latest version of the app, sharing with some online apps is almost instantaneous.
Snagit sharing supports social media standbys Facebook and Twitter as well as Evernote, email and YouTube.
It will also share with Microsoft Office apps like Excel, PowerPoint and Word, and with video sites like YouTube and Screencast.
To call Snagit a screen capture program is to truly understate its capabilities. Sure, it can create screengrabs, but once it does that, it gives you an assortment of tools found in paint, drawing and photo editing programs to juice up those screen captures in creative ways.
If grabbing a static screen here or there for pasting into an email or document meets your needs, then Snagit isn't for you. If you want to use screen grabs for forceful and engaging presentations, though, Snagit can help you do that and more.