The Masters iPad App Is Worthy of the Green Jacket
MacNewsWorld

The Official Masters Tournament App for the iPad is free at the iTunes App Store.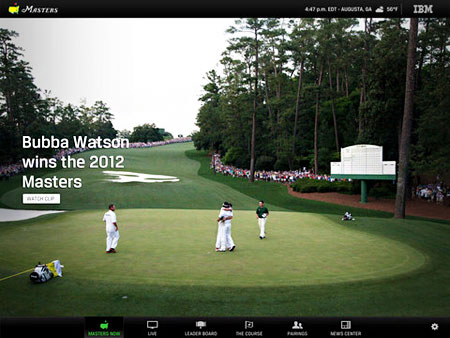 While I'm not a golf fanatic, I get onto local courses just often enough to enjoy the sport, the fresh air, and the skill it takes to send the little white ball home.
Fortunately, you don't have to be personally talented to appreciate a great sporting event, and the Masters Tournament is one of the best in the world -- a place where skill and pressure collide on the artistic canvas of a challenging golf course.
To bring not only the action but the feeling of being there to fans around the world, Augusta National Inc. has produced a spare and glorious app for the iPad.
There are plenty of stats, including a leader board that lets you filter and search the field of players. The whole point of the app, however, seems less about bringing you the latest news and more about bringing you closer to the course. You not only get a spot in the gallery, but a spot at 18 holes and beyond.
How the Masters App Takes You There
There are six basic navigation areas of the app -- a main Masters Now section, Live video feeds, the Leaderboard, Course, Pairings, and a News Center. That's it. There is no clutter at Augusta, and there is none in the app. The result is heavy on visualization and a smooth, easy-to-understand experience.
The video feed section is the best part of the app, because it lets you flick between several live feeds of action on the course. It notes which players are currently available to watch, and each feed has announcers narrating for you. If you're a fan, this lets you flick and choose who to follow.
It's not the frenetic adrenaline you experience trying to follow the NCAA basketball tournament, but there's something riveting about seeing live action and amazing shots, no matter what the sport.
If you're away from your HDTV, you can watch a live simulcast of CBS network coverage on Saturday and Sunday. The quality? Depends on your Internet connection, but it's viewable with 3G or better and WiFi. In my tests, it was surprisingly crisp on my iPad 2 with WiFi.
The Leaderboard is of interest to more serious fans, particularly those with players they like to follow. For recreational golfers, the Course overview section will eat up much of your time. You get an aerial view of the course, can zoom into each hole, and get a brief story and description including how it got its name and the associated flora.
You also get highlights like the Founders Circle and the Big Oak Tree. You can view all of this with 360-degree tools that also let you use your iPad's gyroscope to move the view around.
The Big Oak Tree? It's cool -- almost worth downloading the app just to see it.
The Pairings feature lets you see who is playing together and when they tee off. Again, this is good for finding a specific player.
The News Center is what you expect -- live updates and feature stories about the action and who's making a run on the course. There is a lot of video and plenty of photos. When you tap on a photo, you're usually rewarded with a bright fullscreen image that snaps smartly into focus. In fact, all the photos chosen are rich and vibrant in their clarity, capturing both broad and intimate moments of the tournament. They are fantastic, really.
For what some people consider a stuffy sort of club, August National and the Official Masters Tournament app know to share the love in photos -- even when players are dropping balls, groaning in frustration, or staring with a surprising steely eyed intensity.
Follow Your Favorites
There aren't a lot of settings to mess around with in the app, but there are a few that count. For instance, you can choose your favorite players and receive real-time alerts of their tournament performance, including when they tee off, complete a hole, finish a round, or enter into live video coverage on the app.
Your selections will appear at the top of the Leaderboard. If you're a casual fan, there are general alerts, too, for breaking news, updates, and special activity on certain holes if you have favorite areas of the course.
There is a lot to appreciate about the Official Masters Tournament for iPad app. It tries to bring you closer to the action and let you peek into the tournament without actually being there.
One more thing: There are only a few barely-there ads. In other large sporting event apps, it can seem as if every new spot you navigate to -- every new video feed you try to watch -- ends up with you waiting for the same commercial to steal 30 seconds of your life. Not so with this Masters Tournament iPad app.
I greatly appreciate that. In fact, there's no bragging or boasting in this app, just a clean, clear look -- an invitation into an exclusive club with elite players in celebration of sport and peformance under pressure.

---