PopAGraph Dazzles With a Little 3D Magic
MacNewsWorld

PopAGraph can be found for free at the iTunes App Store.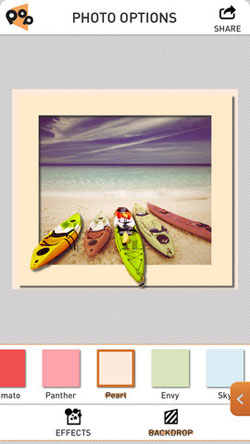 Because the iPhone has turned into one of the world's most popular cameras, there's no shortage of photo editing apps in the iTunes App Store. Many of these apps are great, and many have overlapping features with similar special effects.
So how does one photo editing app rise above the rest? What makes it great?
Do-it-all apps are good, and I have several collected inside a Pic Tools folder on my iPhone 5. Sometimes, however, I don't turn to a heavy do-it-all app. I use a specific app tuned to a specific purpose. Better yet, the photo apps I remember to use come specifically when I recognize a great opportunity to use their primary features.
Enter PopAGraph by Flambe Studios.
At first, I thought PopAGraph somehow let you select a photo element, like a person, then lift it off the primary layer of the photo -- perhaps zooming the element and letting you shift its position to make it appear closer to the viewer, maybe larger than life, or slightly 3Dish.
PopAGraph does not do that . . . exactly. This is a case where the name of an app and brief descriptions can result in the wrong first impression.
Fortunately, my second impression -- and understanding of what the app really does -- was good, too.
Start With a Foreground Element
The basic premise of PopAGraph starts with an object in the foreground of your photo -- a person, pet, building, or acorn. Something interesting. Something to which you want to draw attention. Something that will seemingly pop out at you upon first glance.
PopAGraph enhances that effect.
Imagine a photo of a young couple in front of a downtown cityscape. Naturally, there's some distance between the couple and the city buildings, but for some reason the photo is just ok, not amazing, despite the adorable smiles. You try applying some filters and you gain some modest improvements. There's still so much going on in the photo, however, and the fading sunlight casts such a nice warm glow over cool architecture.
When I see this, I think the elements are fighting for attention. Sometimes a good crop can fix it, but not always.
By using PopAGraph, you can select your young couple by painting a line all around them -- around their edges. When you connect the two ends of the line, the painted area fills in completely. This becomes your "popped" element. The rest is your background.
Now you can apply a variety of filters to each element, adding contrasting styles, additional color, or muting the background color. You could, for example, make your couple show vidid colors while turning your background grayscale. Or you could turn your couple into a vintage sort of color while blurring your background.
This is all fairly basic, fairly common sorts of features. The implementation is quick and easy to understand, though, which I appreciate.
In addition, PopAGraph has several videos that teach you how to use the app when you first start out, making the generally intuitive controls even easier to learn.
At this point, what you have is a great app that lets you select an element from a photo and apply filters to it and the background. The controls are intuitive, and the app is snappy with nicely animated transitions. It's easy to zoom in and out and pan over your photo while masking your foreground element. Not bad. However, there's more.
The Magic Is in the Frames
The most important feature of PopAGraph is the use of what it calls Frames. Basically, a frame is just what it sounds like -- a box that you place over your photo, and then resize and adjust.
If you imagine the couple standing in front of a cityscape, you can create a frame that captures the city and everything but their feet. This crops down the background content, leaving the feet in the foreground as if they are there in front of the overall image. It sort of pops, and it can instill a slight 3D effect.
It's up to you to decide if it looks cool or stupid. Just because you have a fancy new tool doesn't mean you should use it all the time.
Meanwhile, what sort of elements might come alive with PopAGraph? Anything you want to draw attention to, like a dog chasing a Frisbee on a beach and leaping into the air before it catches it. Nice. PopAGraph could let you mute the beach and waves and bring extra clarity to the dog. The Frisbee? You could add a frame that crops the photos so that the flying disc appears to be halfway outside of the "image." This will make the viewer feel as if there's a picture there, but that the dog and frisbee are popping off the 2D photo.
Of course, if you have a bunch of static photos with very little going on, your results will be lackluster.
If you see a tree or flower, on the other hand, and play with perspectives as you shoot photos with your iPhone, you'll recognize opportunities to visually lift elements from your photos and use framing techniques to extend objects beyond the perceived border of the image.
If you post a lot of photos, write a blog, produce newsletters, or are fanatical about creating invitations to pet birthday parties, PopAGraph takes a semi-professional technique and makes it crazy easy.
Any limitations? You can only work with one photo at a time. If you start a project then want to try another, you will delete the old project when you start a new one. However, the editing activity is quick and painless, so it's not like you're spending more than five minutes as you select a foreground element.
There's all the social media sharing features you would expect, and you can save your PopAGraph photos back to your camera roll.
All-in-all, PopAGraph is a crisp, fast little app. It starts out free with a handful of filters. You can try other filters, and if you want them, you can buy them all through an in-app purchase for US$1.99. I did.
One more thing: Try the "Toon" filter on the background of your cityscape photos.

---