Status Board Gives You a Stylish Dashboard for Your Life
MacNewsWorld

Status Board, an iPad app by Panic, Inc., is available in the iTunes App Store for US$9.99.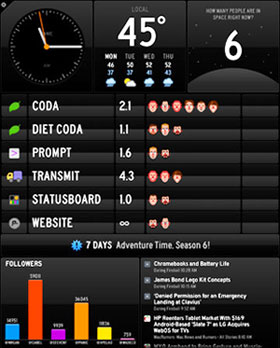 Executive dashboards are now common in business environments -- graphical interfaces that show managers key metrics about their enterprises like sales activity, inventory or financials. They tick and update in real time, and they require hooks into business data to work.
Panic, Inc., has created a simple dashboard for real people.
Status Board lets you create a snazzy widget-based iPad screen full of elements that matter to individuals. Clearly, after I stumbled upon in it in the App Store, I had to give it a spin.
How It Works
You can select six types of instant panels that you can size and position on the iPad's screen. These panels are Clock, Weather, Calendar, Mail, Twitter and Feeds. They feature bright and clean colors on a black and gray background. Very slick and 100 percent awesome.
As for the panels and data themselves, Clock and Weather are handy but basic. You can choose between an analog clock or digital, and you get what you get. Same goes for Weather. Fortunately, you can use more than one of the same type of panel, which means you can set one Weather panel to your current location and the other can be set for back home, or grandmother's house or wherever. If you have a hard time with time zone conversions, you can set up a clock for Italy.
The Calendar is particularly handy, letting you pick and choose which calendars you want to see in a particular panel. Business meetings might go in one panel, while birthdays or special events could go in another. You can also mix them all together. Unfortunately, if you tap a calendar entry item from the dashboard, nothing happens; it would be nice if you launched over to the calendar entry so you could see additional details.
The Mail panel is similarly hampered in that if you decide to see a running view of new mail, you can tap on the subject lines all day long and never launch over to the message. A big problem? Not exactly, but based on all human nature that I'm aware of surrounding iPads, if you see something of interest, you want to tap it for more.
The Mail panel, though, offers some additional goodies. You could get a running number of your unread mail count, your total message count, and you can even see a super-slick graph of incoming mail by day or even by hour. Status Board is astoundingly fast on my iPad 2 -- the moment I select a new view, the app starts creating the panel data representation in the background.
A New Twitter View
Diehard Twitter users most likely already have their favorite social network-related apps, but Status Board gives you several ways of viewing Twitter content through your panels. You can display tweets, timelines, followers, mentions, search terms or lists. Again, you can follow multiple accounts in one panel or create various Twitter views out of multiple panels.
The Feeds panel does what you would expect: Shows feeds from your favorite web sites. You can show them via a simple list, ticker or by the day. In list view, though, you get an extra feature: If you tap a headline from a Feed, you can open the article via Safari.
The Pro Panels
I messed around with the pro panels by using Panic's sample data. If you're smart, though, you can create your own custom panels.
If you provide a JSON or CSV data source, Status Board will "make it beautiful." If you want a table, you can host some HTML or CSV data and create a table. You can also design your own panels using HTML. To learn how to create these custom panels, Panic provides a PDF guide for each type: graphs, tables, and a tutorial for DIY panels.
If Status Board takes off in popularity, it's possible that more than a couple of third parties will provide data sources and tools for Status Board. Right now there are two: StatHat and HockeyApp.
Finally, Status Board lets you show off your snazzy dashboard via an HDTV with an HDMI connection or AirPlay with an Apple TV. According the App Store web page, you should be able to mirror your dashboard to an HDTV with "Basic AirPlay," but I could not see how to invoke AirPlay.
I immediately tested AirPlay by showing an episode of The Walking Dead, which worked great, but I had trouble doing the same with Status Board.
For mirroring that utilizes every glorious pixel of an HDTV, Panic offers an in-app purchase for HD Out Support for $19.99. I did not test this, but if you have a need to show off your data on an HDTV in your home, office or small business, I have to admit that this sort of functionality at this low price point is pretty amazing.
In the future, I would expect additional panels like stocks. For right now, however, the basics remain a heck of a lot of fun.
If you're the kind of person who works with information that could be turned into real-time data, Status Board could spark some powerful custom visualizations for you.

---