Microsoft's IllumiRoom Blends Gaming, Real-World Environments
By Peter Suciu
Apr 29, 2013 1:31 PM PT
While Microsoft isn't taking the wraps off its upcoming next-generation video game console until next month, it did cast a little more illumination on its IllumiRoom projection system on Monday.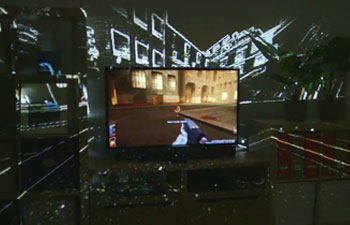 Projecting wider field-of-view content around the television increases immersion.
The system, which is the subject of a research paper to be presented at this week's Conference on Human Factors in Computing Systems in Paris, has been described as a proof-of-concept technology that augments the area surrounding a television. Among other things, it can project visualizations that are meant to enhance the traditional gaming experience.
"IllumiRoom seems like a potentially disruptive game technology, but when Kinect was in beta and demo stages, it also appeared to have the potential to change the gaming experience," said independent video game analyst Billy Pidgeon. "At this point, the room overlay projection tech is probably most effective in generating interest with developers."
Microsoft declined to provide further details.
Game Projections
The IllumiRoom is not the first technology to attempt to create a more immersing experience, but the jury is still out as to whether most gamers will embrace this type of system in the home.
"These are peripherals. These aren't likely going to be at the center of the interactive experience," said video game consultant N'Gai Croal of Hit Detection. "This is a bit like a home theater; you either have the space or don't, but that's mean you can't watch movies."
The current design may not lend itself to gamers taking full advantage of it in the home.
"Microsoft has showed an example of the device sitting on a coffee table in front of the TV set, or mounted from the ceiling. Very few people have a ceiling mounted device, and even with a coffee table projection system it would need to be tucked under the table and out of the way," said Lewis Ward, research manager for gaming at IDC. "In a practical setting, without the perfect viewing conditions, it could limit the niche -- and this in turn limits the practical application of such a device."
Peripheral Vision
It is likely that Microsoft could help build support for such technology by incorporating it into its first-party software titles for its upcoming video game system.
"Microsoft is likely working on internal uses, but new gaming technology won't catch on unless it can help external developers create unusual gameplay with competitive commercial value," added Pidgeon.
"We've seen a number of vendors and publishers launch new tech promising to provide innovative game control and display technologies in recent years, and the user experience delivered has come up short of the hyped promise," he pointed out.
"We'll continue to see interesting new control-and-display tech, but vendors should be savvy enough to keep expectations low," Pidgeon told TechNewsWorld.
IllumiRoom may have to get past the chicken-and-egg problem before it has a chance of taking off.
"It has that wow factor, but it is going to have to be something that Microsoft supports internally," said IDC's Ward. "Game developers and publishers aren't going to spend the money to develop for it until it has a large install base."
In turn game buyers won't buy it until there is a game library for it.
"We could be looking at something that could approach US$1,000 at retail," said Ward. "Even if Microsoft added the technology to all first-party games, it wouldn't have enough of a base for third-party developers to sign on en masse."
Commercial Appeal
Such a device could have potential in commercial applications and could certainly be a hit at special events.
"For commercial purposes such as trade shows -- vendors or electronics companies who want to do cool visuals around a PowerPoint presentation -- this could work quite well," Ward told TechNewsWorld.
Future Proof
Although Microsoft is presenting IllumiRoom in a living room setting, it may be that the technology will find greater acceptance outside the home.
"You can't envision everything in a lab, and this is a start to where it could go," added Croal.
"We're going to see things that come out after this. Microsoft's implementation might be through a console, but there is no reason this couldn't be used with a PC down the road -- or couldn't be used with a tablet or a smartphone at the center of the infrastructure. The key components are motion sensor, the projector and the TV," he noted.
"This could lead to an abstract that could evolve and work with other sources of imagery, as long as the CPU horsepower is there," Croal suggested.
"In the future, there is going to be a lot more onboard CPU power in the TV itself and the camera/projector," he pointed out. "Until we get to the holodeck, people are going to experiment with technology that can simulate and emulate virtual experiences."