WebStart's a Snore-Worthy Substitute for iGoogle's Snappy Style
MacNewsWorld

WebStart can be found in the Mac App Store for US$.99. With iGoogle scheduled to be axed in November, orphans of that offering will be looking at alternatives like uStart, Protopage, Netvibes and Myfav.es.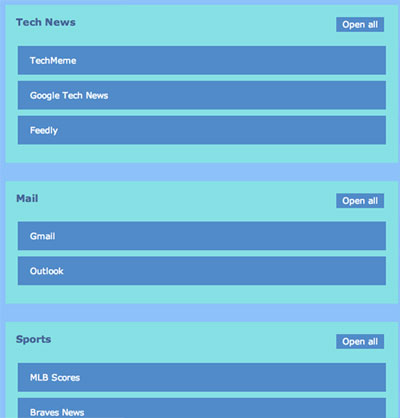 While those alternatives will meet the needs of many iGoogle users set adrift by the search company, some souls may want to create their own homepage substitutes for the versatile portal.
Since the whole idea behind iGoogle is to avoid the hassle of creating homepages, it might seem a bit incongruous to suggest doing so as an alternative to it.
On the other hand, building a homepage has become easier since the days when iGoogle was launched. There are some good online tools for creating a homepage and some apps that run on a Mac that simplify the process.
WebStart is one of those apps that simplifies the process. However, it may simplify things a little too much for most users.
No iGoogle Substitute
It only took a second or two after installing WebStart to suss out that it wasn't going to be an iGoogle alternative. That's not the app's fault. Its author never claimed such a lofty goal.
Nevertheless, I thought I'd take a crack at creating a quasi-iGoogle page with the software.
One thing at the top of my mind before embarking on the task: Would I be able to use the new homepage on both my Mac and PC? That's not a problem because the final output from the software is a simple Web page that will run in any browser.
There are two modes in WebStart -- one for setting up links, the other for styling your homepage.
You're not limited to a single page. You can create multiple pages of links. The program calls them collections.
Simple Input
On the link screen, there are two columns. In the left column, you create topics for your links. In the right column, you create your links.
To name a topic, you click on the text in a title's box and type in your title. Beside each title is a counter that tells you how many links you've created for the title.
If you're dissatisfied with the order of your titles, you can drag them to new locations within the title column.
At the top of the title column are a plus and minus button for adding or deleting topics.
Editing the links column emulates the task in the topics column. A click on a link's title lets you edit it, as well as a click on a link.
Another option in the link column is to open the link in a new window, or in the same window as the home page. "New Window" will be translated as a new tab in your browser.
iGoogle Obsession
In my obsession to imitate iGoogle, which has admittedly gotten a bit cluttered over the years, I chose to strip things to the essentials.
For gathering news on my iGoogle page, I have widgets for viewing headlines from Techmeme, Google News and Google Reader. So when I created my news topic in WebStart, I added links to those sites, save Google Reader; for that I substituted a link to Feedly.
I also added topics for sports, mail and calendar. Then added links to my favorite sports teams, my Web mail programs and Google Calendar.
The obvious disadvantage to all this is that I have to leave the homepage to see anything. With iGoogle, everything is updated in widgets. The latest news headlines are continuously updated. Sports scores and news change dynamically. Calendar appointments can be added without leaving the page.
Like I said, though, WebStart was never designed to do all the fancy stuff iGoogle can do.
Too Simple
At the bottom of the WebStart window are two icons that, when clicked, allow you to toggle between the link and style modes.
Style options in the program are rudimentary. You can choose a font, as well as font size, color and style -- bold, italic and underline.
You can apply the same options to your links, with the addition of a background color. Also, you can define different characteristics for normal links and links when you hover over them.
Styles can be saved so you can change your homepage from time to time without much fuss.
When you've completed your homepage, you can save it to a location on your computer.
When you save it, WebStart will automatically save the path name to the page to the clipboard. That makes it easy to paste the location into the homepage option in your browser. Then, the browser will automatically load your WebStart page as your homepage.
What's more, you can copy your WebStart page and use it on any other computer you may use that runs a browser.
Without a doubt, WebStart is easy to use. It gets the basic job done, too. However, the Web pages it produces are dull and lack any sort of design pizzazz. While the program can't be criticized for not being an iGoogle substitute, it can be knocked for lacking flair.

---