Apple Brings Back Sexy at WWDC
MacNewsWorld
While Apple's annual Worldwide Developers Conference focuses on developers who create applications and services around Apple's products, the company always reveals something new for everyday consumers, too. At this year's keynote address, Apple delivered a little love for everyone:
a new flat but astoundingly layered iOS 7;
the next version of Mac OS X, aka "Mavericks";
new MacBook Airs with faster processors and improved battery life;
a super sexy Mac Pro;
iTunes Radio; and
iWork in the cloud.
Here's a closer look.
iOS 7 Takes a Bow
The old iOS 6, while offering superb functionality, was a mixed bag, with some of its design starting to look old and clunky. Then Apple tasked Jony Ive, Apple's hardware design guru, to lead the refresh effort beyond the frame down into the software interface itself. The challenge? Create something completely new without confusing or alienating the users of the 600 million iOS devices Apple has sold.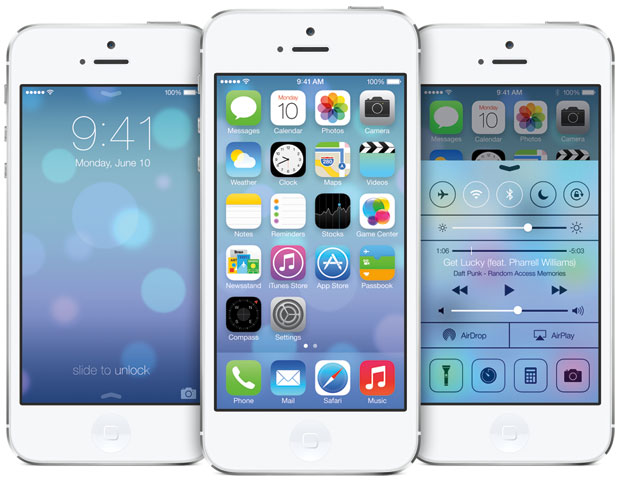 To do it, Apple removed all elements of skeumorphism -- graphical elements designed to look like objects in the physical rather than digital world, like yellow lined notepaper in the Notes app.
Next, Apple flattened the look of the interface overall so that buttons are less like switches or toggles with heavy 3D shading.
Then Apple added crisp new typefaces and modernized many of the core apps like Weather or Compass and Maps, adding functionality in addition to a new look. That new look is based on the concept of layers. The iPhone has a background wallpaper layer, followed by the old app icon layer, and visually these look as if there is a real gap of air between them.
Move the iPhone at different angles to reveal a new view of the wall paper photo beneath. And apps? A third layer can slide over the top with touch of translucency, letting you interact with an app before sliding it out of the way.
The Result
Looks great. There's a problem, though. Regular consumers won't be able to touch it until this fall.
In addition, Apple evolved a few important elements, including a much improved Weather app that includes animation and time zone support. Looks gorgeous.
A new Control Center lets you access common settings like WiFi, Airplane mode, and screen brightness simply by swiping up from the bottom of the phone. The enhanced Notification Center is available from the lock screen. Multitasking has gotten way smarter, which means Apple will let your iPhone multitask with all apps -- without, Apple claims, sucking your battery dry.
The new Photos app and Camera Roll now create zoomable groups of moments -- photos and video taken in the same places or times, making it much easier to scroll through and find your best work instead of letting it hide somewhere inside the world's most popular camera.
Safari scrolls smoother, adds a new Tabs option for the iPhone, offers more ways to consume website content, and generally gets out of the way. Siri gets a new, richer-sounding voice to go along with a smarter brain that's more capable of interacting with your own iPhone -- so Apple says.
The iOS Mail app looks amazing, while the Messages app has a slick new flat and rich interface -- but it hangs onto the patented conversation bubble graphics. Oh well. Someone at Apple is intensely proud of those bubbles.
OS X Mavericks
Apple was running out of big cats to name it's Mac operating system after, so the team decided to switch the naming scheme to important places in California. Hence, the big wave surf zone known as "Mavericks," which also explains the new huge ocean wave background as the default background screen in OS X Mavericks.
Apple CEO Tim Cook noted that 72 million Macs were installed, and he bragged about the much higher adoption rates of new versions of Mac OS X vs. the competition. While many of these newer Macs will be able to run Mavericks when it's released this fall, Cook didn't make any mention of the required specs or note which older Macs might not have the horsepower to surf the big waves.
Still, Apple claims that Mavericks will increase system responsiveness and save on battery life. In fact, Apple even showed off several new technologies to make the system consume less energy yet seem faster: Timer Coalescing, App Nap, Safari Power Saver and Compressed Memory.
More importantly, though, at least to the developers in attendance, was the introduction of multiple display support that lets you manipulate all your core desktop OS elements like docs and apps across multiple displays, effectively moving elements back and forth and pinning some elements to certain displays.
To help with workflows, Apple has added Finder Tabs -- like browser tabs, but for Finder-based elements -- as well as created a Tags feature that will let users tag all their content, no matter where it's located, and find it via an integrated search.
Notifications have been improved; the Calendar is flatter and better integrated with location-based awareness, which brings up the new Apple Maps app. What's really interesting about the Maps app is its integration with iCloud, which means you can look up location directions on your Mac and then send them wirelessly via iCloud to your iPhone. It looks like it will be wickedly slick integration -- assuming that the Maps team has found all the dead ends and gaping holes in Apple's maps.
Speaking of iCloud, Apple is now offering to remember all your passwords and keychain items, including credit card numbers, for all sorts of Web-based services and sites.
The best new "about freaking time" feature? iBooks will finally have an app on your Mac, letting you read all your iBooks on your Mac, too. For textbooks, this means some cool note-taking features that students will eat up.
The All-New Mac Pro
The MacBook Air might be the device of choice for most Mac fans, but the professional-grade Mac Pro has gotten an astoundingly awesome redesign. The Mac Pro is now a cylindrical tube of slick sexiness. All hint of the standard tower rectangular construction is gone, replaced by a unit 1/8 the size -- but packed with impressive gains in CPU, graphics, I/O, SSD storage, and memory.
The entire top is a handle, and if you need to add some peripheral device -- which dev pros tend to do -- all you have to do is pick it up and spin it to reveal the ports, which then sense the need to light themselves so you can see where to plug things in. And yes, the audience ooed and aahhed at that little demonstration.
Go take a look at it online at Apple.com. You won't be able to touch one until this fall, but wow, this is a seriously sexy and powerful little unit. In fact, its introduction let Apple's Senior Vice President of Worldwide Marketing Phil Schiller throw down the best statement in the keynote, uttered with perfect timing and under-the-breadth delivery: "Can't innovate anymore my ass!"
Meanwhile, the MacBook Air
The MacBook Air picked up new Intel "Haswell" processors and gained faster flash-based storage, and more of it, for essentially the same price points. The biggest innovation is battery improvements, though: The 11-incher went from 5 hours to 9 hours of battery life, while the 13-incher jumped from 7 hours to 12 hours.
The big disappointment? No Retina displays for the MacBook Air yet. Still, the new MacBook Airs are available now.
iTunes Radio
Instead of offering a whole new "iRadio" app or service, Apple built the new iTunes Radio directly into all of it's music apps -- into iTunes on the Mac, into the Music app on your iOS device.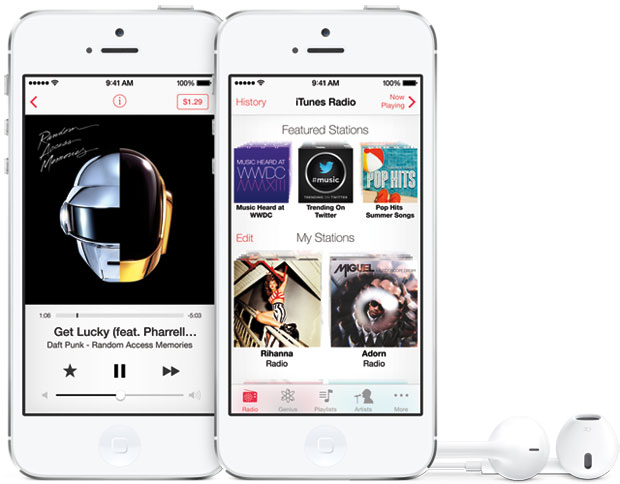 Basically, iTunes Radio is a streaming music service that will not only let you listen to channels and create your own -- like Pandora, for instance -- but also easily see your listening history and buy the songs you love the most.
It's advertising supported -- unless you're an iTunes Match customer, in which case it's ad-free. For $25 a year, iTunes Match suddenly becomes a bit more compelling.
iTunes Radio looks simple to use with a gorgeous built-in design. Will it replace the purchase of songs on iTunes? Maybe. Either way, Apple is offering up a significant new enhancement for the consumption of music through its ecosystem.
Unfortunately, iTunes Radio won't hit until this fall, at which time it will be limited to the United States -- though Apple said it plans to add countries in the future.
iWork in iCloud
Apple teased new app-based versions of iWork -- Pages, Numbers, and Keynote. Later this year, though, collaborators and creators are gaining new iWork for iCloud apps, which let you create and edit iWork documents directly from any Web browser.
The programs are a beta that's coming soon, but the WWDC demo made them seem super slick, super fast, and super powerful. Plus, other users can edit your iWork apps from a PC using a non-Safari browser. And Microsoft Word docs? You can drag and drop a Word doc onto your iWork for iCloud Pages app, open it, and start editing it.
For workers and collaborators, this is a big deal.
We're Very Proud
Apple revealed quite a few other little tidbits of joy and delight, but it seemed Cook wanted to reset expectations around the company, taking the time at the beginning of the event and at the end to reference what's really important to Apple, what Apple is all about -- as if perhaps the climate around the company has gotten out of hand over the last several months.
"Our goal at Apple is to make amazing products that our customers love," Cook said. "Really great products that enrich people's lives."
In fact, Apple also went so far as to create a new ad to help spread this message, which is one that seeks to share why Apple doesn't just do things like create a bunch of different iPhones at different price points and try to win marketshare. The ad focuses on the experience of a product, how it makes someone feel, and if it makes people's lives better. More to the point, "Does it deserve to exist?" the ad asks.
Heavy stuff for a developer's conference, but there it is -- Apple trying to make sure that Apple defines itself for the world instead of being defined by everyone else.

---