Who Will Buy Apple's Shiny New Mac Pro?
MacNewsWorld
In an attempt to revive its flagging reputation for introducing innovative products, Apple unveiled a new Mac Pro at its World Wide Developers Conference, being held in San Francisco this week.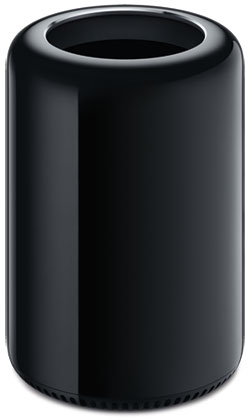 "Can't innovate any more, my ass," said SVP of Product Marketing Phil Schiller as the Mac Pro made its debut.
The futuristic-looking black cylindrical device stands less than 10 inches tall and offers 7 TFlops of computing power using state-of-the-art technology.
Still, it can't be said that the Mac Pro was a showstopper. Instead, it appears that iOS 7, changes to Siri and, to some extent, Apple's new iTunes Radio are drawing most of the attention.
"There's a contingent of customers who will buy anything from Apple, no matter what, but the radical design elements of the new Mac Pro means clients also have to buy into Apple's proprietary vision of high-end graphics computing," Charles King, principal analyst at Pund-IT, told MacNewsWorld.
What Little Mac Pros Are Made Of
The new Mac Pro is powered by Intel Xeon E5 processors with up to 12-core configurations, 2-teraflop AMD FirePro graphics processing units, error-correcting code memory, Peripheral Component Interconnect Express-based flash and six Thunderbolt 2 ports.
Its PCIe-based flash storage is up to 10 times faster than conventional desktop hard drives. PCIe is a standard created in 2004 by Intel, Dell,
HP
and IBM. The latest version is PCIe 3.0. The Thunderbolt technology, jointly created by Intel and Apple, combines PCIe and DisplayPort protocols in a Mini DisplayPort-compatible form factor.
The Mac Pro has the latest four-channel ECC DDR3 memory running at 1.866 GHz, delivering up to 60 GBps of memory bandwidth. This lets users seamlessly edit full-resolution 4K video while simultaneously rendering background effects, according to Apple.
The device's six Thunderbolt 2 ports can deliver up to 20 Gbps of bandwidth to each external device. Each port supports up to six daisy-chained peripherals. Thunderbolt 2 is backward-compatible with existing Thunderbolt peripherals.
All this technology is architected around a unified thermal core that shares the device's thermal capacity across all the processors, thus letting the Mac Pro run cool enough to be built with one-eighth the volume of the current Mac Pro.
Far From the Thundering Herd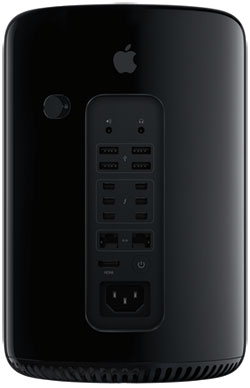 The new Mac Pro is the most expandable Mac ever built because its Thunderbolt ports support daisy-chaining, Apple suggests.
There's just one catch: Few existing peripherals have Thunderbolt ports. This is at the heart of Layhe's ire with the new Mac Pro -- users can't employ standard video cards but will instead either have to get cards that have a Thunderbolt connection, or get cards that fit the Mac Pro's shape.
"Filmmakers and photographers have some pretty high storage requirements, and the fact that you can't expand the storage when you use it could be a problem that might backfire on Apple," Julien Blin, a directing analyst at Infonetics Research, told MacNewsWorld.
With the new Mac Pro, Apple's going back to its roots, Blin suggested. "It's doing something different, offering something unique -- and as for the Thunderbolt connections, that's like what it did for the iPhone. You can't expand the storage."
Uncertain Metamorphosis
The new Mac Pro's lack of expandability "is a problem, both technologically and behaviorally, because it requires customers to buy into an essentially new way of doing business," Pund-IT's King remarked.
"Apple is attempting to skirt around this by delivering a high-performance solution designed to meet many or most users' needs, but the move to Thunderbolt means that customers who want to expand their systems will need to find developers who are investing in the technology."
Apple "has tried extreme redesigns in the past that turned into boondoggles," King continued. "Remember the Mac Cube? The new Mac Pro could well become another."