Ulysses III Banishes Word-Processing Bloat
MacNewsWorld

Ulysses III by The Soulmen GBR is available in the Mac App Store for US$39.99.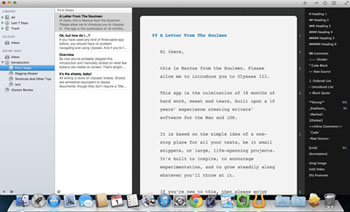 (click to enlarge)
During the fledgling era of word processing, developers divided into two camps over formatting documents.
Software makers like Xywrite believed formatting and composition should be distinct. They designed their word crunchers to have two modes -- one for writing, another for formatting a document.
Other programming outfits, like Microsoft, favored the "what you see is what you get" approach. It allowed someone to see on their computer screen exactly what their document would look like on paper.
Xywrite was especially loved by keyboard jocks, because it gave them very fine control over the typography of a document through the use of embedded codes and scripts. Those kinds of programs, though, had less appeal to document writers, who preferred to not to deal with the nitty gritty of document production.
Eventually, the WYSIWYG wing of word processors won out because they were just plain easier to use. However, as more and more writing moves to the Web, WYSIWYG word processors have begun to show their age.
Flexibility, Not Bloat
For many writers, the proprietary word crunchers have become lumbering behemoths waiting for an asteroid strike. Their bloated feature sets have been augmented over the years more to distinguish one version of a program from the next than for any concern about need or value.
Ulysses III isn't that asteroid, but it offers a vision of word-processing beyond programs like Microsoft Word and Apple's Pages -- or maybe a vision harking back to the days of Xywrite.
Like that hoary word processor, Ulysses III, which sells for US$39.99 at the Mac App store, uses codes to mark up text. A convenient cheat sheet can be displayed in the program until you remember the two dozen or so codes to mark up your text.
Ulysses III, though, is designed to give you a broad degree of flexibility when exporting the documents you create. That's because the software acts more like an HTML editor than your typical word processor.
By the way, don't let the Roman Numeral in Ulysses III fool you. For all intents and purposes, this is a whole new ball game for this text editor -- another version 1.0, if you will.
Unsightly Codes
Like HTML, Ulysses III marks up content. That means it describes what text should look like, rather than carving those looks in stone, as a word processor does.
For example, if you select a word in Pages and italicize it (cmd-I), the italics will appear properly when the file is printed from Pages. If you export the file so its digestible by another program, those italics may or may not be preserved.

(click to enlarge)
That problem won't occur with Ulysses because it describes formatting italics in a way that can be interpreted accurately for popular content applications -- even if within Ulysses III the formatting looks disconcerting.
Italicized content, for instance, appears as italics but is delimited by underscore marks (_/_). You can use keyboard shortcuts, like cmd-I and cmd-B, to style text in Ulysses III, and it will automatically add the codes it needs to recognize the formatting when it exports it to HTML, PDF, RTF and such.
3-Panel Interface
Ulysses III has a nice clean interface, but if you're comfortable with a traditional word processor like Microsoft Word, it may take some getting used to for you.
The interface is based on three panels. One panel -- the sidebar -- contains the tree structure for your documents and places where your documents may be residing -- on your Mac, for example, or in iCloud.
The middle panel -- the sheet list -- contains "sheets" connected to items in the first panel. A "sheet" is like an item or page in your document.
The third and largest panel -- the editor -- is where you do your writing.
In full screen mode, Ulysses III displays a barebones document with light gray text on a black background. You can still use shortcut keys in that mode and have access a menu for attaching notes, images and keywords to your sheets.
Creating Without Clutter
You can write entire documents in a sheet or treat the sheets as building blocks for whatever you're writing. Sheets can be easily combined or moved among topics in the sidebar with drag and drop.
Ulysses III can be customized in a number of ways through its preferences menu. Among its general preferences are the font to be used in the program, paragraph spacing, first line indent and page width. You can also choose between an OS X or iOS insertion point.
In addition, you can choose how marked-up text will appear in your documents. You can choose color themes put together by the software's designers or create your own.
Another preference lets you show content from iCloud, your Mac and Daedalus Touch in the sidebar.
There are some features writers may yearn for in Ulysses III. There's no dynamic word count -- you have to pull up statistics on an item or sheet by right-clicking on them -- and there's also no spell check.
Despite some deficiencies, Ulysses III offers a streamlined way to write. If you need complexly formatted documents, Word is still your best bet. If much of what you write appears on the Web or in PDFs, Ulysses III can help you create without the clutter of a typical word cruncher.
Want to Suggest a Mac App for Review?
Is there a Mac app you'd like to suggest for review? Something you think other Mac users would love to know about? Something you find intriguing but are hesitant to buy?
Please send your ideas to me, and I'll consider them for a future Mac app review.
And use the Talkback feature below to add your comments!

---