The AOL: Mail, News, Weather & Video App Is Like High Fructose Corn Syrup
MacNewsWorld

AOL: Mail, News, Weather & Video by AOL is available in the iTunes App Store for free.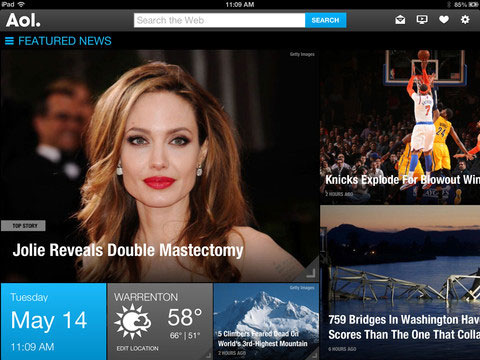 There's been a lot going on in the content aggregation world this summer, mostly due to Google turning off the power to its Google Reader. I've been following the action with half an eye open, not particularly invested in the outcome, mostly because I prefer to get my news, articles, reviews and columns directly from the original source. RSS feeds and readers can make for incredibly efficient content consumption, letting you gobble up the RSSified Web like a hot dog eating contest contestant.
In my experience with RSS readers, you end up going to sources that provide you a streamlined view of the article -- without a bunch of ads and clutter -- but also without the publication's wrapping. The extra pieces and parts are the clues that identify the quality of the source, the tone, the personality and voice. Using RSS feeds is sort of like buying an Apple Mac without the box -- you just get handed the MacBook Air, no wrapper, no opening of the lid, no seeing the specs on the outside of the box. Just boom, here's your MacBook.
Enter a new iPad app. AOL: Mail, News, Weather & Video has been lurking around Apple's What's Hot category. The idea is that the app puts the "online world at your fingertips," letting you stay "in the know with access to up-to-the-minute news, top videos and impactful stories from the editors of AOL.com." Oh, and by the way, you can also get access to your AOL Mail in-box, right from the app.
3 Target Groups
I'll cut to the chase -- there are three kinds of people for this AOL app:
those who already have an AOL mail account and use AOL as a content/search source;
those who thought AOL had died years ago; and
those who are looking for different takes on content delivery.
There are 250 million people in the world who rely on AOL, the company claims. If you're one of them, save yourself some time and just go get this iPad app. You'll probably like it.
If you're like me -- you thought AOL crashed and burned and somehow missed seeing it rise like a new brand of flaming phoenix -- then AOL: Mail, News, Weather & Video isn't a terrible way to spend your time. It's also not a terrible lens from which to view the world of the Web.
If you're in the third group, those actively looking, then this app might make you nod in appreciation -- but fulfill your wildest dreams? I bet not.
A Closer Look
First of all, let's get this straight -- and if you're not an RSS and reader expert, it all seems twisted. AOL: Mail, News, Weather & Video is not AOL Reader, the new Web-based reader that's still in beta. AOL: Mail, News, Weather & Video is really designed for consuming AOL's world of content -- not everyone else's RSS feed that you want to follow, in which case you'll want a true reader.
As near as I can tell, these two services just happened to be released at approximately the same time around the death of Google Reader. It's possible to use Google Reader from within AOL: Mail, News, Weather & Video if you click on a link via your AOL email, which launches AOL Reader within what seems to be a built-in browser. However, I find it hard to believe that was ever AOL's intent.
Back to AOL: Mail, News, Weather & Video. Here's what you get.
Without an AOL account, you get a slick interface to AOL's conglomeration of content. Want a quick peek? Go to aol.com. It's a good presentation of a lot of trending content. If you like this site, you'll love the new AOL iPad app, which presents this world of the Web in a side-swiping set of boxes that use photos and headlines to attract your attention.
The interface is fast and smooth, and the videos tend to load quickly, too.
Fortunately, you don't have to stick with the "popular" news stories -- you can drill down into key categories, like Entertainment, Food, Health, Money, Tech, Travel, etc. Doing so gives you a whole new set of side-swiping content options, all as interesting and addictive as a sweet treat forged from high fructose corn syrup.
Not that all the content is bad, but most of what I've seen is fairly lightweight -- even if it's an article talking up the health benefits of kale, which you need to start eating, by the way. The bottom line here is if you're an expert or a really smart reader about a certain topic, then the content you'll find on AOL: Mail, News, Weather & Video will likely seem more like a cheesy snack cracker than a well-balanced meal.
The best feature is represented by a little "heart" icon, which is also why I won't be using this AOL app for much longer. Tapping a picture of a heart to indicate articles I want to save for later is just not going to happen. I like to save articles for later, but I'm a grown man. Tapping on little heart icons irritates me.
But Wait, There's Mail!
If you're a loyal AOL mail user, there's a lot to like with the built-in mail client. It was fast and snappy on my iPad 2, easy to navigate, and the interface was clean and pleasing. Unfortunately for me, I have multiple email addresses that I use for a variety of different kinds of things. Some are pure work, some are pure play. AOL just lets you use your one AOL account, as near as I can tell. If you have an aol.com account, it's solid. Not much more to see here.
As for the weather portion of the app, it's just a box that shows the temperature and high and low for the day -- maybe an icon of a sun and cloud or whatever is happening. It's not lush, not exciting. It's handy, but it feels like an afterthought.
I was expecting the icon skin part of the box to contain the core information and then launch into something really cool when you tap it, maybe photos, photorealistic animation, maybe a week-long forecast, weather news -- oh I don't know, anything at all that was just more. Didn't get it. You could probably take the "Weather" word out of the app name and not confuse anyone.
Last of all, AOL has to pay for all of this somehow, so there are long banner ads across the bottom of the app. They are easy to avoid and yet easy to accidentally tap. Depending on what you get served up, it could mesh well with your experience. On the other hand, you could be excited to read a great article with cool photos and then see a dumb cartoonish ad for online gambling games.
If AOL's content curators would just reject any ad that didn't match the aesthetic of AOL: Mail, News, Weather & Video, I'd be a lot happier.
Want to Pitch an App Review?
Is there an app you'd like to suggest for review? Please send your iOS picks to me, and I'll consider giving them a whirl.
And use the Talkback feature below to add your comments!

---