TotalFinder Adds Oomph to Apple's Adequate Native Navigator
MacNewsWorld

TotalFinder by Binary Age is available at the company's website for US$18. A 14-day trial is free.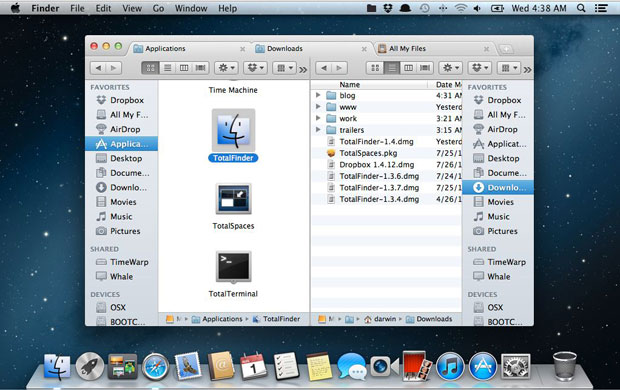 Without a doubt, one of the most frequently used programs on a Mac is the Finder. That's because files remain the milk of personal computing interfaces, no matter how hard designers have tried to hide it.
Finder performs basic navigation functions well. It will display files in several ways, let you move and copy files, compress files and archive them, and empty the trash. A company named "Binary Age" thought the Finder should do more, though, so it created TotalFinder.
The app adds a number of features to the good old Finder to make it a more productive tool for its users.
"My goal is to improve the Finder in areas where it is lacking but keep the overall design, which is good," the developer said.
Tabs, a dual panel mode and folders always-on-top are just a few of the features TotalFinder adds.
Fabulous Tabs
Anyone who uses a Web browser knows the value of tabs. They keep screens of information immediately available without cluttering a desktop with open windows.
For some reason, the efficacy of tabs has been lost on the designers of the Finder. Movement through folders more closely echoes the bad old days of browsers before tabs than today's modern editions of the software.
Using code from Google's popular Chrome Web browser, TotalFinder lets you create tabs for anything you can view in the Finder -- folders, drives and such.
What's more, whatever can be done with tabs on a browser can be done with tabs in TotalFinder. You can jump from tab to tab with a click. You can reorder tabs or pull them out of the Finder to create a separate window.
You can also drag a folder between tabs to create a new tab or drag a file or folder to a tab to move it.
For keyboard jocks, some tab functions can be performed with keyboard shortcuts, and for shortcuts not included with the program, you can create your own.
For users cramped for display space, TotalFinder also offers a narrow tabs bar option to conserve screen real estate.
2 Times Better in Dual Mode
Double-clicking on a tab will activate dual mode. Dual mode shows the contents of two tabs in abutting panels. It's great for moving files between folders.
When you double-click a tab, it will join with the tab on its right. If there's no tab to its right, it will join with the tab on its left.
TotalFinder also gives you a "visor" function for quick access to the app across applications when Finder is closed.
If you want Visor to remain in sight at all times, you can pin it to your desktop so it will always be on top of any open windows there.
As with any window, Visor can be resized, but it can't be opened in full screen mode.
A feature that some may find annoying in the Finder is its way of mixing folders and files when it displays the contents of a directory or drive. With TotalFinder, you can list the contents of a Finder window with folders on top of the list with a single keystroke.
Tweaks and Fine-Tuning
TotalFinder performs some other interesting tweaks on the Finder. For example, when you want to copy the path of a file, it gives you a variety of formats -- POSIX, URL, Windows path, UNC, HFS and Terminal.
If you're concerned with path name formats, you may also have a yen to keep your system files visible at all times in your Finder windows. That can be done in the Finder, but TotalFinder lets you do it with a keyboard shortcut.
Although many of us have the shortcut keys for cut-copy-paste hard wired into our brain by now, TotalFinder adds cut-copy-paste buttons to the Finder's right-click menu. Believe it or not, it can be a convenient addition from time to time.
The Binary Age program can be customized in a number of ways through its preference menu. For example, you can modify the Finder icon on your Mac's dock so you know TotalFinder is activated.
It also has an icon on the Apple menu bar that can be used to access its preferences and to show or hide the Visor. That icon can be hidden, and the path name and cut-copy-paste functions toggled from the preference menu.
You can also choose to show a progress bar on the dock to keep tabs on a lengthy file or directory copy, or move.
How the Visor is activated, controlled and displayed can also be modified, as well as column widths, icon colors in the Finder sidebar, and tab window sizes.
One of the drawbacks of a program like TotalFinder is that it's at Apple's mercy. Changes from one version of the operating system to the next can render the app useless until its developers push a fix to any evolutionary problems the app has with system updates.
Neverthless, the softare can make working with the Finder a smoother operation. With the 14 day free trial offer, it's definitely worth taking the program for a spin to see if it's right for you.

---