Apple Takes Charge of 3rd-Party Charger Problem With Special Offer
MacNewsWorld
Owners of idevices who are using third-party USB power adapters can now trade them in for Apple adapters for only US$10 or the equivalent in local currency -- almost half off the retail price of $19.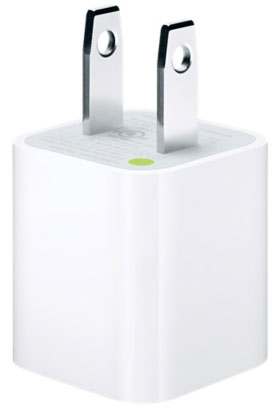 Apple 5W USB Power Adapter
Users can get one adapter for each idevice they own after validation. The offer will run to Oct. 18.
It comes in the wake of reports from China that at least one person died from electrocution when using a third-party USB power adapter on an iPhone. In May, safety science company UL issued a warning about fake Apple power adapters bearing a counterfeit UL listing mark.
"I think it's just basic caution on Apple's part to avoid this horrible publicity about this tragedy," Bob O'Donnell, a program vice president at IDC, told MacNewsWorld.
There's "definitely a risk" of electrocution in using fake or low-quality USB power adaptors, said Chris Johncke, owner of iFixYouri.
Apple did not respond to our request for further details.
Apple's Offer
Consumers can drop off USB power adapters at Apple retail stores or Apple authorized service providers, who will dispose of them in an environmentally friendly way, Apple said.
If they want to purchase a genuine Apple USB power adapter, they must turn in at least one USB power adapter and bring an iPhone, iPad or iPod to an Apple retail store or authorized service provider to validate the device's serial number.
Consumers will get one genuine USB power adapter at $10 or the local equivalent per validated device when they turn in a USB power adapter.
"It makes sense that Apple's looking out for the welfare of all its users," Andrew Eisner, chief gadgetologist at Retrevo, told MacNewsWorld. "If they can head off a problem or take some faulty chargers off the market and prevent some people from getting injured, it's probably worth it to them."
Apple will benefit because "if anything bad happens with a third-party charger, Apple will get associated with it, and that's bad for their image," Eisner continued.
How USB Power Adapters Work
Most new power adapters are switched-mode power supply devices. AC current from the mains is rectified to a high direct voltage that drives a switching circuit. This circuit contains a transformer operating at a high frequency that outputs DC current at the desired voltage.
The high frequency allows for a smaller transformer and a more efficient switching regulator, making for a more efficient, smaller and lighter device. The transformer electrically isolates the output from the mains.
However, switching adapters are more likely to fail than the linear adapters previously in use. This is partly because switching adapters have complex circuitry and use semiconductors. Poorly designed switching adapters could easily be damaged by an overload or a power surge. A common cause of failure is the use of electrolytic capacitors whose equivalent series resistance increases with age.
The Wretched Refuse of Counterfeiters' Teeming Shore
The fake Apple adapter UL warned of in May is a Model A1265, which is similar to the genuine Model A1265 that is authorized to bear the UL mark.
The counterfeit version can be spotted by the poor English used on the case. Counterfeits are marked "Designed Abble in California" or "Designed by China in California" whereas the genuine article is marked "Designed by Apple in California," UL said.
Photos of counterfeit USB power adapters and more details are available at The Counterfeit Report.
"I've seen copies manufactured that look exactly like an Apple charger but don't have the automatic cutoff point where the battery stops charging when it's full, or have Lightning cables whose sleeves come off when you pull them out of the adapters and some wires are exposed," iFixYouri's Johncke told MacNewsWorld. "If those wires were to short, that could give you a shock."