A Twist of Timelime Makes Time Tracking More Fun
MacNewsWorld

Timelime, a program by Niko Kramer, is available from the Apple App Store for US$14.99. Let's face it. No one likes keeping track of time spent working.
If you're a professional like an attorney, you may be able to pass the task off to someone else. Most of us, though, have to go through the grind of keeping tabs on our work hours ourselves.
Some of that grind can be reduced -- maybe even become more enjoyable -- with Niko Kramer's Timelime.
Kramer, who lives in Tubingen, Germany, has added a visual element to his time tracking program that will makes it more appealing and fun to use for non-bean-counters such as freelance writers, independent contractors, students and anyone else who wants to know how they spend their time and how they can spend it more productively.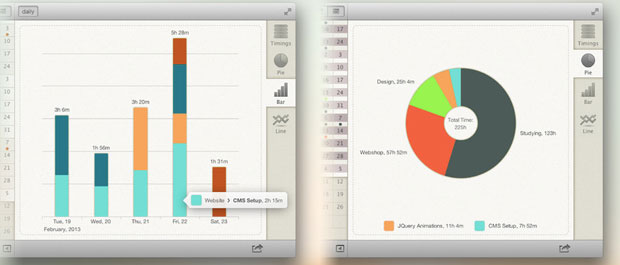 Tasks On the Fly
Timelime is designed to create tasks quickly on the fly. It places an icon on the Apple menu bar where, when clicked, it will show all you all your tasks or, if you prefer, you can filter the tasks that appear by keyword.
Beside each item in the list is a tally of how many hours you've spent on a task. In addition to the total hours spent on a project, you can see how much time you've spent on a project for the day, week, month and year by clicking the hour-and-minute display on the right side of the item.
On the left side of the task item is a small clock icon. When you click it, the software will start timing your task. Click it again and the clock stops. The names of items currently being timed by the program appear in the menu bar icon.
You can also access the program's preference options from its menu bar item.
Through preferences you can modify certain behaviors, appearance and hot keys for the program. You can automatically start the software when you login to your Mac, for example, and continue timing while the computer is sleeping.
If you get distracted from a project, you can have Timelime alert you to idle time from your computer for anywhere from five minutes to an hour.
See What You Want
The app also allows you to control the default duration of a task. You can choose to see how much time you've spent on the task for the week by default instead of by the day, for instance.
If the status icon on the menu bar bugs you, you can turn it off through the preferences. You can also just show the status icon and not the name of the task.
What's more, you can animate the clock on the status icon while a task is being timed. That kind of animation was a little too distracting for my taste. It reminded me of bosses past who kept looking over my shoulder every 10 minutes to see how far I'd progressed on a story.
Two hot keys can be set up for the program -- one key for toggling the timer off and on and one for displaying and rolling up the menu from the status icon.
Other preferences allow you to import Timelime data from an XML or TicToc file and back up or restore the program's data from a recovery file.
It would be nice if the program had hooks into Apple's or Google's calendar program, but you can't have everything, I guess.
Charts With a Click
In addition to backing up your data, Timelime allows you to export it as either a CSV or XML file. Charts can be exported as PDF, PNG or JPG files.
One of the strongest visual elements of Timelime is its ability to take your task data and create pie, bar or line charts with it.
That's why it's important to choose distinct colors for your tasks when they appear in Timelime's main interface. Those colors are used to define the bars and pie pieces in its charts.
That main interface is clean and easy to use. It's built on three window panes -- one for listing tasks, a second for displaying a calendar and a third for viewing the timings of tasks and charts based on task data.
Items in the task pane can be viewed in several ways with a mouse click -- all, none, some and visible only. In a similar vein, you can choose to jump around in the calendar with icons above its pane.
Items and timings can be added to their panes by clicking a plus sign at the bottom of the main interface. Icons at the bottom of the timings pane let you merge timing items or export them from the app.
A Pleasant Experience
Sometimes creating a single task just doesn't cut it. Timelime gives you some flexibility there. You can drag one task over another and it will create a level of subtasks for you. That's especially useful for complicated projects.
Since we work in a global economy, you may be working in different time zones on a project from time to time. Timelime will seamlessly handle that problem for you by allowing your reports and timings to be time zone independent.
While tracking billable hours or productive ones will never be at the top of anyone's joy list, Timelime can make the chore less taxing and with its visual enhancements, a more pleasant experience.
Want to Suggest a Mac App for Review?
Is there a Mac app you'd like to suggest for review? Something you think other Mac users would love to know about? Something you find intriguing but are hesitant to buy?
Please send your ideas to me, and I'll consider them for a future Mac app review.
And use the Talkback feature below to add your comments!

---