Amazon's MatchBook to Spark Kindle Sales
By Rachelle Dragani
Sep 5, 2013 11:08 AM PT
Amazon on Wednesday introduced a new version of its Kindle Paperwhite dedicated e-reader, on the heels of its Tuesday announcement of Kindle MatchBook, a new service that lets customers buy deeply discounted electronic versions of print books they've purchased from the company.
The Paperwhite's display is its distinguishing feature -- it appears more like a physical page than an electronic screen -- and the new version has even sharper contrast than its predecessor, according to Amazon. It also has a faster processor.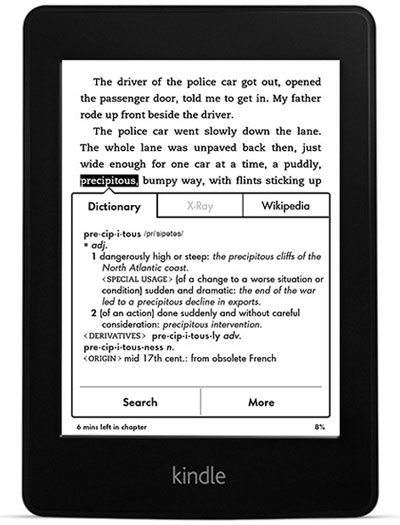 The Paperwhite includes integration with social reading site Goodreads, a Vocabulary Builder and a Smart Lookup service that allows users to easily access dictionary, X-Ray and Wikipedia references to words or phrases.
The device can be preordered for US$119 and is expected to ship Sept. 30.
Two's Company
Amazon's new MatchBook service lets customers pay $2.99 or less -- in some cases, nothing at all -- to acquire the Kindle edition of print books purchased new from the company. They will simply scroll through their buying histories, find qualifying books, and then pay to sync the Kindle editions to their e-reader.
The qualifying books could date back as far as 1995, when Amazon started out as an online bookstore. The service is set to launch in October with more than 10,000 titles available and more to come.
The deal will benefit customers, publishers and authors, Amazon pointed out.
It's also a great way to gain an edge over competitors that don't offer print sales in addition to e-books, noted David Wogahn, digital media publishing consultant at Sellbox.
"This is a good example of Amazon innovating for customers in a way they are uniquely qualified to do by making it attractive for shoppers to buy the print book knowing they can buy the e-book for the cost of a latte -- or a free cup of water," he told TechNewsWorld.
Building the Ecosystem
Giving consumers a fresh reason to shop is nothing new for Amazon, said Trip Chowdhry, senior analyst for Global Equities Research.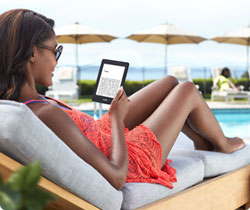 "Amazon has such a head start on so many Internet companies in the industry, and it's difficult to understate what a great job they've done at building out their ecosystem," he told TechNewsWorld. "Every step they take is just furthering that."
That's also true with the Paperwhite upgrades, said Wogahn.
"The Paperwhite was already strong," he noted. Although "this seems more of an incremental update in terms of hardware, the vocabulary feature is particularly interesting because it encourages and rewards Kindle loyalty."
That customer loyalty to Amazon could be devastating for some of its competitors, Wogahn warned.
"The real impact is going to be felt by e-book-only vendors like Apple, Kobo, Google, Sony, etc.," he noted. "Any print book buyer still on the fence about e-reading -- and there are lots -- is going to think twice before deciding which e-book ecosystem to embrace. To compete, e-book sellers are going to have to partner with someone like Ingram, or Barnes & Noble. Sadly, Barnes & Noble could have done this, but they were too busy trying to out-innovate Amazon's Kindle hardware."