Apple Mixes It Up With Sleek, Splashy iPhones
MacNewsWorld
At today's official iPhone launch event, Apple delivered five colors for the new polycarbonate entry-level iPhone 5c and introduced its new starship-grade iPhone 5s, which boasts a 64-bit A7 chip, all-new iSight camera with True Tone Flash, and a built-in Touch ID fingerprint sensor.
Apple also announced the delivery date for the already pre-viewed new iOS 7: September 18, which means that is also the date iOS users will get to try out the new iTunes Radio app for streaming music.
Inside the iPhone 5c
Apple did indeed introduce the widely rumored low-end iPhone 5c, but there's more to the new model than its name and colors. It boasts a hard-coated polycarbonate body with a steel frame to hold the components. The interior frame also doubles as the iPhone 5c's antenna.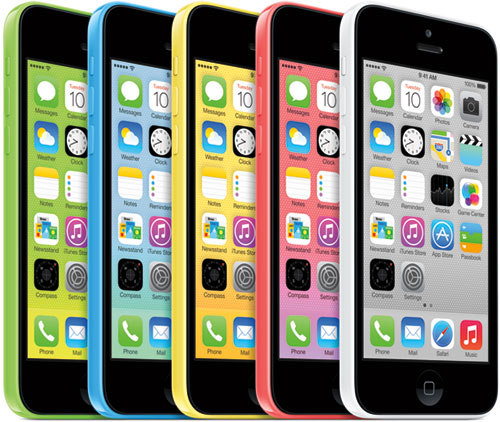 iPhone 5c
The case is seamless, and a glass panel covers the front with a 4-inch Retina display. At the launch event, Apple seemed proud of the fit and finish -- despite the low-end entry price of US$99 with a two-year carrier contract for the 16 GB version or $199 for 32 GB.
In terms of specs, the 5c has an A6 chip, 8 megapixel iSight camera (with a new front-facing FaceTime HD camera) and, of course, iOS 7. It will support up to 13 LTE wireless bands, which Apple claims is more than any other smartphone in the world. It also has a slightly larger battery than today's iPhone 5, giving it up to 10 hours of talk time, 10 hours of Web browsing, and 10 hours of video playback.
As for colors, the iPhone 5c will come in light blue, green, pink, yellow and white, which can be complemented with new $29 silicone cases that sport circle cutouts to show off the new colors in contrast to the case.
You can get your hands on one Sept. 20 in retail stores or pre-order from Apple starting Sept. 13.
Inside the iPhone 5s
It's hard to say which new iPhone is more important -- the new low-end or the high-end -- but it's clear that Apple tried to expand the functionality and specs of the new iPhone 5s rather than dumbing down the iPhone 5c. So what's new and cool in the iPhone 5s?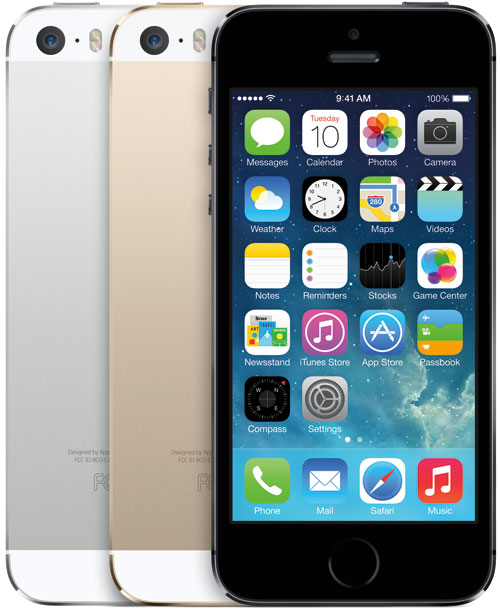 iPhone 5s
The new Touch ID fingerprint sensor will likely get the most attention for some time to come. Instead of using a numbered pin to unlock your iPhone's lock screen, the new iPhone 5s uses its new A7 chip to learn to recognize your fingerprint via a new home button with a built-in sensor.
The new tech is called "Touch ID," and Apple uses a laser cut sapphire crystal with a capacitive touch sensor to a take a high-resolution image of your fingerprint and analyze it from any angle.
All fingerprint information is encrypted and stored securely in the Secure Enclave inside the A7 chip on the iPhone 5s, Apple said, taking pains to note that it's never stored on Apple servers or backed up to iCloud.
Touch ID can also be used as a secure way to approve purchases from the iTunes Store, App Store, or iBooks Store -- so no need to tap in your (presumably) long and secure Apple ID password on the iPhone 5s.
In addition to the fancy new fingerprint scanner, the new A7 chip on the iPhone 5s boasts a 64-bit desktop-class architecture. What does this really mean to consumers? It means a faster, more robust computing experience will be running in the palm of your hand.
Previous generations of iPhones (and the new 5c) are only 32-bit. Apple talked up this impressive new leap in processor architecture, noting that it doesn't even seem like other smartphone manufacturers are even thinking about 64-bit yet. Hyperbole? Sure. However, the point remains: The new A7 chip in the 5s promises up to 2x the CPU and graphics performance, making most every action on the 5s faster and snappier than on other models.
Apple even shared the stage with Epic Games, the maker of the widely popular Infinity Blade game series, which will conclude with Infinity Blade 3, which runs astoundingly well on the iPhone 5s with the new processor.
In addition to the A7, Apple introduced a new M7 motion coprocessor that gathers data from the iPhone 5s' accelerometer, gyroscope and compass to offload work from the A7 processor. Developers will be able to tap into this new coprocessor to create a new generation of fitness and activity-based apps, Apple said.
As for the ever-popular camera, Apple is staying out of the megapixel arms race by sticking with just 8 megapixels. Crazy? Not so fast. Apple's innovation in the 5s focuses on creating a larger f/2.2 aperture and combining it with a new, larger sensor with bigger pixels that basically let the camera collect more light to produce more-accurate photos -- with less noise.
At the same time, Apple introduced its new True Tone flash, which is a system that adjusts the color tone and intensity of the flash system to more accurately produce the right shades of light to make photos more natural.
Add in new A7-based photo processing and the updated Camera app in iOS 7, and shutter bugs will start enjoying faster autofocus (twice as fast as before) as well as a new Burst Mode. Action fanatics will be able to mess around with a new Slo-Mo video mode that will grab a whopping 120 frames per second.
Last of all, the iPhone 5s will come in three colors -- gold, silver, and space gray. It will sell for $199 for 16 GB, $299 for 32 GB, and $399 for 64 GB with a two-year carrier contract. It will be available Sept. 20 in retail locations, but as of press time, it wasn't clear when Apple would start pre-orders for it.
Free iWork, Too?
Apple slipped a nifty announcement in today, too -- free iWork apps for all new iOS device-buying customers.
The apps include Pages, Numbers, Keynote, iMovie and iPhoto.
When customers set up their new iPhone, iPod or iPad with iOS 7, they'll be able to trigger a download to get the apps free -- in addition to other free apps like iBooks.

---