Mail for Yahoo: The Joy of Local Email Without the Client
MacNewsWorld

Mail for Yahoo! by Halfbit is available at the Mac App Store for US$1.99.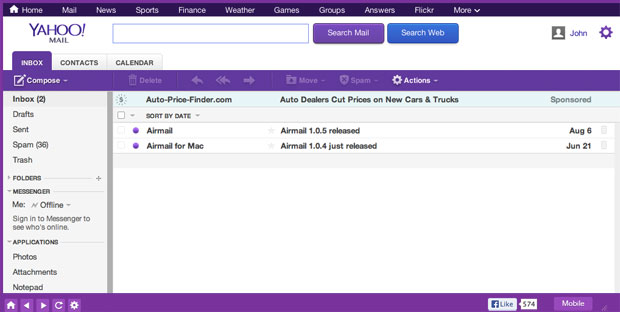 Since Marissa Mayer took the helm of Yahoo, one of her top priorities has been to keep two of the company's major properties relevant to people's digital lifestyles. One of those properties is Flickr; the other, Yahoo Mail.
To keep Flickr relevant, its app for the iPhone recently received an overhaul. Smartphone photography is hot and with its iOS revamp, Yahoo is offering worthy competition to programs like Instagram and Twitter.
With Yahoo Mail, the company faces a different problem. Yahoo has always been on the bleeding edge when comes to webmail interfaces -- steadily bringing desktop features to its online offering. What it needs is something to attract eyeballs and subsequently, new accounts to the service.
One way to do that is to take the browser out of webmail, as developer Xiaomeng Lu has done with Mail for Yahoo!
Good Use of Tabs
You may ask, why should I pay $1.99 for something I can get for free -- namely, Yahoo Mail? The answer is convenience.
The app places a mail icon on the Apple toolbar. Click it, and you're inside your Yahoo Mail account ready for action.
Yahoo Mail has a clean interface that doesn't look barren. It achieves that by using an attractive sans-serif typeface and colored toolbars and tabs.
Yahoo Mail's use of tabs is excellent. The tabs for your contacts and calendar are always displayed so you can get to them quickly.
In addition, when you open a message, it's automatically tabbed, allowing you to do other things in the program and quickly return to the open message.
To the left of the contacts and calendar tabs is a dynamic tab. It changes as you move the selector in a navigation pane on the left side of the interface window.
Easily Accessible Essentials
In the navigation pane are items for your in-box, drafts and sent messages, as well as spam. There's also a section for folders you can create for organizing messages, such as messages with photos or attachments in them, as well as a link to Yahoo Messenger and a notepad for creating notes on the fly.
All the common tools used for email are clearly located on a toolbar at the top of the mail window. There's a compose tool that lets you create communications in three ways: email, instant message or SMS text.
Then there are tools for replying, replying to all, forwarding messages, and moving emails to folders you've set up or to the spam or trash bin.
Since spam has always been a problem with all webmail systems, Yahoo conveniently includes a spam tool to report spam, phishing scams or a hacked Yahoo Mail account.
A number of other actions can be performed from the top toolbar through a dropdown action menu. You can mark a message read or unread, as well as star it for quick reference later. There are shortcut keys for those functions, too.
See What You Want
Within the action menu, you can set up filters for diverting messages to your folders and display the full header of a message.
Visual elements can be controlled from the action menu, too. For example, the width of the title line of a message can be made slim, wide (regular) or wider (relaxed).
In addition, you can choose where the preview pane appears -- right, bottom or not at all. The preview pane is where the content of messages are viewed.
Search, where Yahoo got its start, is also prominent on the interface. A search box for ferreting information from the Web or your email can be found above the tabs on the window.
All in all, Yahoo Mail provides you with all the email basics and Mail for Yahoo! gives you access to those basics very conveniently.
Webmail vs. Apple Mail
Of course, you have to realize, that Mail for Yahoo! is delivering a service to you that's designed to make money for Yahoo.
That means you're going to have ads constantly pushed at you. The ads appear in a small box below the navigation pane and in a pane on the right side of the interface.
Most of the ads are inoffensive -- like the ads for Chevy trucks -- but some are very cheesy, like the ones for singles in your home town commonly seen on Facebook.
Advertising isn't an issue with the alternatives to Yahoo Mail. They are local email clients. All Macs comes with one of those out of the box -- Apple Mail -- and it's a good program.
The problem with local mail clients is they can start to consume lots of disk space over time and, depending on what model and configuration of Mac you have, they can be a drag on performance.
Webmail can move a lot of that overhead to the Web, where it won't eat up your disk space or impact the performance of your Mac. So the trade-off may be worth it to some folks. For them, Mail for Yahoo! gives the added bonus of a webmail program that feels like a local email client without the drawbacks of a local email client.
Want to Suggest a Mac App for Review?
Is there a Mac app you'd like to suggest for review? Something you think other Mac users would love to know about? Something you find intriguing but are hesitant to buy?
Please send your ideas to me, and I'll consider them for a future Mac app review.
And use the Talkback feature below to add your comments!

---