iOS 7: I Love It, I Hate It
MacNewsWorld

iOS 7 is available from Apple for free.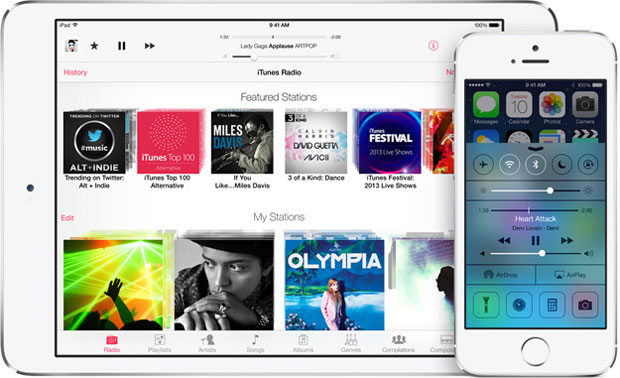 I am simultaneously excited and saddened by iOS 7 on my iPhone 5. My first impression? All over the freaking map. iOS 7 is at once a fantastic and fresh update, while it's also full of maddeningly stupid icons, buttons and colors. It has better customization, a more intimate and lively feel -- and yet, you're stuck with a palette of soft-but-too-bright pastel-ish colors.
The red? That's not red. It's a travesty, and I'm not color blind. Imagine the color palette applied to your car. If you like that idea, iOS 7 is for you. For the rest of us, we're stuck with it, and we have to look at Apple's new colors every day we remain iOS users.
This represents a fundamental flaw in Apple's vision of iOS -- an inability to tone down stupid colors or change them altogether. You would think Apple would know this -- after all, Steve Jobs started the whole thing with the first iMacs. The tradeoff is device-to-device usability. I can look at anyone else's iPhone and immediately know how to navigate, how to use it, and how to show them how to do something. That's important, and I get that there's a trade-off between customization and cohesion among all iOS users -- but Apple is not hitting the sweet spot with iOS 7 customization. Sorry. Not even close.
So what would be welcome? The ability to saturate or desaturate the color palette, to tone it up or even make it all black and white -- just as if you were editing a photo. This kind of setting would give consumers a better sense of control while maintaining a consistent look and feel. Instead of a neonish green color for your Messages, FaceTime and Phone apps, you could adjust the color to make it use a darker, richer green for your Phone app, for example.
Instead, we get a very slight ability to change the tone of your phone through background images. If you set your wallpaper to a photo of a green lawn, a green tone will bleed into the transparent layer above -- the background color for your bottom row of apps will appear greenish. Use blue sky, you get a blue tone. iOS 7 takes the dominant color from your home screen photo and uses it for you. That's cool, but it's just a start.
Still, Awesomeness Abounds
Despite the lackluster controls for color and customization, there's a lot to like about iOS 7. The sense of layers and animated transitions does make your iPhone feel a little more alive. In fact, in some cases the new transitions make my iPhone 5 seem faster and snappier. Mail, for instance, seems much faster than before -- and I'm not sure if this is truly the case or if it's just an illusion based on the transitions among my various in-boxes and messages. Either way, I like it.
Overall, I like the new airy and modern feel of the new font, which seems to be some variation of Helvetica Neue. But then again, this sense of airiness gets taken too far in some places so that "buttons" are now simply text with maybe a thin < or > to indicate direction. Understandable? Pretty much always -- but not always at a glance. The button motifs were cues for your eye to recognize the activity you wanted, and clearly, iOS 7 will force you to pay more attention to your iPhone than you have in years -- and retrain your brain in the process.
The question is, will I learn to recognize the flashlight icon in Control Center? The funky little clock icon in Control Center that doesn't match the Clock app icon? Yes. But I can tell you this: It's going to take more than 48 hours before I can work my phone with the autopilot ease I enjoyed with iOS 6.
So what are the best new features?
Control Center. If you swipe from the bottom of your screen up, you'll bring up the Control Center layer, which sports frequently used controls like Airplane mode, the clock, camera, screen brightness, and WiFi, among others. The basic feature is not new to other smartphones, but it's new to iOS users.
Multitasking. Multitasking in the new iOS 7 is really a hidden gem -- you don't realize how much improved it is until you use it. Double-tap the home button and you'll get a row of active app icons as well a horizontal scrollable thumbnail view of your open apps. Swipe an app thumbnail up, and boom, you close the running app. Tap the thumbnail or the app icon and you'll rise up into the app in full screen. Not only does it look fantastic, it works fantastically well, too.
Camera App. The new Camera app lets you swipe between modes across the full main screen of the app -- so, to switch from photo mode to video mode, all you have to do is swipe. That's right, there's no painfully small little toggle switch to find and mess with while you're trying to capture a moment. You can also swipe to a square photo frame or a panoramic mode. If you want to look at a scene through a filter while you decide to capture it, you can apply a handful of filters with a new button option. All goodness here.
Photos. The new Photos app is one of my favorites now. Before, I used it all the time but found it a clunky pain. The iOS 7 Photos app breaks up all your photos into Years, Collections and Moments. It makes it so much easier to find your photos and videos to edit them, share them -- everything. Plus, you can share an entire moment -- a whole set of photos and videos.
Tap a "share" word (not a button anymore) and you can AirDrop them via WiFi or Bluetooth (cool) or message them or even copy them to the clipboard to paste them into email or elsewhere. Very nice. Oh, and you can create Albums, too, if you so desire. The bottom line is, the Camera app received a massive redesign that simply sings.
iTunes Radio. Built into the Music app, iTunes Radio is a free streaming music service that lets you listen to channels by genre or create your own via artists that you like. It rocks. It's easy to use, works great, and if you hear a song you want to buy, you can snap it up from iTunes super fast. The interface isn't particularly amazing, but the functionality? Love it so far. Groundbreaking? Not so much. But it's a good implementation that's built into your iOS experience.
Safari. While you don't get tabbed browsing on an iPhone 5 -- no horizontal room -- you do get a new page option that stacks the open and recent Web pages that you have visited in a sort of file-folder sort of way. At first glance, it looks clunky and dumb, but after using it, it feels alive and handy. I'm sold.
Plus, when you scroll down through a Web page, the top control bar shrinks and the bottom bar disappears. The quick animation of the move is perfect. And you can now swipe to go back. And use a unified URL/search field. It all adds up to a Safari that will continue to be the most-used mobile browser around.
Features That Will Get Better With Time
There's lots of little goodies tucked away into iOS 7 -- for instance, time stamps for each message in the Message app. If you slide your finger to the left -- a grab and pull, really -- you'll pull the text messages to the left to reveal a list of time stamps along the right side. Teenagers, take note. Sometimes you need a better sense of time than what was shown in iOS 6.
AirDrop may very well turn out to be quite useful with your colleagues, friends and family. Instead of bumping phones, iOS 7 lets you see other nearby phones via WiFi or Bluetooth, and lets you send and receive files. Pretty cool. But you have to remember to use it -- otherwise, you'll just be emailing or messaging through your old-school habits.
Swiping from left to right to go back is starting to get my attention. It's a natural way to navigate around virtually, especially in Safari. I expect to see it used more frequently throughout iOS in the future, as well as in more apps. But the new motion has some side effects -- you can't swipe from left to right any longer to delete an email message. I almost cried when I realized this. Seriously. A grown man sobbing over his iPhone. Ok, I don't do tears, but I did swear.
Then I remembered that you can now swipe from right to left, which gives you a big red Trash button, along with a More button that lets you do things like forward, reply, or move a message. This feature is actually really cool -- I'll just have to retain my brainstem over the next few days to learn to take advantage of it.
Things That Will Take Some Getting Used To
The new Reminders app lost its old leather-bound notebook paper skin, and while the new iOS 7 version is snappy fast, it's full of Apple's new color palette, and the main set of lists seems too bulky vertically. My question is, will I learn to love it? Or ditch it for a third-party app? It's 50-50 right now.
The Calendar app is much whiter -- with smaller text -- and hard to follow and read at first, but it's getting progressively better for me. I'll probably stick with it. The Notes app? No more yellow-lined paper. The new Notes app is white, fast and tidy, but I sort of miss the horizontal lines for lists. I like the blank canvas for notes in paragraph form, though. Win some, lose some.
All-in-all, I've got other quibbles and have found other little delights, too, but the point is this: iOS 7 is a great leap forward. It's free and easy to install, but there's no easy way to go back to iOS 6 if you don't like it. This is one of the sacrifices you make as an Apple enthusiast -- keep up, get left behind or walk away. No matter what, though, when you run into the inevitable misses in color, customization and icons, just know that you're not alone. There are other Apple-loving iPhone-toting enthusiasts out there experiencing some cringe moments, too, even as we enjoy new benefits of iOS 7.

---