Apple's New iMac Makes Desktops Look Alive
MacNewsWorld
Apple on Tuesday launched a refresh of its iMac all-in-one computer with faster processors, communications and storage, as well as new graphics capabilities.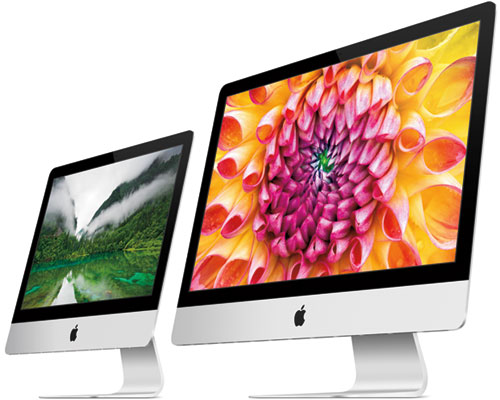 The launch comes amid weak PC sales worldwide, a slowdown in the growth of global tablet shipments quarter-over-quarter, and reports that the iPad is stumbling in China.
So who would want a faster, better-connected desktop with advanced storage options and a massive hard drive?
"Anyone who's a stone Apple PC user," said Charles King, principal analyst at Pund-IT.
"That includes a lot of consumers and many business customers, especially those in the media and graphics industries," he continued.
There might also be a sound business case for refreshing the iMac line.
"These new iMacs are nice improvements with logical additions ... that position Apple with a fresh line of PCs for the holiday buying season," Bob O'Donnell, a research vice president at IDC, told MacNewsWorld.
The New iMac Line's Tech Specs
There are four new iMacs -- an entry-level 21.5-inch model, a high-end 21.5-inch unit, and two 27-inch units.
The entry-level 21.5-inch iMac has a 2.7 GHz quad-core Intel Core i5 processor based on the Haswell microarchitecture.
It also has Intel's Iris Pro graphics card.
The high-end 21.5-inch iMac and both 27-inch iMacs have quad-core i5s rated up to 3.4 GHz and use Nvidia GeForce 700 graphics cards. They can be upgraded to quad-core Intel Core i7 processors rated at up to 3.5 GHz, and Nvidia GeForce GTX 780M series graphics cards with up to 4 GB of video memory.
The iMacs now support next-generation 802.11ac WiFi, which is reportedly three times faster than the previous generation.
They also support PCIe-based flash storage, which makes Apple's Fusion Drive and all-flash storage options up to 50 percent faster than the previous generation, Apple said.
iMacs come standard with 8 GB of memory and a 1-TB hard drive. These can be upgraded to 32 GB and 3 TB, respectively.
The new iMacs are available now. Pricing for the 21.5-inch version begins at US$1,300. The 27-inchers begin at $2,000.
The Desktop Lives
"There is certainly some irony in seeing the company which by self-proclamation is leading the post-PC era also continuing to produce desktop PCs, but the decision makes good business sense," Pund-IT's King told MacNewsWorld.
The PC industry is on track to sell more than 330 million PCs this year, and Apple will ship more than 7 million of them, "which makes it a minor player in global sales, though it ranks third in the United States," King pointed out.
Having both desktop and mobile products is "essential to a balanced product portfolio," noted Stephen Baker, a vice president at the NPD Group.
About 20 percent of consumer sales are for desktop devices, "and there is no reason for Apple to abandon that segment," Baker said, adding that the average selling price on iMacs is very high, the products have strong in-store visibility, and they serve a customer base "dedicated to the performance and convenience that a desktop, especially an all-in-one, can provide."
AiOs "are the strongest part of the desktop market," Baker remarked. "So I would not say that anyone is moving away from them."
The Need for Desktops
Graphic designers, gamers, consumers who prefer large-screen devices or desktop computing over laptops, and consumers who do significant video- or photo-editing will be the likely purchasers of desktop PCs like the iMac, NPD's Baker told MacNewsWorld.
Further, "desktops have often been the central household computer -- the shared device for the main functions that the entire household uses," he pointed out.
"So long as Apple can keep its iMac business profitable," said King, "I expect it will keep those products going."