If You're a Cinephile, You'll Love Mubi - if Not, It May Make You One
MacNewsWorld

MUBI by MUBI is available in the iTunes App Store as a fee-based streaming service.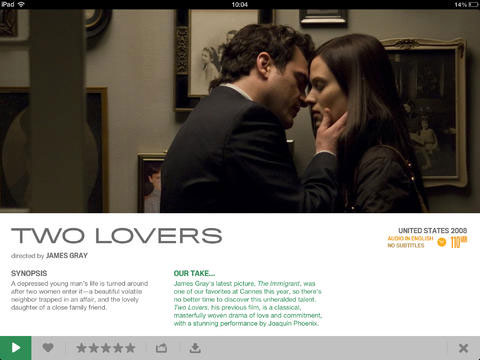 MUBI is an app for classic and independent movie lovers: Each day, the MUBI team hand picks an international, independent or classic film. MUBI subscribers can then view that film for up to 30 days, and effectively, this means that you can watch 30 or so movies each month for US$4.99 -- or less per month if you sign up for six months or a year.
Not sure if you're enough of a movie buff to buy? MUBI lets you sign up free -- without payment information -- for a seven-day trial, which is what I did. Here's what I learned:
The MUBI app is fantastic -- easy to use, gorgeous to look at, and completely focused on delivering a great experience. Really well done.
Film Lover Friendly
The app launches with a large square feature image from a movie with the title, director, date, and audio information on it (language and subtitles). To the right, half of a large square shows you another movie. Swipe to the left, and you'll see a smaller movie still image with the title and director.
Keep sliding to the left and you'll reveal smaller boxes and rectangles of movies. As you get closer to the end of 30 movies at the right, the movie boxes have a frame that reveals how many days left you have to watch the movie -- four days left, three days left, and even a certain number of hours left.
It makes so much sense.
If you tap on a movie, you can see a synopsis, MUBI's take on the film, director or style, and you can even watch a trailer to help you decide whether to watch it. You can instantly stream the films to your iPad or stream and AirPlay them to your Apple TV.
Better yet, you can download them for offline playback for up to seven days, even after the film's 30-day viewing period expires. Makes me wish the digital rights issues with mainstream films allowed this sort of consumer-friendly activity -- we'd all watch a lot more films.
The streaming quality on my iPad 2 was excellent, and movies launched quickly.
Social Media Capable
MUBI is also, as you might imagine, a social media-ready endeavor. You can even automatically share your activity via Facebook or engage with the MUBI community on MUBI.com with other like-minded film buffs all around the world. In fact, international films are well represented, so some films will be in foreign languages like French, Italian or Cantonese -- though most seem to have English subtitles, too.
As for titles, I thought about name dropping titles and directors, but the selection changes every month -- so if you come to this review in 30 days, the whole selection will be 100 percent fresh -- I have no idea when a title I might mention would ever reappear in the lineup.
So, the best way to figure out if MUBI is right for you is to simply download it and sign up for a free seven-day trial period. You'll immediately recognize that the app is excellent, which will let you focus on the content. You'll see three dozen titles in that time period, and if you can't imagine $4.99 in value after watching some, well, there's your answer. Of course, you might become a film buff, too.
Want to Pitch an App Review?
Is there an app you'd like to suggest for review? Please send your iOS picks to me, and I'll consider giving them a whirl.
And use the Talkback feature below to add your comments!

---