Shadow Puppet Makes You the Narrator of Your Life
MacNewsWorld
Shadow Puppet is available for free in the iTunes App Store.
Despite the nonperfect and confusing name, Shadow Puppet is the best new app I've seen in weeks.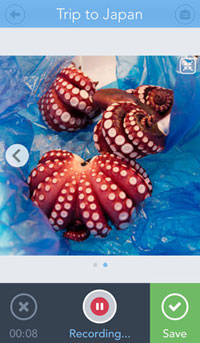 Basically, Shadow Puppet lets you select photos from your iPhone or iPad and then record audio as you talk over them in a slideshow that Shadow Puppet turns into a shareable video. Along the way, you can tap to highlight certain areas of a photo and, better still, you can zoom in and move the photo around.
It's so freaking simple and cool, I'm just blown away.
The Cake, the Presents, the Games
More to the point, the idea behind Shadow Puppet has got some serious legs.
You can use it for all sorts of things, starting with kids and family and simply sharing experiences. Take, for instance, a birthday party for a child that grandma could not travel to. With Shadow Puppet, you can select some photos from the party and then let your son or daughter talk about the party, telling grandma about the cake, the presents, the games -- and show her the photos while she's doing it.
The result is an astoundingly intimate little video.
This is possible because photos from experiences invite narration: They are prompts that get you to share funny anecdotes, to talk about what happened in a way that a photo -- with all of its 1,000 words -- just can't share on its own. It works with kids, too, obviously.
Students, for example, could do a science experiment, document it with photos, then easily create a explanatory tutorial.
Not Just for Kids
While the app is insanely simple to use, it's not an app created specifically for children. I can easily imagine this being used to share a special event, to tease your friends, to show someone how to navigate to a particular place, or even as a teaching tool -- for instance, to show your family the right and wrong way to load a dishwasher, once and for all.
Let's step through process of how Shadow Puppet works.
First, you tap to select photos from your photo album on your iPhone or iPad. After you select the photos, you can reorder them if you want as well as zoom and position them in the viewing area of the app. For example, you can start zoomed-in on one element, such as a particular face.
Next, you start recording your audio over the photo you are looking at. If you need to pause, you can. While you're recording, you can use your finger to move the photo around inside of your frame... as well as pinch to zoom in (or reverse-pinch to zoom out).
You can tap a right arrow button to move to the next photo or simply swipe from right to left.
When you're done recording, you go to a share screen where you can enter an email address or phone number to share your "Puppet" video with. You can add a title as well as a short message. At the same time, you can choose to enable a post to Facebook, Twitter or Shadow Puppet.
If you share the "Puppet" video, which is what Shadow Puppet seems to call the videos, they'll launch a Web page that hosts your video from Shadow Puppet's site. This is all free. On this page, they'll see your profile name and photo, the title of your puppet and the short message you typed in when you originally started to share the puppet. It's all simple and streamlined and seems to work quickly and easily.
Once on this Web page with your video (which anyone with a Web browser and an Internet connection should be able to view), you can also get the code to embed the video on another Web site, if you so desire.
Privacy and Security?
To me, Shadow Puppet falls into a category of apps that are really cool but aren't exactly secure, which makes their use something you might want to pay attention to.
Shadow Puppet says that only the people you share with explicitly can access your puppet content, but I'm not sure how secure this really is. After all, you still end up with a Web page with a URL that appears to be live to the world. How live? How exposed? How searchable or accidentally possible to stumble upon or actively find?
I'm not sure, but once you give a URL to anyone via email, the NSA has it for sure, and what your friends or family do with it later could take it public in a way you never intended.
For parents, I can see where this might be a little troublesome. As near as I can see, there's no password feature available, either. It gets just a bit more unsettling when you read the Terms of Use document, which notes, "You can remove your content by deleting it. However, in certain instances, some of your content (such as puppets you have already shared with others) may not be completely removed and copies of your content may continue to exist on Shadow Puppet. We're not responsible or liable for the removal or deletion of (or the failure to remove or delete) any of your content."
Obviously, storage is a bit of mess, and with backup servers and such, not to mention social networks, real deletion can get a little complicated. So, user beware. Fortunately, Shadow Puppet doesn't automatically force you to post and/or share a puppet.
Where's the Export Feature?
To me, Shadow Puppet is ripe for purchase by some larger company to fold into a broader social media program. You can pick which -- I'm just saying.
Unfortunately, what we've got is sort of a standalone app and sort of not: In order to share your video puppet, you have to have it hosted somehow through Shadow Puppet, and to embed it on your blog or website, well, it's still hosted by Shadow Puppet. That's cool in a way because you don't have to deal with the file, but I would prefer to deal with a file.
Personally, I would rather have a file, especially for anything relating to family and friends. Sure, files aren't inherently more secure, but you do get different sorts of control over how and when they are shared.
So, I'd very much like to see an export feature -- in fact, I'd pay for an export feature, and I hope Shadow Puppet adds one in.
Other than that, wow -- try it out. Shadow Puppet might inspire you to become the narrator of your life.

---