Stop Motion Studio Brings Out the LEGO Moviemaking Geek in All of Us
MacNewsWorld

Stop Motion Studio Pro by Cateater is available in the iTunes App Store for US$4.99.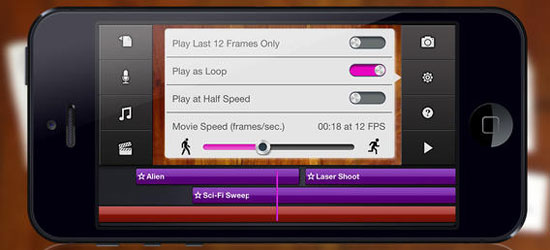 Stop Motion Studio is an app that lets you take photos and string them together to create a stop-motion video. It's super easy, and the results are naturally sort of dorky in an undeniably fun way. In October, Apple highlighted Stop Motion Studio and made it one of its free apps of the week.
As of this writing, the app was still free -- with a series of $0.99 in-app upgrade packs or a full-suite studio upgrade pack for $3.99. These packs give you dozens of sound effects and themes you can work with. Fortunately, before I pulled the trigger on the in-app purchases, I saw Stop Motion Studio Pro for $4.99. Same app, same tech, just a different delivery model.
I promptly deleted the free version and bought the paid Pro version. That cost a dollar more, so why? Because I prefer to support the direct paid app model whenever possible. I think it's less likely to lead to annoying and nefarious in-app purchase efforts in the industry at large.
Get Back to Making Stop Motion Movies!
Meanwhile, back to the app. Stop Motion Studio Pro takes all the hassle out of making a stop motion video by combining most of the elements you need in one tidy package. So, you can do something like take a ball of Play-Doh and roll it out into a string and form it into the shape of a heart, taking step-by-step photos along the way.
You can then bash it with a rolling pin, taking step-by-step photos along the way, and you can add audio over the top and shriek something like, "See, Sarah, see? This is what you did to my heart. You crushed it with a rolling pin. I mean, metaphorically. Crushed it! I can't believe you stood me up again. Do you want me to bring you a new puppy? I have an extra one. Just call me back and I'll bring you a new puppy, Sarah. Call me!"
Or, you can just stop at the shape of the heart and say, "I love you, Mom. Happy Mother's day!" and send it along to her smartphone.
The point is, there's a lot you can do with stop motion video if you just think about it -- usually in terms of building blocks. If you're good with clay or Play-Doh, you can create your own scenes and movies. You can write messages on poster board in stop motion for fun effects. Or you can dust off your LEGO sets and go crazy making stop motion movies to post on YouTube.
Seriously, just search for "stop motion lego" and you'll find a lot of funny stuff. Not that LEGOs have to be funny. You could create a serious film about toxic waste using LEGO men, women and animals.
The key is to let the app spark your imagination.
Stop Motion Studio Pro at Work
Using the app is fairly straightforward. Basically, all you have to do is create your scene and start taking pictures. If you're smart, you'll mess around with angles and lighting, but you don't have too. To get started, you simply start snapping photos. There's a grid overlay that will help you keep your subjects in the frame at the right places -- points of reference -- but you don't even need this, really. The key is to shoot enough static photos so the perspective and action aren't too jerky.
At the same time, you can shoot a few frames of a LEGO guy walking away and then shoot a few more of the LEGO guy walking toward the camera, ending with a closeup of the LEGO guy's face . . . and suddenly you're an artist. This is the simple and awesome power of Stop Motion Studio Pro.
Of course, there are extra features. To edit your clips, you can cut, copy, and paste each photo into different spots in your timeline. You can use an automatic capture with an adjustable time interval. You can use a handful of themes, and even introduce pre-made "POW" and "BOOM" sorts of graphics, as well as use editable theme cards that let you type in your own text. There's a green screen feature that lets you change the background of your scene.
There are dozens of sound effects like skidding cars, lasers, jets, helicopters and doors opening. You can record sounds or songs or even add music from your own music library.
The app supports 1080p and 720p on the iPhones and iPads that support those resolutions, and you can modify the automatic focus, exposure and white balance so you're not fighting the automatic camera brains in your iPhone while you're trying to film something.
When you're done, you can save the movie to your Camera Roll or post it directly to your YouTube, Facebook, Dropbox or iCloud accounts.
Stop Motion Pro is at once insanely powerful and amazingly easy to use. Personally, I'm not the kind of guy who is going to go nuts making LEGO movies, but I can almost guarantee this: At the next family holiday event where there are little kids, we'll be making a fun little stop motion movie before it's adult eggnog time.

---