igHome Offers Cozy Abode for iGoogle Orphans
MacNewsWorld
igHome is available for free.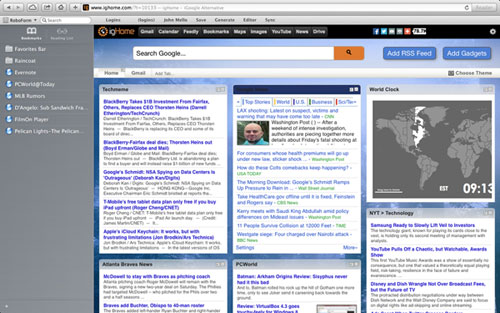 (click to enlarge)
Google birthed its personal portal software, iGoogle, during simpler Internet times. Online applications were few. Clamshell handsets were all the rage. Combining the words "social" and "media" was an oxymoron.
It was also the time of the portal wars. Online titans like Yahoo, Microsoft and Google vied for eyeballs and the mantle of most visited Internet destination.
Personal portals emerged from that competition. Sure, a general portal could attract traffic, but even more traffic could be drawn to a website if Web wayfarers could customize their portals.
As we all know, technology marches onward. Portals have become a quaint anachronism. Personal portals have been replaced by Twitter and Facebook feeds.
That's prodded Google to scrap its personal portal app iGoogle. However, just as another Searchzilla casualty, Google Reader, had its stalwarts, iGoogle has a loyal following, too, who will be looking for a replacement now that iGoogle has gone dark. One such replacement is igHome.
Narrowing the Field
After an initial search for an iGoogle replacement, I narrowed the field to three: My Yahoo, Igoogle Portal and igHome.
My Yahoo was the slickest of the three candidates. Since I already had a Yahoo account, that was one less step I needed to take to get rolling with the service. What's more, Yahoo was my personal portal of choice before moving to iGoogle.
What bothered me about My Yahoo, though, was its limited content selections. It had a meager selection of widgets -- portal apps like calculators, calendars, clocks and such. Its news sources for the feeds on the portal page were also underwhelming.
I also got the sense that My Yahoo was pushing Yahoo services at me -- a suspicion fortified by the mysterious switch in the default search engine for my browser from Google to Yahoo.
If I had to move away from one Internet titan, why should I jump into the lap of another? I felt an iGoogle alternative that operated outside the sphere of the behemoths might be in order.
Flawed Import
Igoogle Portal fit the independent bill. It had a good assortment of widgets and a nice offering of news sources. Better yet, I could add RSS feeds to my portal page, and it allowed me to import my iGoogle settings. Exporting those settings was recommended by Google before it shuttered iGoogle.
As I found when importing settings from another Google reject -- Google Reader -- the process was severely flawed. Of the dozen or so items I had on my iGoogle page, less than a handful made it into the Igoogle Portal.
igHome also had an import from iGoogle feature, too. It didn't work any better than Igoogle Portal's.
Among the settings ignored by the iGoogle alternatives was one for a Google Calendar widget. However, igHome had its own widget for that purpose. Unlike the iGoogle one, though, it only lets you see the calendar. You can't add items to it from within the widget.
Better Google Links
Eventually, I settled on igHome for my iGoogle alternative. Since the import feature didn't work, I had to build the facsimile iGoogle page from scratch. It was a little easier to do that with igHome. The finished page looked better, too.
In addition, igHome had better integration with Google. A row of buttons on the igHome page title bar provides direct access to often-used services such as Gmail, Calendar, YouTube and Drive.
There's also a button on the bar for Feedly, which has become the Google Reader alternative for millions of orphans of that program. A Feedly widget is also offered by igHome, but its lack of display options make it difficult to use.
If you're still looking for an iGoogle replacement, igHome offers you an alternative that will help ease any pangs of abandonment you may feel from Google's actions.
Freeware Spotlight
Simplenote, by Automattic, is available for free.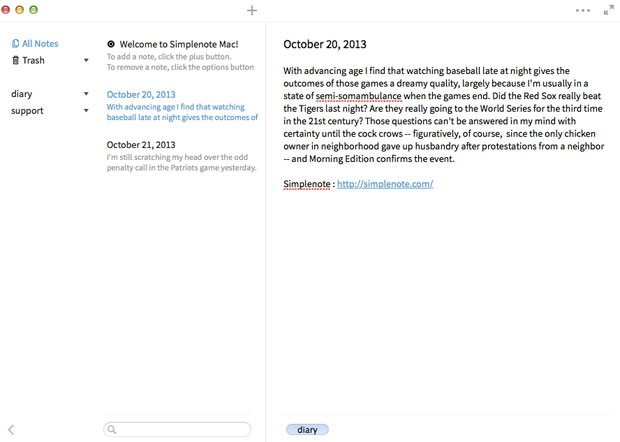 Notepad programs are as common as dust motes, but that has never stopped developers from making more of them or scribblers from giving them a spin. A current hot digital notepad at the Mac App Store is Simplenote, by Automattic.
True to its name, the free app is as simple as it gets in a notepad, but the software isn't about fancy features. It's about cross-platform synchronization.
There are versions of Simplenote not only for the Mac, but also for iOS, Android devices and Amazon's Kindle hardware.
There's also a Web app, although the developers are still ironing out snags in running that app in all browsers. I used the app in Google Chrome, and it worked fine in that browser.
Simplenote's cross-platform chops, coupled with its automatic synchronization capabilities, allow you to create and modify notes anywhere and have those changes occur almost immediately on all your other devices -- as long as you create a free account at Simplenote's website.
The program has a typical three-pane interface. One pane lets you filter your notes by tags and check out notes you've trashed. Another lists your notes. Each list item contains a title -- the first line in the note -- and about the first 80 characters of text in the note. When you select an item in the list, its full text will appear in the third pane.
Barebone Text
Text in notes are limited to a single sans serif font. Styling text isn't available -- although you can use smart quotes and dashes, and Markdown extensions are supported -- and links pasted into a note from another source are clickable, although you can't select text and turn it into a link in a note.
In addition to tagging notes, you can search through them. Searches are dynamic. Results constantly change as you type the characters in your search term.
Common Mac functions -- spelling, grammar, speech and such -- are supported in toolbar menus. There's also a pulldown menu on the program's interface.
The pulldown menu displays the number of words in the item's listing information and item itself. It also lets you pin an item to the top of the listing pane for quick access, collaborate with others on the note by adding their email address on the note's tag line and view a history of the note with the ability to restore it to a previous version.
You can also publish the note to a Web page, although how that feature functioned was a mystery to me.
Simplenote may appear to be a simple notepad, but its cross-platform support and synchronization capabilities make it more than that. Once you start using it, you may decide to trash any other notepad apps clogging your hard drive.

---