Baseball Simulation App Hits One Out of the Park
MacNewsWorld
Out of the Park Baseball by Out of the Park Developments is available for US$19.99.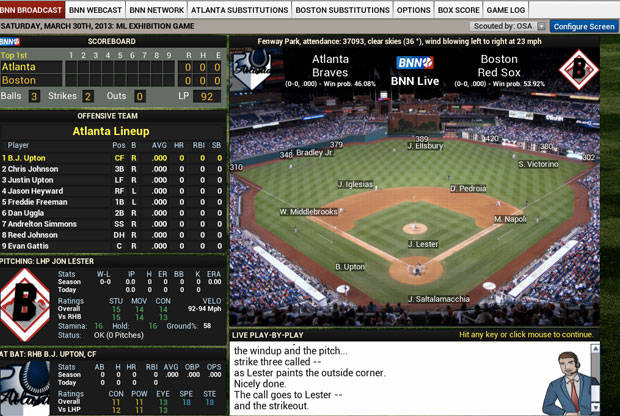 With the Major League Baseball season over, some fans of the American national pastime have started to suffer from withdrawal symptoms. Others are hashing over the past season and mulling the next in Hot Stove Leagues. Out Of The Park baseball should bring a smile to both these groups of diamond followers.
The baseball simulation game, available in the Mac App Store for a limited time for $19.99, lets a baseball fan experience the game from outside the lines -- as commissioner of baseball, as the general manager of a team, or as field general in the dugout.
The depth of OOTP 14 is staggering. That's a terrific feature for baseball fanatics. Unfortunately, it can be daunting to fans with a milder affection for the game.
Major league players from 1871 to 2013 are included in the game. You can stage contests between MLB teams for the 2013 season, historic teams and fictional teams.
You can create not only "Field of Dreams" teams, but also entire baseball worlds -- anything from a simple eight-team league of your own to leagues in multiple countries. Virtual worlds are included too, as you can join online leagues and compete with human players across the ether.
From Dugout to GM's Box
While some baseball simulations limit themselves to letting fans experience the game at the dugout level, OOTP also allows a player to run a team in the "Money Ball" echelon.
As general manager of an OOTP team, you can draft players, trade them, place them on waivers, and review scouting reports. You can manage a team's finances, as well as negotiate contracts.
If that end of the game isn't your bag of peanuts, you can don a virtual uniform and manage your team at the field level. You can set up lineups, manage pitches and make in-game decisions.
Having a wealth of baseball information in a game like OOTP gives the software some rich detail. It also requires a lot of processing chops. The developers recommend a Mac with an Intel Core Duo processor running at 2 GHz and 1 GB of memory, but I found the game's performance dragging from time to time on a machine that met those requirements.
Some Sweat Required
Many apps in the Mac App Store are so intuitive you don't need to consult any sort of documentation or invest any sweat equity to learn how to use them. That's not the case with OOTP. Checking out the online manual is almost essential in this game.
Trying to set up a simple major league game for teams from the 2013 season was less than straightforward. First, you have to set up a manager and select a team mode -- commissioner mode, GM-only, or cannot be fired.
Then you assign a team. Teams can be from the major or minor leagues. After your skipper gets a team, the game will perform a scouting report and give you advice about your roster.
I assigned my fictional manager the Atlanta Braves. The scouting report I received said my owner thought I had a weakness at catcher. Since I had an all-star catcher on the roster, I found that bit of advice dubious.
Eventually, I got a game started, and it was quite entertaining. A graphic of the home team's ballpark is displayed with labels of the players in the field. There's even ballpark sounds for atmosphere and play-by-play scrolling text beneath the ballpark pane.
When you're on defense, you can control infield and outfield positioning and pitching actions, like throwing to first with a runner on base or pitching around batters. When at bat, you can have a batter take a pitch, bunt or swing away.
If you love baseball, OOTP will be a fascinating dive into all aspects of the game from the field to the front office -- but it isn't an intuitive walk around the ballpark.
Freeware Spotlight
Wunderlist by 6Wunderkinder is available for free.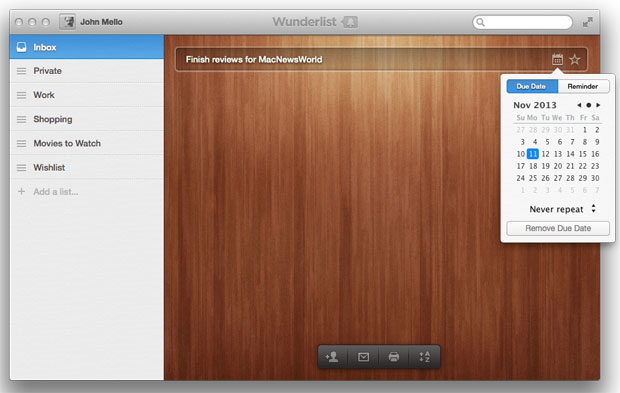 If notepad apps are among the most produced by developers, To-Do programs must be a close runner up.
Just as scribblers seem to be eternally searching for just the right notepad to capture memorable tidbits floating through their perceptions on any given day, time managers perpetually seek a perfect app for keeping tabs on what needs to be done.
Wunderlist is a popular free To-Do app found in the Mac App Store that deploys a dimension other apps -- notably SimpleNote -- have adopted to make them more relevant to current times. It supports To-Do items across devices via a cloud service.
A drawback of many To-Do programs is they're limited to the device they're installed on. If you're in front of the same device all the time, that's not such a big deal. If you're moving from desktop to tablet to phone during your waking hours, it can be a hassle keeping all your important tasks synchronized.
Wunderlist will do that for you on an iPhone, iPad, Mac, Windows, Android, Kindle and the Web -- and it does it in an attractive-looking interface. The latest version of the app fixed some bugs and reduced its demands on a device's battery and processor.
In addition to the free version, Wunderlist has a Pro edition that supports sharing features, like conversations, assignments, comments and file attachments, for $4.99 a month.

---