MacBooster Can Help Keep Your Mac Humming
MacNewsWorld

MacBooster by IObit is available for US$39.95 (Lite), $59.95 (Standard) or $88.95 (Premium). A 14-day trial is available for free.
Surf over to the Mac App Store, and you'll find plenty of utilities for keeping your Apple personal computer in tip-top shape.
There are tools for freeing up RAM and cleaning files from disks and thoroughly uninstalling apps.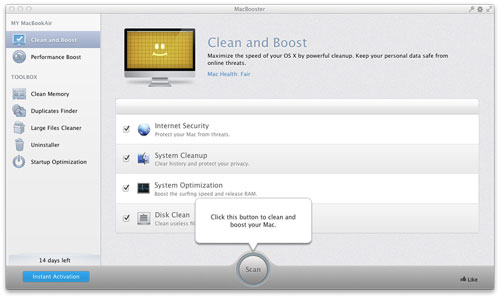 (click to enlarge)
Have you ever wished, however, that you had a an app to perform all those tasks under the same hood?
IObit, which has made a name doing just that for Microsoft Windows machines, is doing it for the Apple world with MacBooster.
Hands-Off Tools
When you launch the trial version of MacBooster, it'll give you an appraisal of your Mac's health. My MacBook Air's health was "fair."
It will also offer to clean your Mac and boost its performance. To do that, the app performs an Internet security scan, a history purge, a system optimization and a disk clean.
MacBooster requires the use of command line developer tools to perform its cleaning and boosting functions. If you don't have them installed, the app will offer to install them for you.
The Internet scan identified 47 issues -- all of them tagged as "malicious cookies." Most of them involved tracking cookies from websites. Those cookies keep tabs on your activity after you leave a website.
A number of data mining cookies were also identified. Those kinds of cookies are placed on a computer by marketers to create a profile of your online activities. Those profiles can then be used to pitch products to you or sold to others who will pitch products to you.
Vicious Viruses
The Internet scan revealed that I had no vicious viruses on my Mac. I'm not sure if that meant my Air was virus free or just free of vicious viruses.
Two issues were identified during the optimization scan. To cure them, MacBooster recommended altering Safari's Geolocation Permissions Policy and cleaning my system RAM.
In addition to performance recommendations, MacBooster found more than 2 GB of wasted space on my solid state drive. That was an eye opener, since I'd been using a number of utilities to keep wasted space under control.
Along with Clean and Boost, MacBooster offers a Performance Boost feature that suggests a number of processes and services that can be shut down to free up demand on a Mac's processor.
For example, the app recommended turning off the Bluetooth daemon in OS X, which handles things like service discovery, link key management and incoming connection acceptance. It also suggested turning off the service that automatically keeps the date and time of a Mac accurate and allows a Mac to automatically mount network shares.
More Info Needed
Another performance suggestion made by MacBooster is to shut down RAM optimization in Mavericks. That can be a two-edged sword if your system is on the low end in the memory department.
The program also recommends disabling a number of animation effects, as well as magnification and the OS X Dashboard. Those suggestions are the root of many a "how to" article for boosting performance in Windows as well as Macs.
While animations may not be essential, they give an OS character. Sure, lots of CPU power could be recovered if OS makers went back to command line computing, but does anyone really want to go back to those days? That's why I always find the turn-off-animations recommendation a dubious one.
However, at least if you turn off an animation, you know what the consequences of the action are going to be. That can't be said for other Performance Boost suggestions. What's really needed here, besides a list of suggestions, is information on how implementing those suggestions may affect a Mac. Otherwise, the safest course of action is to leave well enough alone and tolerate the possible resulting latency.
Tools Galore
MacBooster contains one of my favorite utilities: a memory cleaner. Since I'm constantly opening and closing programs, remnants of memory used by those programs can take a toll on my system's RAM.
Mavericks has a number of memory-management tricks. MacBooster's Clean Memory joins the party by giving you a way to create more free memory for your system.
A number of other tools are included with MacBooster. For example, there's a tool for finding duplicate files. I've always found those kinds of tools minimally useful. Maybe it's because I'm always making multiple copies of files as a precaution against data loss.
Moreover, you really can't mass purge the duplicates found by a duplicates finder tool. That means you have to review each set of duplicates manually. That's more work than it's worth.
MacBooster also includes a large file cleaner, startup optimizer -- to let you control what apps launch on bootup, and an uninstaller for doing a thorough job of removing apps from your system.
Convenient Suite
MacBooster Lite, which sells for $39.95, has a lifetime license for one Mac and 10 tools for improving your computer's performance.
For $59.95, there's a Standard edition that includes everything in the Lite version, plus a license for three Macs, a full system clean and boost, a guide for tweaking your Mac, and a PC cleaner license.
All the Lite and Standard features are included in the $88.95 Premium version, plus 24/7 customer service and priority support.
Before you choose a plan, however, you can try out the software for free for 14 days.
Most of the functions found in MacBooster can be duplicated through the use of low-priced or free utilities and how-to articles found on the Web. The main advantage of the app is that it combines a set of system maintenance tools into a single suite, allowing multiple tasks to be performed with a minimum of manual intervention. That not only makes the tools more convenient to use, but also more likely to be used.
The question for many Mac users will be how much they're willing to pay for convenience.

---