Zamurai Whiteboard App Makes Brainstorming a Breeze
MacNewsWorld

Zamurai Mobile Whiteboard by Zamurai is free (with in-app purchases) in the iTunes App Store.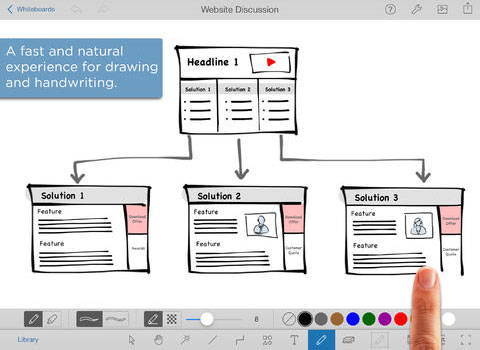 If you've spent a good portion of your life sitting around a table with colleagues who need to plan and strategize, then you've likely used old-school markers to write up lists and diagrams on sheets of white paper -- or on dry-erase whiteboards.
At the end of the meeting, you and your colleagues dutifully step up to the whiteboard and start snapping photos with your iPhones so you can then go off and execute or communicate the plan.
There is a better way.
Gobbledygook Gone
Enter Zamurai Mobile Whiteboard for iOS. This app is basically a well-designed whiteboard app that lets you drag and drop handy and commonly used icons onto your whiteboard, as well as drop in shapes, draw lines, and enter descriptive text. The interface is clean, the action snappy, and the results look surprisingly good.
What makes Zamurai usable for guys like me is how easy it is to drop in elements and then, as ideas or plans change, move them around to make other information or images fit.
Unlike a real whiteboard or paper sheets, it's easy to create clear images and text that everyone can read. You don't have to draw arrows from one list to another. As you might guess, deleting is easy too.
Plus, you can display your whiteboard on an HDTV -- without showing the tools -- via AirPlay, AirServer, Reflector, or a connected projector.
Extended Zamurai Whiteboard Tools
The free version of Zamurai Mobile Whiteboard lets you create only four whiteboards and limits your ability to share -- for instance, you would have to take a screenshot your whiteboard in order to send it to someone else. Through in-app purchases, you can get all features of Zamurai Mobile Whiteboard in one Essentials Pack for US$6.99 or buy four different types of enhancements for $2.99 each. What do you get?
One option gives you unlimited whiteboards; another lets you add your own images to the image library; another lets you create your own libraries and import icons; and the fourth option lets you share your whiteboards as .pdf or .jpg files -- or with other Zamurai users as fully editable whiteboards. The Zamurai app support pages also will let you import specialized icon packs if you work with Cisco, Amazon Web Services, or Symantec products and services.
Obviously, the $6.99 Essentials Pack offers up the smartest deal. If you're a collaborative worker, it's worth the investment to see if you can transform your planning and discussions into better, more actionable results.
All-in-all, Zamurai Mobile Whiteboard is remarkably easy to learn, easy to use, and sharp looking in every respect. If you're not a meeting type, I can see using the app as a personal workflow and planning tool to help you visualize projects, which you can then send along to colleagues to help illustrate what you're after.

---