Tweetbot 3 Makes Your Twitter Timeline a Thing of Beauty
MacNewsWorld

Tweetbot 3 for Twitter for iPhone by Tapbots is available for US$2.99 in the iTunes App Store.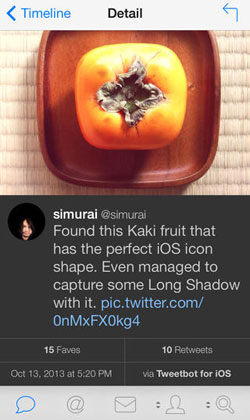 Let's get this clear up front: I am not a Twitter expert. I've used multiple accounts for different purposes; I enjoy following a few personalities; I like searching through Twitter.
Until now, I've rarely bothered to tweet or mess with Twitter on my iPhone or iPad, preferring to use the standard browser-based method on my Mac. I know I'm missing out, though, and there is even the possibility that I'll enjoy and use Twitter more if I simply take the time to learn a great new app.
Hence, Tweetbot 3 for iPhone and iPod touch. Why choose Tweetbot 3 when it costs $2.99 and I could try Twitter's own Twitter app for free? For starters, the jarring light blue color of the official Twitter app hurts my head. I know that many people feel soothed and safe around various shades of blue, but most blues annoy me. Character flaw? You bet.
Tweetbot 3 either has strong, rich dark colors or essentially little color at all, a la iOS 7, so I was game to try it out. Plus, it's got a near rabid set of users, most of whom consistently rate it highly, even after Tapbots radically redesigned the app to give it an iOS 7 look and feel.
Plus, it has versions available for iPad and the Mac -- and Tapbots charges money for them, which long-time readers also know that I appreciate. I'm willing to pay for a quality experience.
The real questions, though, are not about the hard-core expert Twitter user features. No, what matters to me is this: Can a relative Twitter newbie get into Tweetbot 3 and get quick value out of it?
Tweetbot 3's Sweet Twitter Timeline
What I like most about Tweetbot 3 is the timeline -- your stream of tweets by people or brands that you follow. I can pick up where I left off, swiping through tweets and catching up to the moment. Plus, if I wanted to use Tweetbot on my Mac or iPad, my timeline would sync via iCloud. In this way, Twitter becomes a more powerful content-browsing tool -- not to mention tool for social engagement.
It's super easy to view a photo in a tweet from within your timeline. It's just a small thumbnail at the right side of a tweet. Tap it and it goes full screen. Tap it again, and you're right back to the tweet or timeline. Better still, after you tap a photo, you can flick the full-screen portrayal in any direction and it will fly off your screen with a quick and surprisingly satisfying animation.
Navigating around specific tweets takes a little getting used to, but once you get the hang of it, you can examine and interact fairly easily. For instance, tapping on a tweet gives the tweet a dark gray background with a quick action dropdown menu bar of icons. You can reply to the tweet, retweet it, favorite it, translate it, send it to your Reading List or email it.
Swipe to the left, and the tweet will take over your screen (also with a dark gray background). In this view, you can do all of the above, plus see when a tweet was sent as well as how many people favorited it or retweeted it. If a media item is part of the tweet, you can see it take up about half of your iPhone screen in this view, too. Very nice.
Meanwhile, all the links and Twitter handles are hot, so you can easily tap on, learn about, and start following someone new. If there's a link to a Web page, you can load up the page via a built-in browser window that's essentially for previewing or reading the content. Try following a link, and you'll launch Safari proper.
Customizable Tweetbot 3
There are five icon buttons across the bottom of the app: Timeline, Mentions, Messages and two customizable slots. Tap and hold one of these last two spots, and you can choose from several options -- like a Search icon and function or list of Favorites. Change your mind? No worries. Tap and hold, and you can switch to another function at any time.
Of course, there's a lot more packed into Tweetbot 3, like Lists, which lets you categorize Twitter users around topics you care about. If you're like me -- many interests, many hobbies -- you'll want to learn how to put this feature to use.
At the same time, you can mute a specific hashtag or even a person you follow. For instance, sometimes a normally awesome guy will go to a conference and for three days all he'll tweet about is what's going on at the conference.
If you're not there -- and don't want to be there -- you can temporarily mute him -- especially around dinnertime, when you don't want to see his meal or bottle of wine. I haven't used this feature yet, but as you might guess, I'm sure I will.
All-in-all, Tweetbot 3 boasts usability features Twitter power users likely will appreciate while offering a solid user experience for relative newbies. If you want a clean and uncluttered app-based Twitter experience -- sprinkled with some excellent design elements -- you can't go wrong with Tweetbot 3 for iPhone and iPod touch.

---