Turn Your World Into Vibrant Comic Life
MacNewsWorld

Comic Life by Plasq Software is available for US$29.95 at the Mac App Store.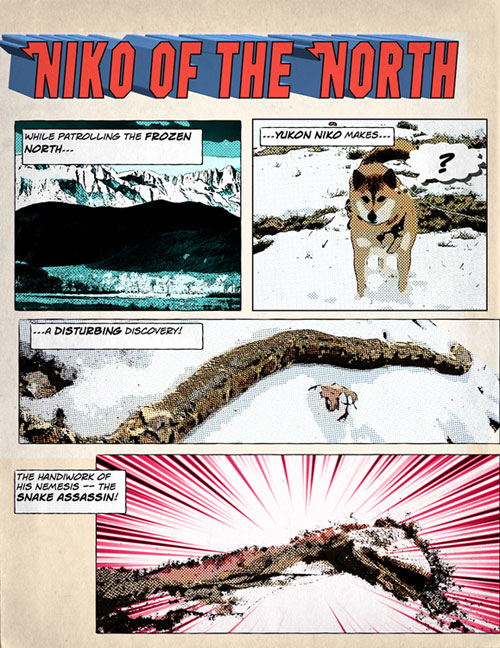 Comic Life's latest incarnation has some really useful new additions. They include a script editor, new filters, a background knockout feature and some new fill options.
With great new features, though, come greater complexity and greater demands on screen real estate, which can make the software more difficult to use for newbies and challenging to manage on Macs with smaller screens, like a MacBook Air or a 13-inch MacBook.
If you're new to Comic Life or want to become proficient in its new features more quickly, a quick read of its 20-page documentation will be well worth your time.
Amazing Integration
Among the software's new features, the addition of script editing is truly amazing in the way it integrates the creation of script and comic.
When you're in Comic Life's script editor, the software is constantly on the lookout for keywords that tip it off that a comic element is being added to the script. Those elements include panels, titles, sound effects, captions and dialogue.
As you enter a keyword -- for example, "Title:" -- an icon for that element appears beside the keyword in your script's left margin. That element can then be inserted into your comic by grabbing the icon and dragging it onto a page.
Once the element is on the page, you can modify it. You can move it around, resize it and apply a style to it. For example, you can stretch a title to cover the width of a page and choose from a number of display font types.
To help in placing elements on the page, Comic Life includes rulers, as well as alignment and spacing guides.
Winging It
The integration of script and comic in Comic Life greatly enhances the creative process because it removes the tedious steps of transforming what's on the script page to the comic page.
If you're unfamiliar with comic scripting, Comic Life includes a sample script, as well as easy-to-understand explanations of script basics.
While starting with a script is one way to create a comic in Comic Life, it's not the only way. You can wing it by choosing panel layouts and templates from the software's libraries, as well as drag elements into panels from the program's Element Well located at the bottom of its interface.
Indeed, when working with a personal photo library, it may be easier to work without a script and make up your narrative as you drag images into your comic.
Photos can be dragged onto a comic page from any location -- from a Finder window, from Comic Life's photo library, even from a Web page.
Photo Magic
Once you bring an image into a panel, you can reposition it, zoom in or out on portions of it, and rotate it within the panel.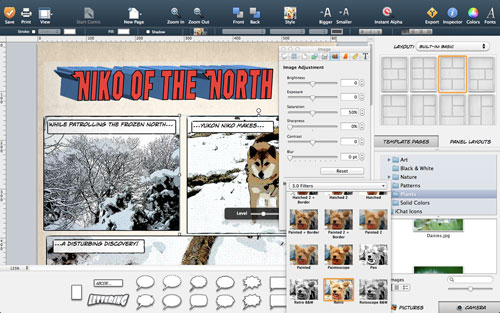 (click to enlarge)
You can also choose from a number of filters to make the photo look as if it were drawn in a number of comic book and other artistic styles.
With this edition of Comic Life, Plasq has added 18 new parametric filters, which seem to produce better results than the old filters, which are still included with the software.
Among the new filters in version 3.0 of the app are several "hatching" filters for both color and black and white comics; filters for giving a panel a painted look; a filter for rendering a panel in classic pen and ink; color and black and white "retro" filters that have large dot patterns similar to the pop art of Andy Warhol; and "rotoscoping," a technique used to give photos or film a cartoon appearance -- along the lines of what Schwab did in a series of TV ads a few years ago.
Busy Interface
Plasq also added an Instant Alpha feature to the latest version of Comic Life. It gives you an easy way to knock out the background of a photo. It's not the most precise tool in the world, but it should meet the needs of many Comic Life users.
After knocking out a background, you can fill it in with some of the software's new halftones and textures. You can also add speedlines to add a sense of motion to objects in a panel or give the panel an explosive look.
Although Comic Life has modest minimum requirements -- OS X 10.6.5 or higher, 1 GHz Intel processor, a gigabyte of RAM and 300 MB of disk space -- as with most graphic apps, more is always better than less.
That's especially true of display size. There are so many palettes and panes that can be displayed in Comic Life's interface that it can be challenging to work with it on the 13-inch displays found on some of Apple's notebooks.
Current Comic Life for Mac users can upgrade to version 3.0 for $14.99, and new users can give the program a 30-day spin free of charge before deciding whether or not to buy it for $29.95. Whether you're upgrading or trying out the program for the first time, this latest edition of Comic Life is a keeper.

---