'Anchorman' Scotchy Toss App Might Be Better After a Shot or 2
MacNewsWorld

Anchorman 2: Scotchy Scotch Toss is an iOS app available for US$0.99 in the Apple App Store.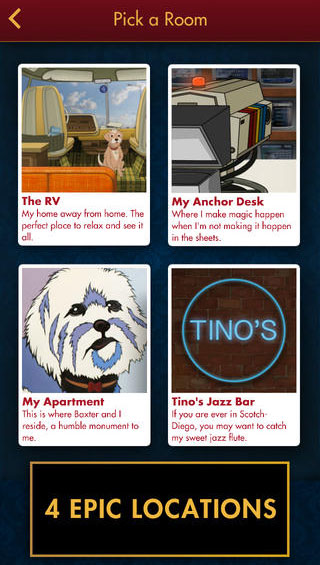 One of the best side effects of Apple's app ecosystem is spinoffs -- in addition to great games and apps for most everything imaginable, successful franchises can create apps to keep stoking the adoration of fans. If you haven't noticed the invasion of Duck Dynasty-branded merchandise in department stores everywhere this holiday season, you might have stumbled upon the surprisingly delightful Battle of the Beards app.
How about right now, though -- this week? Anchorman 2: The Legend Continues hits theaters Dec. 18 in the U.S. The app, of course, is available now -- but what's the movie and "Ron Burgundy" hoopla all about?
Featuring San Diego's fictional top-rated newsman, Ron Burgundy, played by Will Ferrell, the first Anchorman movie was released nearly a decade ago. It's a tongue-in-cheek take on "action news" from the rollicking 1970s, and the comedy broke $90 million at the box office. If it's not exactly a cult classic, it's flirting with cult status. The people who liked the movie generally loved it, while others promptly forgot it existed. It was rated PG-13 but with a few uncut scenes, it would have been rated R.
What Is Scotchy Scotch Toss?
Anchorman 2: Scotchy Scotch Toss is an incredibly simple and somewhat enjoyable cartoonish game based on the personality of Ron Burgundy, who is an arrogant, if funny, highly sexualized and all-around clueless, offensive jerk. So yeah, the kind of guy you want to hang with at a party, bar or boring office ... but not anywhere important, and not anywhere near your children.
To play the game, you select one of four locations: The News Team's new NYC apartment, Ron's shag-tastic RV, the 24-hour newsroom or Tino's Jazz Bar. Your goal is to flick ice cubes into Burgundy's glass of scotch. To make it harder, there's a little arrow that implies the curve or force wind you have to throw with or against. Obviously there's no wind inside of an RV, but hey, the game isn't so much about throwing ice cubes as it is about getting Burgundy to say funny things. And he does. Maybe as many as 300 lines. If you play, you'll quickly hear critiques like:
"You remind me of someone who is pathetic."
"How can I deep-fry chimichangas if you keep cooling down the grease with ice cubes?"
"Today's top story: Mobile gamer bludgeoned by legendary newsman."
"You are not good and everyone knows it."
"You have the motor skills of a very stupid baby."
Obviously these are PG-13 sorts of comments -- funny, particularly when delivered in context with Will Ferrell's voice.
If you play longer and at least occasionally do well, you might hear even funnier lines like:
"Scotch, my wet mistress, my smoky mermaid lover."
"Good job getting me drunk. You're not trying to take advantage of me, are you? Because that would be fantastic!"
"Don't beat yourself up. History needs losers, too."
Ringtone Potential
Part of the game is tossing the ice at other people or objects in the room, which sometimes elicits some sort of poorly animated bank shot and a new Burgundy comment.
If you don't have time to waste hours of your life tossing virtual ice cubes, you can download a printout with instructions on how to play the game in real life, complete with a line drawing of Will Ferrell's Ron Burgundy face. Or you can shell out a buck for the game and skip to the Soundboard, which lets you play back some of the best lines whenever you want -- a few of which might be worth hacking into a ringtone or two.
Meanwhile, how's the game rank? A 3 out of 5 stars. I was hoping for something a bit more R-rated or more offensive; however, the game might edge up into a 5-star rating if you drink scotch while playing.
Of course, that's when this Burgundy comment might hit a little too close to home: "You need to stop playing and reconsider your life choices."

---