[BRIC+]: This Great iPhone Charging Case With Built-In Zoom Lens Deserves a Better Name
MacNewsWorld
A new Kickstarter campaign for a built-in case, battery and 3.5x optical camera lens aims to hit three key enhancements many people want for their iPhones: a better camera, better battery life and a protective case.
Specifically, BricWave's [BRIC+] Productivity Case for iPhone 5 and 5s is a slickly designed, slim case with a built-in battery pack and a handy camera lens that snaps on and off through the power of magnets.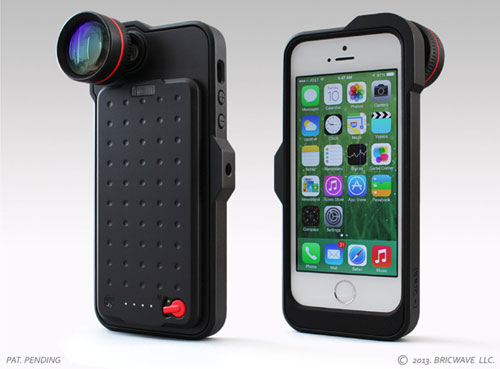 For shutterbugs, the [BRIC+] seems like a solid option. The 3.5x zoom lens brings better detail to photos in a way that digital-based zooms simply can't. Plus, it's easily removable and quickly installable so an iPhone owner could leave the protruding lens in a bag or pocket and pull it out only when it's needed. The lens has a dual cover for both ends to protect it from danger like pocket lint or car keys.
The case also features a standard mounting hole for tripods.
2.5x Battery Life
The [BRIC+] solution appears to be well-thought-out. If you solve the optical zoom lens camera issue on an iPhone 5 or 5s, the lens will likely be large and therefore cover the built-in flash. So, you need an additional flash system, which the [BRIC+] delivers by adding a more powerful LED flash to the case.
BricWave says the flash is effective out to 9 feet, while the standard iPhone 5 flash has an effective range out to just 6 feet.
What does a flash need to work? Energy. Power. Hence the built-in 2450mA Li-on battery, which does double-duty as an extra charging source for the iPhone. It features a simple dotted-light system to indicate how much charge is available in the battery.
When it's time to charge the iPhone, a three-way switch lets you toggle among standby mode, charging mode and flash mode.
Seeking $65K
The [BRIC+] project is looking for US$65,000 in funding by Jan. 23. It currently has more than 50 backers pledging more than $8,500.
As usual, there are a variety of perks to attract support. The first level for early backers starts at $79 and includes the 2450mAh Power Case in a black/black combination. (Retail is expected to go for $115.) Unfortunately, while the case delivers an external flash, a tripod mount and extra battery life, it seems silly if you don't also get the snazzy 3.5x camera lens.
Early backers can also get a machined aluminum silver/black case for $109 and choose from a few color options at $119.
At $129, the first 200 early backers get a standard black case with the 3.5x optical lens (expected retail will be $165). The pledge options continue to ramp up in price to include aluminum color choices and even a titanium limited edition case at $239.
Risks and Timelines
BricWave seems to have a functional prototype and plans to ship completed units to backers in March 2014. The usual manufacturing and production snafus pose the risk of delays, but BricWave promises to alert backers to any issues that could affect the planned timeline.
BricWave also says it is already in the Apple MFi Program, which Apple runs to ensure the use of electronic accessories that meet its performance standards.
Will the Project Succeed?
The [BRIC+] prototypes look like well-designed, high-quality cases with an interesting overall design and set of color schemes. The magnetic lens is a nice feature that most any iPhone camera-using owner can understand and imagine using.
For potential customers with aging iPhone 5 phones, the [BRIC+] could extend their iPhone 5 usage by giving them additional battery power without the need to replace an aging iPhone 5 battery. At the same time, the lens could improve their camera experience. Taken together, the [BRIC+] could be seen as a viable and interesting upgrade for these customers, making the $100+ price tag seem compelling.
The obvious unknown is whether the latent desires of many iPhone owners, like a zoom camera and better battery life, will erupt into purchase activity. Therein, however, lies the awesomeness of crowdfunding.

---