Apple's Sleek New Mac Pro Hits the Market
MacNewsWorld
Apple has announced that its new Mac Pro will be available to order starting Thursday.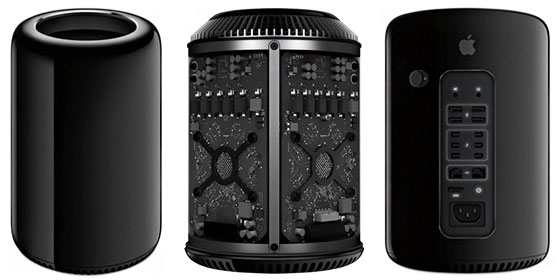 It unveiled the system in June at the Worldwide Developers Conference, surprising attendees with its cylindrical design. The aluminum body is just an eighth of the size of a standard tower unit -- 9.9 inches tall, 6.6 inches in diameter and weighing in at around 11 pounds.
Major Revamp
The design is intended to maximize cooling. Air is siphoned through the top of the unit, which has a handle for easy moving. The back panel lights up when the unit is moved, allowing users to easily spot its ports. This is the first major revamp of the Mac Pro since Apple debuted it in 2006.
The new Mac Pro can contain 4-, 6-, 8- or 12-core Intel Xeon processors capable of Turbo Boost speeds up to 3.9 GHz. The system can house two AMD FirePro GPUs capable of delivering eight times the performance of previous-generation Mac Pros.
It utilizes PCIe-based flash storage for faster read speeds. The ECC DDR3 capability affords owners up to 60 GBps of memory bandwidth. The Mac Pro houses six Thunderbolt 2 ports, each capable of delivering up to 20 Gbps of bandwidth per device, and support for dozens of high-performance peripherals such as 4K screens. It ships with Apple's latest Mac OS X Mavericks operating system.
Video Editing
Apple suggested certain use cases for the new Mac Pro, such as editing full-resolution 4K video with the power of the ECC DDR3 memory while rendering effects at the same time. The system, which is being manufactured in the U.S. as CEO Tim Cook noted on Twitter, appears to target creative professionals.
"Desktops in general are in decline, but there are loyal Mac users at the high end of many professional segments: design, publishing, architecture," Roger L. Kay, principal analyst at Endpoint Technologies Associates, told MacNewsWorld. "These types are always interested in an upgrade."
'Muscular Performance'
"It seems to be aimed almost exclusively at graphics professionals. It's more of a workstation than it is any kind of desktop computer," Charles King, principal analyst at Pund-IT, told MacNewsWorld. "This is a machine that's designed to deliver really muscular performance. It's not the kind of thing that a home hobbyist would have much use for unless you have an incredible amount of disposable income."
A configuration including a 3.7 GHz quad-core Intel Xeon E5 processor and dual AMD FirePro D300 GPUs -- each with 2 GB of VRAM, 12 GB memory, and 256 GB of flash storage -- starts at US$2,999. Apple is selling the system through its online store, retail stores and selected authorized resellers.
Arriving at Holidays
Apple had promised it would make the new Mac Pro available by the end of the year, so it's meeting that promise with just a few days to spare.
Whether the Mac Pro has a chance of making an impact in the market beyond creative professionals is up for debate.
"I'm not sure how well or whether it will spark much growth beyond the install base," Pund-IT's King said. "That's tough to say, because when you get into this level of graphics performance, the level of adoption is very much dependent on the software applications people are using."