NCAA March Madness Live App Is Crazy Good
By Chris Maxcer
Mar 20, 2014 6:45 AM PT

NCAA March Madness Live by NCAA Digital is an iOS app available in the iTunes App Store for free.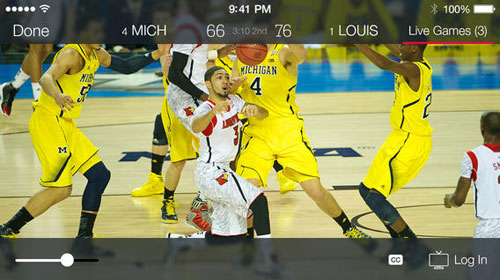 I've known some diehard college basketball fans to take vacation days just to watch the popular NCAA Division I Men's Basketball Tournament, but lesser fans can sneak away to catch the action without camping on the living room couch: NCAA Digital has updated its NCAA March Madness Live iOS app for 2014. With it, you can live-stream 67 games as they are broadcast from CBS, TBS, TNT and truTV.
The app is free -- and despite some streaming limitations for non-cable and satellite television subscribers, it's a must-have app for any basketball fan.
What's Inside
The core tournament starts Thursday, and the app provides the schedule for each day's games, showing you which broadcaster is behind the live stream for each game. The broadcast provider is important. Why?
If you're a cable or satellite TV subscriber who gets TBS, TNT and truTV, you should be able to log into the app with your subscriber credentials. This will let you live-stream the games from your iOS device without any limitation.
If you're not a subscriber to these pay-to-view channels via old-school television methods, you still can watch all the games that are broadcasted by CBS live and completely free.
That's awesome.
What about the other games, though? What if TNT is broadcasting your favorite team's game? There's a tiny sliver of good news here, too, and it's three hours long: The app keeps track of a temporary preview period -- not counting CBS broadcasted games. During this period, which is three hours, you can stream any of the pay-TV broadcasts.
To get the most out of your three hours, you might want to wait until the second half of critical must-see games rather than blow most of your window on just a single full game.
Up-to-the-Minute Scores and Stats
Retooled for iOS 7, the app is a smoothly designed wonder, giving fans easy access to scores and stats. This means you can follow the action without actually watching the games -- great for those fans who aren't willing to burn vacation days come Thursday and Friday.
The tournament bracket is a joy to use, too, letting you pinch and zoom to check out matchups. If you like to make your own picks, the app's Capital One NCAA March Madness Bracket Challenge lets you do that, too -- nice because it's the "official" bracket game of NCAA March Madness.
There's so much more, though. The app is a news machine for the tournament, reporting the action via key video highlights, photos, and tweets. It also provides as-they-happen alerts for upsets, overtimes, close games, and activity around your favorite teams.
I haven't personally tried the radio feature in previous versions, but the app will let you listen to the live radio broadcast for every game, too.
What's Wrong With NCAA March Madness Live?
Last year, I streamed games while traveling in a vehicle. When I arrived at my destination, the app was able to handle the video stream handoff from cellular data to WiFi. So the app works surprisingly well.
The only real disappointment with the app is the NCAA's association with TBS, TNT and truTV. No doubt, those channels -- through parent company Turner Broadcasting, which is a subsidiary of Time Warner -- have locked up television broadcast rights by paying a lot of money. Perhaps they've paid more than the NCAA could make by selling one-off purchases to individuals via apps or by selling advertising.
This is only a problem for fans who have no intention of shelling out every month to pay for pay-TV channels and content they rarely, if ever, want to watch. I doubt the issue will be resolved in 2015, but if fans are lucky, maybe the NCAA will understand the new reality of today's viewers and manage to increase the preview window just a bit -- a baby step forward. Say to six hours. How about that, NCAA? Please?

---