Apple Bets Big on Bigger, Better iPad
Will size matter? That was the question in many minds on Wednesday, when Apple introduced its new 12.9-inch iPad Pro tablet.
"This is the iPad Pro," announced Apple CEO Tim Cook before an cheering throng at the Bill Graham Civic Auditorium in San Francisco. "It's the most capable and powerful iPad that we've ever created."
Measured diagonally, the new tablet has a 12.9-inch widescreen LED display with a resolution of 51.6 million pixels -- 2732 by 2048 -- and density of 264 pixels per inch. It will come in silver, gold and space gray.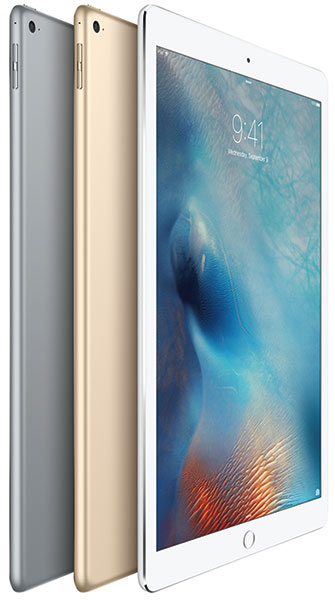 Its new 64-bit A9X chip runs 1.8 times faster than previous models, according to Apple.
The Pro has four speakers -- one in each corner of the tablet. It also has dual microphones for recording.
The 32-gigabyte WiFi version of the Pro will sell for US$799; the 128-GB WiFi model for $949; and the 128-GB cellular unit for $1,079.
What Price Tablet?
Although the Pro has strong specs, its price tag could be its Achilles' Heel.
"The greatest area of vulnerability is price relative to what's happening in the tablet market," said Rhoda Alexander, director of tablet and notebook research at IHS. "It's coming into the market when we're seeing a lot of financial red flags in tablets."
Apple managed to make the original iPad a success even though its competition -- the netbook -- was priced lower and had more functionality.
"The question is whether Apple can mirror that success here, coming in with a product challenging notebooks at a price higher than the average notebook," Alexander told the E-Commerce Times.
In addition to the Pro, Apple announced two accessories designed for the tablet at its product event -- its Smart Keyboard and the Apple Pencil.
The Smart Keyboard has a fabric layer over its keys to protect them from dirt, dust and liquids. It connects to the Pro through a new magnetic Smart Connector at the bottom of the tablet.
The Pencil is very responsive, according to Apple. It has almost no latency -- a problem common with almost all tablet writing instruments today. It responds to pressure and angle of use, which allows it to mimic its analog counterpart.
Business Tool
The keyboard is bound to set Apple critics' tongues wagging.
"It was pretty obvious to people watching the announcement that the use cases Apple is pursuing with the iPad Pro are similar to the use cases Microsoft has promoted for its Surface Pro 3," observed Jeff Orr, senior practice director for mobile devices at ABI Research.
"They're definitely going to take some ribbing from those who have been saying Apple isn't the innovators they say they are," he told the E-Commerce Times.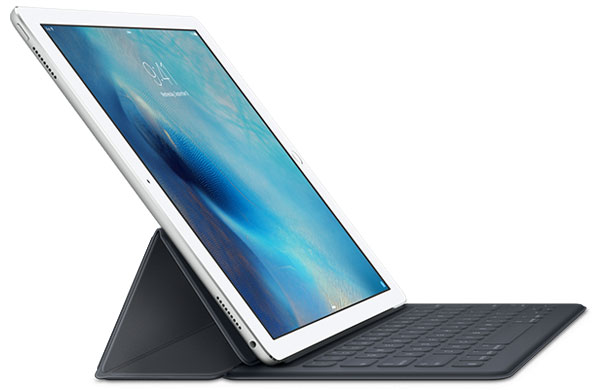 Unlike most Apple products, the Pro clearly is meant for business use.
"This is targeted at business users and the enterprise," said Tim Bajarin, president of Creative Strategies.
"There will be some consumer interest, but it is really a business tool," he told the E-Commerce Times.
There may be some interest in the Pro from consumers invested in the Apple ecosystem and looking for a productivity-focused tablet, noted James Moar, an analyst with Juniper Research. "However, its key target market is the enterprise, not consumers, and so being a success in the consumer segment is not a primary concern for Apple."
Chasing Business
The iPhone's popularity as a consumer device contributed heavily to the BYOD trend, with companies finding ways to support their employees' use of their own devices while on the job. The iPad Pro could migrate in the other direction -- from office to home.
"I suspect it will initially be adopted in the enterprise, but I also suspect that it will be popular with some consumers -- perhaps here's where expectations may be exceeded -- who will be drawn to the larger screen," Greg Sterling, vice president of strategy and insight at the Local Search Association, told the E-Commerce Times.
"In the most advanced market economies -- places that were the first to adopt iPads -- you could find the iPad Pro to be a potential upgrade path," ABI's Orr added .
If consumer sales of the Pro surprise, that will be gravy for Apple.
"The iPad Pro is a watershed moment for Apple. It is their first clearly enterprise-focused product, and will be a showcase for their app partnership with IBM," Juniper's Moar observed.
"The Pro is very important to Apple," said Creative Strategies' Bajarin. "This will help them extend their reach into business -- and with their partnership with IBM, it will be a key product they use to go after the business market."

---