Escuelas Linux Is Much More Than an Enlightened Linux Retread

Escuelas Linux caught me by surprise.
This Linux distro is a prime example of how a programmer can take an open source operating system that matches his own developmental strategy and turn it into a much different product with an identical look and feel.
What makes the surprise so appealing is how effectively one distro becomes another while both continue to coexist equally. Developer Alejandro Díaz integrated his own features to create a new distro without rebranding what he borrowed.
Linux distros share a lot of give and take. New distros are formed from established operating system families. Modifying the base distro by changing design features and including new concepts is perhaps more common than outright forking an essential software component or an entire OS.
However, Diaz did something very clever. His choice of a foundation for Escuelas Linux is a rarity. He took a minimalist OS design built around a radical user interface. He stuffed it with very targeted software that makes the new stepchild distro more productive and helpful to his specialized users.
Escuelas Linux is based on Bodhi Linux with its forked version of the Enlightenment desktop, Moksha.
---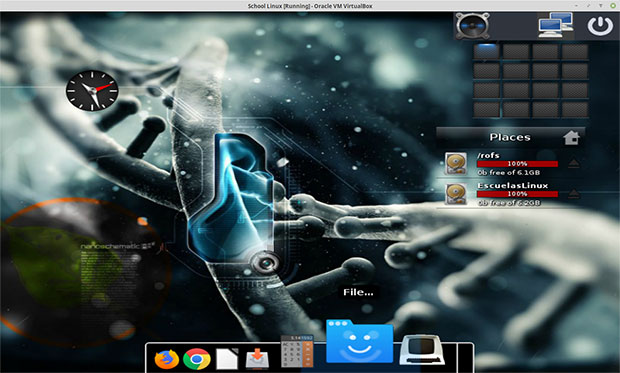 Escuelas Linux is a near clone of Bodhi Linux and its Moksha desktop. Installed software and user interface tweaks giveEscuelas Linux its own footprint.
---
Reaching Out
Escuelas Linux, which roughly translates as "School Linux," is based in Mexico. This distro is well-known in Spanish-language countries, particularly in the regions where it is used by ten of thousands of students and teachers, according to the developer.
The distro is relatively unknown in English-language countries despite having added support via a custom pack years ago, according to Diaz. He wants to change that.
"It is kind of sad for us to have such little presence in English-language countries," he told LinxInsider.
The distro's 6.x series provides both 32-bit and 64-bit English-language editions. Version 6.4 was released on June 15.
The 32-bit versions are key to expanding Escuelas Linux's user base. It supports the supply of legacy computers. Even the 64-bit version is less demanding on hardware.
Moksha's low-memory desktop environment is an ideal fit for keeping legacy computers and cash-strapped schools and families learning and working, using the computer as a productive educational tool and all-purpose computing platform at home.
Long Academic Reach
The Bodhi Linux base, though an unusual computing foundation for students and the education community, is a workable vehicle. It comes with lots of educational apps from preschool to college levels. It also has in-house apps that are very useful to teachers or media classroom admins.
Bodhi Linux is very minimalist. Yet the Escuelas Linux release is stuffed with productivity and educational software that caters to students, teachers and administrators.
That is one of the major elements that sets Escuelas Linux apart from Bodhi Linux and other lightweight distros. Instead of providing users with a bare bones, soulless desktop as default, the Escuelas team offers a highly functional and beautiful desktop that makes "fiddling with the controls unnecessary," Diaz said.
"Our reach is not limited to the stuff we make on the desktop environment. Escuelas Linux is one of the few distros in the world -- if not the only one -- in which most of the included apps also receive a lot of care to offer them highly curated and beautiful, ready to be used out of the box on all its potential," he boasted.
Craftsmanship Counts
Another aspect of Escuelas Linux that sets it apart from Bodhi Linux and other distros is the level of craftsmanship in the included tweaked software, according to Diaz.
For example, his distro comes with the LibreOffice suite. By default, it opens with a tabbed interface paired with what the developer considers the most elegant icon set. A custom rendering of fonts enhances the working experience on the suite.
Escuelas Linux includes hundreds of additional pre-made images in its Gallery. Other extras include lots of additional templates for Impress, its presentations program.
Diaz acknowledges a sad market reality: LibreOffice comes configured to save by default in the MS Office format.
"This same level of embellishment found in LibreOffice using Escuelas Linux can be found across most of the apps included in our distro," he said.
Distro Primer
Bodhi Linux -- and by extension Escuelas Linux -- are on a very short list of Linux distros using the forked version of the Enlightenment desktop. In fact, few distros offer Enlightenment, a compositing window manager and desktop shell.
Enlightenment/Moksha are radically different from other lightweight interface shells such as Xfce and LXDE. Its roots grow back to 1996 as a project to build a Window Manager for X11. That project has since started to transition to Wayland.
The Bodhi community forked Enlightenment 17 several years ago in response to the lack of developmental progress from the Enlightenment project. The E19 (Enlightenment 19) release is relatively heavy and not suitable for older hardware, according to Bodhi developers. That gave rise to Moksha, which is maintained and updated with the latest Enlightenment libraries.
---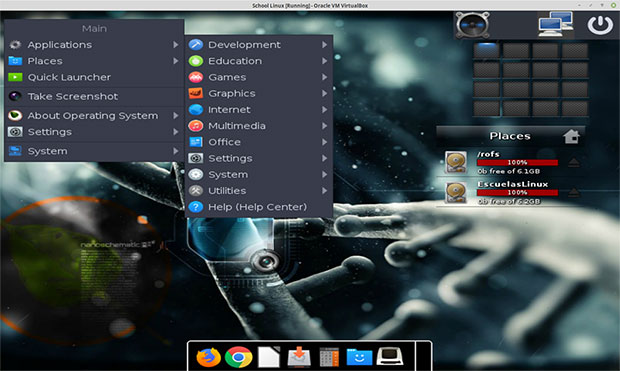 The Moksha desktop inEscuelas Linux has desktop gadgets and modules that provide a very different user experience compared to more traditional Linux OSes.
---
The Moksha variant of the Enlightenment environment is very customizable. It has many features that contribute to its futuristic design and its innovative desktop UI's many options.
This gives the Moksha desktop an advantage over traditional Lightweight Linux desktops compared to choices such as GNOME, Cinnamon and KDE Plasma. While the Moksha desktop is light on resources, it has a modern look.
Desktop Design
The Moksha Desktop uses system tray icons and a collection of gadgets and modules. It lacks the traditional layout that allows users to place application icons directly on the desktop screen.
Gadgets are small applications that either provide system information or perform a specific action. Gadgets are highly configurable by right-clicking the gadget on the screen.
Modules are traditional icons. Gadgets are more of a mini control center. You can monitor a lot of things like screen brightness, system temperature, CPU speed, etc.
Shelves house gadgets. You can have more than one shelf on a desktop. You can have different shelves on different virtual desktops, too. You can locate shelves at the middle or a corner of any screen edge. This lets you get better use out of different size display screens.
To configure shelves, right-click on the desktop and choose Shelf > Settings from the context menu. You can set stacking, Position, Size and more. You can locate shelves on a specific virtual desktop or on all desktops.
Panel Bar Begone
The iBar in the center bottom edge of the screen replaces the traditional Linux panel bar. It combines a quick launch tool with a dock for running applications.
The iBar also houses launchers for frequently used applications. A change from Bodhi Linux's design places icons for open apps in an expanding box on the right half of the bar. Bodhi's approach is to show running applications with an orange dot under the iBar app icon.
This also serves as a convenient app switcher. It is an alternative to the Alt-Tab. You can still use the Alt-Tab key combination to cycle among open applications via a display box that pops up in the center of the screen.
Bodhi's iBar does what a traditional panel bar does plus a bit more. It serves as a dock for running applications. It also can be a very useful tool that auto-hides if you select that option.
The iBar is heavily animated. Hover the mouse over one of the marked icons to reveal its launch menu. Hovering over the iBar icons causes them to rise from the bar and pulse.
Escuelas Highlights
One of the more useful user interface traits is the left-click feature that pops up the menu anywhere on the desktop. It is very convenient. Unlike Bodhi Linux, no main menu button is on the iBar.
I am a fan of the traditional workspace switcher applet available in most of the regular distros on my machines. I divide my workspace among numerous virtual desktops. The UI interface in Escuelas Linux, just like its Bodhi Linux base, uses a 16-square grid in the upper right corner of the screen to view thumbnail contents of each workspace.
You can click in a square to jump to a new location. You also can drag thumbnails from one workspace square to another, Right-click on the top frame of any running application window to open a menu of workspaces where you can place that application.
Picking Your ISO Download
Escuelas Linux has two editions each for Spanish and for English. In each language, one ISO file is for 32-bit machines. A second ISO file is for 64-bit computers. A legacy edition is available for computers with minimal resources.
Install the 32-bit edition on computers with at least 700 MB of RAM and 40 GB of free hard disk space. Install the Legacy edition on computers having 512-700 MB of RAM with 40 GB of free hard disk space.
Install the 64-bit edition on computers with 4 GB or more of RAM. This is the edition to install as a dual-boot option or to replace Windows 8 or Windows 10 preinstalled at the factory on UEFI systems.
Because the ISO files are very large and the Sourceforge repository imposes bandwidth limits on projects stored there, you must download three folders. These folders are special ZIP-compressed files.
Download them and unzip ONLY the file with the .zip extension to obtain the ISO image of Escuelas Linux. The unzipping process will grab the additional two files from the downloaded folders and stitch them together into one 6+ GB ISO installation file.
Here is the download link.
DVD, VM No Good
The ISO file exceeds the 4.7 GB capacity limit on DVDs. So you must use a USB image writing tool to transfer the installation files to a bootable USB drive of at least 8 GB capacity.
The live session runs fine from the USB drive for testing and installation to a hard drive, but avoid running the ISO as a live session in Virtualbox.
The performance is not good. I also had trouble installing it to a VirtualBox hard drive.
So far, the developer has not done much to rebrand the signage in Escuelas Linux. The system boots through several splash screens clearly identifying the loading OS as "Bodhi Linux."
The integral craftsmanship of the software that Diaz mentioned and the refinements to the OS itself are lost to most users. I can not recall a single instance within the OS that displayed the name of the distro as "Escuelas Linux" and not "Bodhi Linux."
---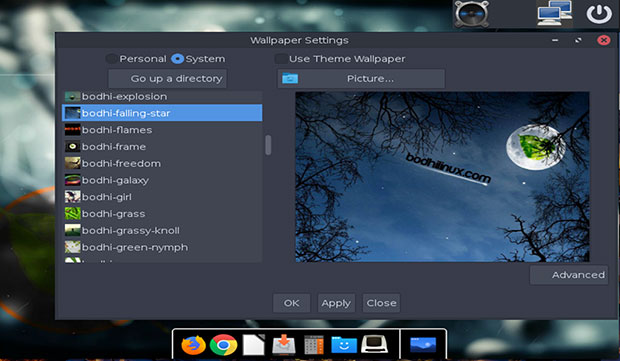 Escuelas Linux suffers from an identity crisis. It lacks its own signage and other unique branding. This screenshot of wallpaper options is a vivid example.
---
Bottom Line
Escuelas Linux is a surprisingly good all-purpose distro despite its emphasis on education-specific software. However, its universal appeal is critically hampered by its Spanish- and English-only editions. You can always uninstall educational packages not to your liking or need.
Expect to take some time getting familiar with the Moksha desktop. That is my primary concern for younger students and others not familiar with any computer system.
I spent many years as an educator pushing computer technology in the classroom. Students' computing skills (with the exception of gaming) were often greatly lacking.
Moksha is not difficult to master. Yet I cringe at the thought of students and other users getting up to speed on the Moksha UI for hands-on productivity in the classroom and at home. Many of the specialty features built into Escuelas Linux will help teachers and system admins reduce the UI distractions.
Want to Suggest a Review?
Is there a Linux software application or distro you'd like to suggest for review? Something you love or would like to get to know? Please email your ideas to me, and I'll consider them for a future Linux Picks and Pans column.
And use the Reader Comments feature below to provide your input!

---