Appinator Makes a Very Easy Task Ever So Slightly Easier
MacNewsWorld

Appinator, an app from Lazy Production, is available for US$3.99 at the Mac App Store.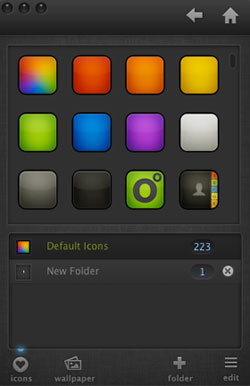 Appinator
Recent Mac converts who've used Windows machines for years sometimes undergo a slight learning curve as they figure out how to accomplish certain tasks that were second nature on PCs. Often these Mac mysteries can be solved with a single well-put Google search, or perhaps a quick and (usually) inexpensive trip to the Mac App Store.
Icon customization was something that puzzled me at first. What if I think that dock icon is ugly and I want to change it? Or what if I don't want every single folder to be a cornstarch blue envelope? I quickly learned that all it takes is some copying and pasting in the Get Info window.
Figuring out how to change the desktop background was even less difficult. Maybe OS X doesn't use the term "wallpaper" like Windows does, but I think the only way the process could possibly trip someone up is if they're not yet aware that tapping with two fingers is the Mac equivalent of right-click. Two-finger tap the desktop, go to Change Desktop Background, and pick your image.
Still, maybe even this is a bit too under-the-hood for some users. Others may know how to do it but don't know where to get a nice, big bundle of alternative icons and wallpaper that looks nice. For those users, I present Appinator.
Quick Change
Once installed, Appinator takes residence on OS X's menu bar. After you install it, an arrow and some text will point it out to you: "Please load application from here." But you might miss the text if you have a dark-toned wallpaper in place.
Click the menu item to bring up your options, which include Folder Icons, Wallpaper, Organize, Menu Folders and Settings.
Let's start with Folder Icons. An interface will appear featuring options like Organize, Reset and Apply; a "Drag folder here" window; and several dozen of out-of-the-box icons. The icons themselves are all square, and they're neatly designed, but also pretty vanilla.
One review I noticed in the App Store's entry for Appinator stated that the interface isn't very user-friendly. I can see why someone might say that -- I kept trying to drag the built-in icons into the "Drag folder here" box. But that's really where you need to drop the actual folder you want to restyle. Then pick a new icon, hit Apply, and voila, your folder has been made over. Reset does what the name suggests.
The trick also works for dock icons, as long as the icon points to an app found in an actual folder, like your Applications folder. I couldn't figure out how to change icons for apps like Finder or Trash (strange, since there's a trash can included in the out-of-the-box icon selection).
Redecorate Your Way
The Organize option takes you to a window where you can add extra icons and wallpapers. Create a new folder, then start dragging in icons and wallpaper you've downloaded. Downloaded from where? I'm partial to sites like DeviantArt, FindIcons and Wallbase, but there are thousands more out there.
However, with folder icons, you'll want to adhere to a size and format standard. The icons must be PNGs, and they should be 512x512. Anything smaller and you'll end up with a ridiculous-looking micro-icon. I'm not sure why this is, but changing up an icon the old-fashioned way (through Get Info) will at least leave you with a normal-sized icon even if the image isn't very high-res.
The Wallpapers option will allow you to pick from 149 out-of-the-box desktop images. All the included images are high-res enough to look smooth on a 1680x1050 monitor. None of the selections depict actual objects or scenes -- they're all studies and variations on colors and blurriness. If you want anything with personality, find your own and add them through Organize.
The Wallpapers interface also lets you adjust for odd-sized images you happen to import -- Fill Screen, Fit to Screen, Stretch to Fill Screen and Center.
The Wallpapers part of Appinator is very easy to use, but I question why it needs to exist at all. Perhaps changing out an icon's image is what some users consider getting their hands dirty. But OS X's menu for setting a desktop image is just as straightforward as Appinator's, and it gives you the option of rotating among any number of desktop images. That's not a feature offered in Appinator.
Finally, Appinator also lets you install menu icons that give you quick drop-down access to everything in your Applications folder and/or Utilities folder. I'm not sure whether it's possible to install these menus in OS X without the aid of a third-party app, so as far as I'm concerned, that feature is Appinator's MVP. Everything else can be done fairly easily, and sometimes with better results, using the OS' built-in functions.
Bottom Line
Appinator doesn't change what a default folder icon in OS X looks like or anything as deep-seated as that. Users who are already familiar with how to change an individual folder icon likely won't be impressed. And the Wallpapers option would be superfluous if not for the 150 desktop images you can choose from -- and that's only a plus if you like your desktop to be wavy shades of solid colors.
But for changing out icons, Appinator is perhaps marginally easier than the old-fashioned method of going through Get Info and copy/pasting. Users who'd rather not venture more than toe-deep in OS X's inner goings-on may appreciate it.