Apple Amps Up Productivity With Final Cut Pro X
MacNewsWorld
Video editing pros, get out your wallets. Apple released a new version of Final Cut Pro on Tuesday.
Final Cut Pro X reinvents video editing, according to Apple. Magnetic Timeline allows users to edit on a flexible trackless canvas. Content Auto-Analysis categorizes content during import based on shot type, media and people. The background rendering feature allows the user to work without interruption. The new version is built on a modern 64-bit architecture and is available from the Mac App Store for US$299.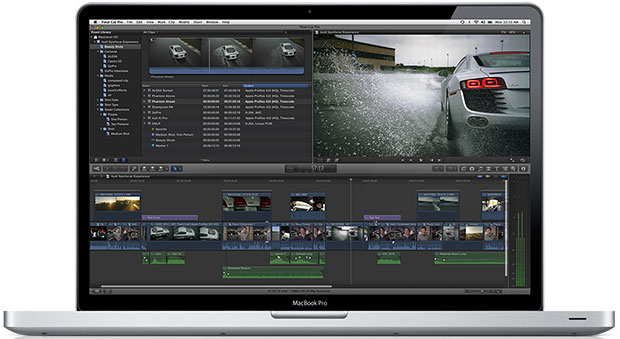 The new Magnetic Timeline feature is a trackless approach to editing footage, allowing users to drag and drop clips in the desired order. Clip Connections allows users to connect elements like footage, titles and sound effects in order to move them all as one unit. The new Auditions feature lets users swap collections of clips and compare between takes.
Content Auto-Analysis scans media on import and tags it with useful information. Final Cut Pro X uses this information to organize clips into Smart Collections. Users can add custom tags and search by media type, people and amount of zoom.
Final Cut Pro X is completely rebuilt from the ground up and will take full advantage of Mac hardware. The program uses its multithreaded processing and GPU for fast rendering and real-time playback. The ColorSync-managed color pipeline ensures color consistency from input to output.
Final Cut Pro X includes tools for audio editing and color correction and is compatible with two companion apps. Motion 5 for professional motion graphics and Compressor 4 for advanced media encoding are available at the Mac App Store for $49.99 each.
Apple did not respond to MacNewsWorld's request for comments by press time.
Big Step Forward
Final Cut Pro X's new features are designed to streamline the editing process and increase productivity.
"I think this new version looks very exciting," Ryan Sciarrotta, production assistant at Syncronos Design, told MacNewsWorld. "I think the best addition is the background rendering. This will allow people to continue to work on a project, while Final Cut works behind the scenes to render out what you need. In the past, long wait times for rendering would completely stop your work on the program."
The Magnetic Timeline features gives users an easier way to switch the position of clips and see how they would play out in different orders. Other programs have utilized it, and now it is part of the Final Cut arsenal.
"The ability to connect several clips together into one compound clip or keep them grouped together is something that I am happy to see in this new version," said Sciarrotta. "It was something I had seen in other programs that I've wanted in Final Cut for a long time, and now it's finally here -- and it looks even easier and better to use than I could have imagined."
Apple is implementing what it has learned from other products it has designed, so this is a step into the future. However, the new interface could take some getting used to for those comfortable with older versions.
"The time line looks completely different, as well as the whole interface," said Sciarrotta. "It looks like Apple is trying to make Final Cut more user-friendly by adopting some of the features already found in similar Apple products, such as iPhoto or iMovie. Because this is a whole new interface, some veterans of the old system might have some trouble switching over, but I think the new content will be enough to get people to switch over."
Apple has tried to make Final Cut easier to use by adding improved organizational tools. The Magnetic Timeline makes it easier for users to arrange content.
"One of the benefits of the new version is user-friendliness," said Sciarrotta. "For one, the time it takes to compare shots has been streamlined. It looks easier to use. Swapping between takes to figure out the best shots for a scene was not hard in the past, but it could take some time. Now it seems like it can be done in a matter of seconds.
"Their new time line also allows for better searching for clips by allowing you to tag clips with keywords. This is also a similar feature found in other Apple Products, now finally implemented in a product that it makes sense for," he added.
One thing that may be cause for concern is the Content Auto-Analysis feature, noted Sciarrotta.
"This feature will automatically sort your shots and categorize them," he explained. "While this does sound good, I hope there will be a method to turn this off, because in my job I have to be very specific on how I categorize my media."
Overall, Sciarrotta scores the new version very positively.
"This version just looks faster in every way. In the new version, Final Cut X will do a lot of the work for you so you can keep moving and keep your creative juices flowing," he said.
Pros Will Adopt It
Users who have a recent version of Final Cut Pro may be resistant to dropping $300 for a new one. Apple is trying to entice these users by offering new tools and a completely rebuilt 64-bit platform which takes full advantage of Mac hardware.
"If a user already has the previous version, they may not be interested in a buying a whole new version," Roger Kay, founder and principle of Endpoint Technologies, told MacNewsWorld. "They may just want an upgrade. How do you justify yet another spend on the same product?"
It could definitely be worth the price for some professionals, though. People who use Final Cut every day for their jobs could benefit from these new tools.
"Every time Apple introduces a new product, it's always 'the best.' It may be true," said Kay.
"When they sell it, it's the best, then they come out with a new one that is now the 'best.' People just expect their apps to be updated automatically. They don't necessarily want a whole new product. However, if you're a professional, and video editing what you do -- and Final Cut Pro is for professionals -- you might have to spring for it anyway."