Documents To Go: Not a Corner Office but a Decent Cubicle
MacNewsWorld

Documents To Go, an app by DataViz, is available for US$4.99 at the App Store. [*Correction - Aug. 13, 2009] Perhaps it's a little shortsighted of me to review an iPhone app built to let you view, sync and edit Microsoft Office files. After all, a patent judge in Texas this week ordered an injunction against selling MS Word, and without a basic word-processing app, the whole suite goes down the tubes. Surely we'll all be back to slate boards and nails by Halloween.
OK, fine, not likely. Microsoft will buy a winning argument, buy a settlement, buy the company suing it, or just buy the whole legal system itself before it lets go of Word, so programs like Documents To Go are still a safe bet.
Documents To Go is sort of a mobile Microsoft Office for the iPhone that features the ability to sync your documents wirelessly with a PC or Mac.
Setting Up Sync
I say "sort-of" because it doesn't exactly include all of the basic functions of Microsoft's true Office suite. It will let you read Word, Excel, PowerPoint and PDF files, as well as iWork files. You can attach these files to email and send them off immediately. You can also sync your files with your home computer, provided the iPhone and the computer are on the same WiFi network.
However, you can only create and edit Word files; all other formats are read-only. Documents To Go promises a free update that lets you create and edit Excel files "when available."
One of the main selling points of this app is its sync ability, and to use that you'll need to visit DataViz's home site and download a free desktop application to install on your computer (PC or Mac). The iPhone app also has an option to have a copy emailed to you if you tell it your address. Install and run the desktop app, tell the iPhone app to find your computer (once it's on the same WiFi network), and you'll get a sync code to punch into the desktop program. Now the apps have been formally introduced.
You'll need to use the desktop app to manage what folders your phone has permission to sync with. It automatically creates a folder called "MyDocsToGo." You can also designate any other folder on your system to be syncable. For Windows users, there's an option for easily adding all the stuff from your Documents folder, if that's what you use when you save Office files.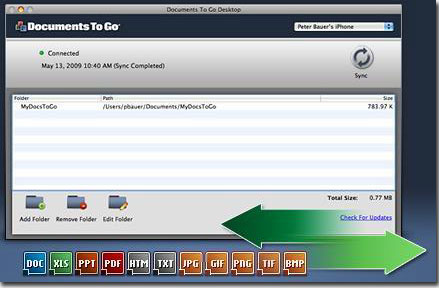 Strangely, my iPhone failed to find files in the MyDocsToGo folder. I'd load it up with Office files, hit the Sync command, and find an empty folder on my phone. Once I created my own desktop folder and dumped in some files, the sync was successful.
Both the iPhone app and the desktop app have Sync buttons, but the only one that worked reliably was the one on the desktop. Using the iPhone sync button got me a "Timed Out" message half the time. This probably wouldn't be a major problem in most scenarios -- if you're on the same WiFi network as your computer, then chances are you're in the same room.
Also, I wasn't able to get Documents To Go working with Open Office documents. This is not a feature that the app claims to have, but the desktop version of Microsoft Office is able to open and edit documents created using Open Office, and some people may frequently work with a combination of the two. If you're one of those people, don't count on syncing your Open Office documents to your iPhone using this app, unless you don't mind cutting and pasting content from one application to the other on your computer.
Pocket Office
Once your documents are synced to the iPhone app, you have the ability to view all the formats listed above, as well as edit and create Word documents.
The app's Word editor is about as strong a word-processing app as you could ask for on a small screen.
In addition to the usual iPhone keypad (which has landscape mode -- big points there), you'll see a black underbar with extra functions. You have bold/underline/italics options, color options and center/justified options. You can pinch and spread to zoom in and out, and you can opt to save a document normally or "save as" (to rename a new version or save it in the app's local file folder rather than the folders that get synced to your desktop).
This black underbar can be swiped to the side to reveal even more features: Formatting options, a word search/replace function, page zoom, undo/redo, word and character count and a document information button. It almost seems too cluttered with functionalities, but there's also a button for hiding the feature bar to better see what you're doing.
The only thing missing was the wide variety of fonts that the desktop version of Word gives you. A document I created on my desktop using some funky fonts showed up as plain old Times New Roman on the iPhone app.
Bottom Line
My experiences were at times a little unreliable, though not in ways that really broke the functionality of the app. I also think Documents To Go would be more useful if it supported Open Office. Even if you or your organization doesn't use Open Office, other people with whom you exchange documents might, so their information will require a different app.
However, if you're purely an Office user and you want a convenient way to easily share docs with your computer and a powerful tool for creating and editing Word documents through the iPhone (and someday Excel spreadsheets as well, one hopes), then Documents To Go is the choice. Rating: 4 stars out of 5.

---
*ECT News Network editor's note - Aug. 13, 2009:
In our original publication of this article, our graphic displayed a three-star rating. This was the incorrect graphic. The author actually rated this application four stars out of five.
---